Affiliate Disclaimer: This site contains affiliate links, which means we earn money if you purchase through our link. As an Amazon Associate I earn from qualifying purchases. Read our Disclosure Policy.
Time is all relative, and it's been said that a minute with your hand on a hot stove can feel like an eternity while a lifetime with your love can feel like the blink of an eye. Here are 20+ inspiring time quotes and quotes about time.
Subscribe to our Youtube channel!
20+ Quotes About Time | Time Quotes
"Don't be fooled by the calendar. There are only as many days in the year as you make use of. One man gets only a week's value out of a year while another man gets a full year's value out of a week." – Charles Richards
"Most of us spend too much time on what is urgent and not enough time on what is important." – Stephen R. Covey
"Time is what we want most, but what we use worst." – William Penn
"Quit saying you don't have time. You have time for what you make time for in life." – Bryant H. McGill
"Decide what your priorities are and how much time you'll spend on them. If you don't, someone else will." – Harvey Mackay
"There is never enough time to do everything, but there is always enough time to do the most important thing." – Brian Tracy
"Lack of direction, not lack of time, is the problem. We all have twenty-four hour days." – Zig Ziglar
Products We Recommend:

Inspirational Time Quotes
"You can't make up for lost time. You can only do better in the future." – Ashley Ormon
"Time management is an oxymoron. Time is beyond our control, and the clock keeps ticking regardless of how we lead our lives. Priority management is the answer to maximizing the time we have." – John C. Maxwell
"The only reason for time is so that everything doesn't happen at once." – Albert Einstein
"Time is a created thing. To say 'I don't have time' is to say 'I don't want to.'" – Lao Tzu
"Lots of people wait around "for the right time". People don't know that there is no such thing as a right time. Time is never right nor wrong. The only negative factor of time is that you can lose it and the only positive factor of time is that you can seize it." – C. JoyBell C.
"This time, like all times, is a very good one, if we but know what to do with it." – Ralph Waldo Emerson
"Time is valuable, and when it is gone, it is gone. Time is wealth, and unlike money, when it is gone, you cannot replace it." – Napoleon Hill
More Inspirational Quote Posts:
More Sayings About Time
"Time as he grows old teaches many lessons." – Aeschylus
"It's really clear that the most precious resource we all have is time." – Steve Jobs
"Time, which changes people, does not alter the image we have of them." – Marcel Proust
"The shorter way to do many things is to only do one thing at a time." – Mozart
"Take charge of your schedule. Make time for reflection and relaxation." – Mihaly Csikszentmihalyi
"Time can be an ally or an enemy. What it becomes depends entirely upon you, your goals, and your determination to use every available minute." – Zig Ziglar
"Time expands, then contracts, and in tune with the stirrings of the heart." – Haruki Murakami
"If you don't have time, the truth is, you don't have priorities. Think harder; don't work harder." – Tim Ferriss
"All we have to decide is what to do with the time that is given us." – J.R.R. Tolkien
P.S. Get free downloads, checklists, inspirational emails & more when you sign up for our Free Resource Library!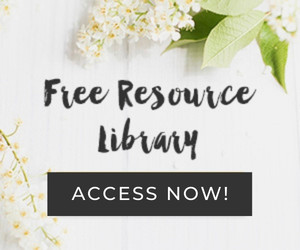 I hope you enjoyed these time quotes and quotes about time!