The sun is a great metaphor for a beacon of light in the sky and the contrast between light and darkness in the world. No matter what happens, the sun still rises each morning. Here are 25+ inspiring quotes about the sun and sunshine quotes.
Click here to subscribe to our Youtube channel!
25+ Quotes About the Sun | Sun Quotes and Sunshine Quotes
"The sun is but a morning star." – Henry David Thoreau
"The day of the sun is like the day of a king. It is a promenade in the morning, a sitting on the throne at noon, a pageant in the evening." – Wallace Stevens
"Keep your face to the sunshine and you cannot see a shadow." – Helen Keller
"If you want to see the sunshine, you have to weather the storm." – Frank Lane
"The sun is new each day." – Heraclitus
Related: Inspiring Quotes About Water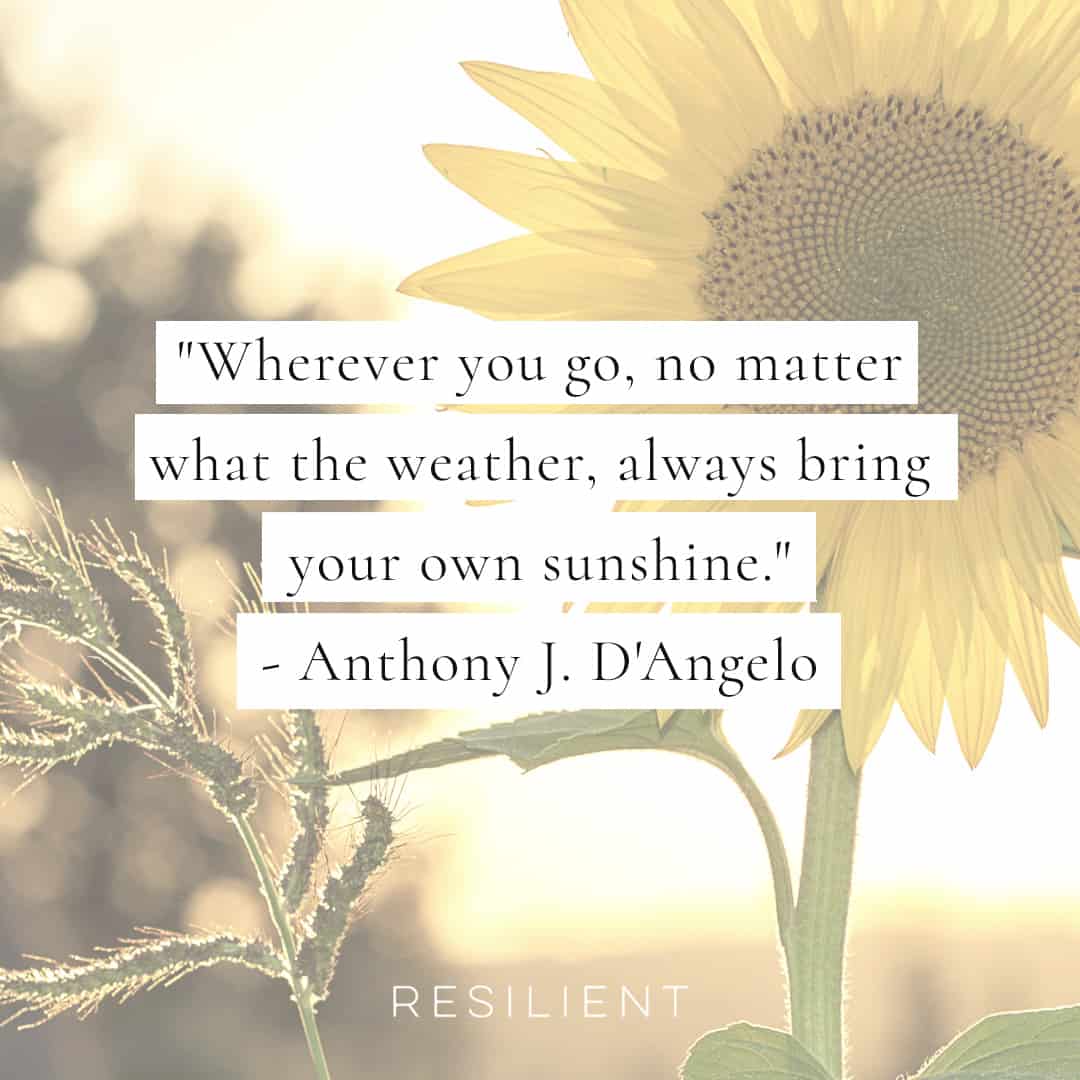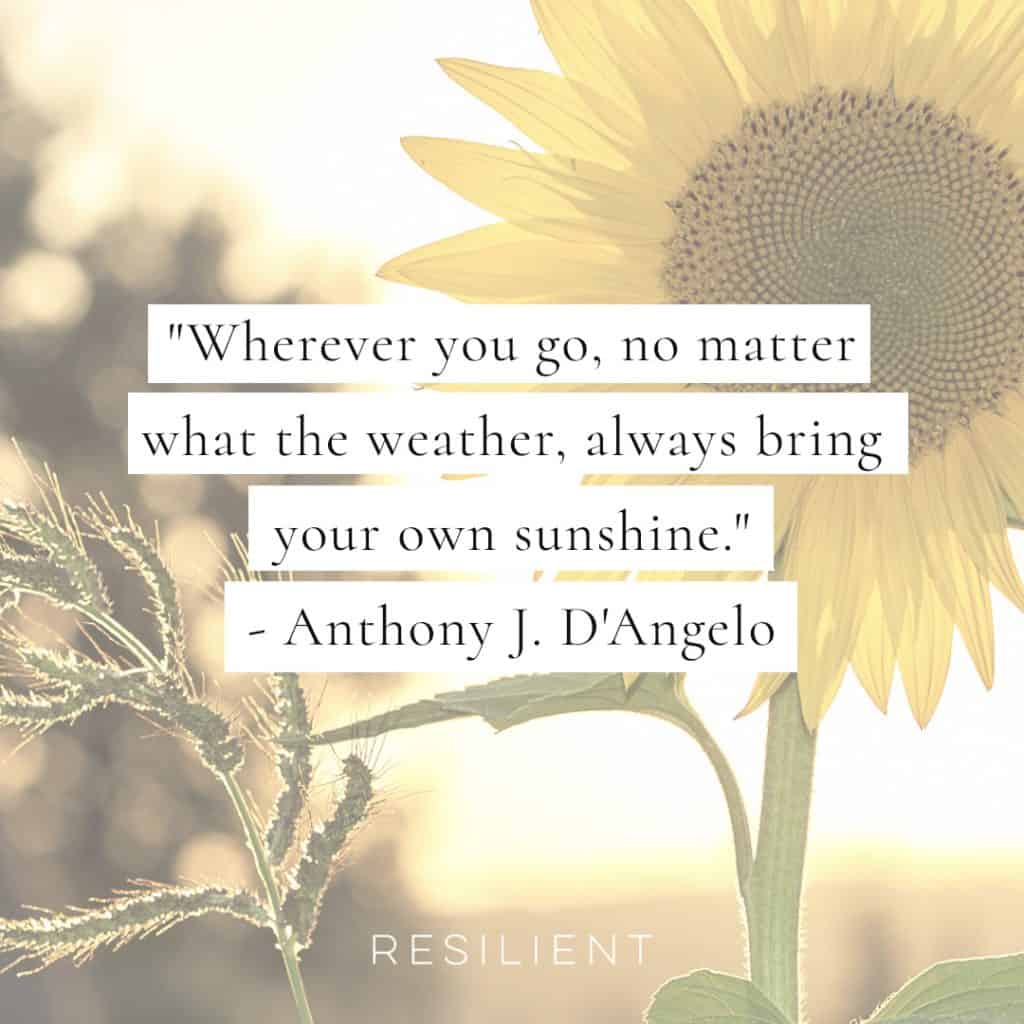 Feel free to share the above sunshine quote graphic with a link back to Resilient!
Products We Recommend: 😄
Quotes on the Sun| Sunshine Quotations
"The sun always shines above the clouds." – Paul F. Davis
"The Sun can be your greatest gloom, or your greatest comforter, depending on how you view its shine." – Anthony Liccione
"Even the sun directs our gaze away from itself and to the life illumined by it." – Eberhard Arnold
"When the sun is shining I can do anything; no mountain is too high, no trouble too difficult to overcome." – Wilma Rudolph
"Turn your face to the sun and the shadows fall behind you." – Maori Proverb

Inspirational Sunshine Quotes | Quotes About Sunshine
"How glorious a greeting the sun gives the mountains!" – John Muir
"In order for the light to shine so brightly, the darkness must be present." – Sir Francis Bacon
"Daylight follows a dark night." – Proverb
"Every day is a good day to be alive, whether the sun's shining or not." – Marty Robbins
"If there is nothing new under the sun, at least the sun itself is always new, always re-creating itself out of its own inexhaustible fire." – Michael Sims
Related Inspirational Quote Posts:
Sun Inspirational Quotes | Sunshine Sayings
"Far away there in the sunshine are my highest aspirations. I may not reach them but I can look up and see their beauty, believe in them and try to follow them." – Louisa May Alcott
"The sun shines on everybody. You've got to keep believing." – Dontrelle Willis
"No sun outlasts its sunset, but will rise again and bring the dawn." – Maya Angelou
"When sun shines, it not only brightens our day; it enlightens us, our soul, cleansing it of the gloominess that the night's darkness had brought in." – Tista Ray
"Sunshine is a welcome thing. It brings a lot of brightness." – Jimmie Davis
More Inspirational Sun Quotes | Quotes for Sunshine
"My sun sets to rise again." – Robert Browning
"Sunshine is my quest." – Winston Churchill
"The sun, with all those planets revolving around it and dependent on it, can still ripen a bunch of grapes as if it had nothing else in the universe to do." – Galileo Galilei
"Sunshine is Nature's hug and spirit breath to the earth." – Terri Guillemets
"The sun does not shine for a few trees and flowers, but for the wide world's joy." – Henry Ward Beecher
P.S. If you're ready to improve your life and keep track of all your progress and goals, check out Your Best Life Planner. It's a kit of 36 digital printables that help you plan your days with monthly, weekly, and daily planners, set goals, vision your future, create self care and gratitude lists, and so much more! Check it out here now and create your best life.
I hope these sunshine quotes and quotes about the sun can inspire you!