20+ Quotes About Learning
Affiliate Disclaimer: This site contains affiliate links, which means we earn money if you purchase through our link. As an Amazon Associate I earn from qualifying purchases. Read our Disclosure Policy.
Learning doesn't always come through school or formal education, but also from what activities or interests we pursue in our free time. Here are 20+ inspiring learning quotes and quotes about learning.
Subscribe to our Youtube channel!
20+ Quotes About Learning | Learning Quotes
"Never let formal education get in the way of your learning." – Mark Twain
"The most useful piece of learning for the uses of life is to unlearn what is untrue." – Antisthenes
"Tell me and I forget. Teach me and I remember. Involve me and I learn." – Benjamin Franklin
"It's what you learn after you know it all that counts." – Harry S. Truman
"Learning is not attained by chance. It must be sought for with ardor and attended to with diligence." – Abigail Adams
"Wisdom is learning what to overlook." – William James
"Teaching is only demonstrating that it is possible. Learning is making it possible for yourself." – Paulo Coelho
Products We Recommend:

Inspirational Learning Quotes
"We now accept the fact that learning is a lifelong process of keeping abreast of change. And the most pressing task is to teach people how to learn." – Peter Drucker
"The purpose of learning is growth, and our minds, unlike our bodies, can continue growing as we continue to live." – Mortimer Adler
"Learn as if you were to live forever." – Mahatma Gandhi
"It is what we know already that often prevents us from learning." – Claude Bernard
"There is no end to education. It is not that you read a book, pass an examination, and finish with education. The whole of life, from the moment you are born to the moment you die, is a process of learning." – Jiddu Krishnamurti
"You don't learn to walk by following rules. You learn by doing, and by falling over." – Richard Branson
More Inspirational Quote Posts:
More Sayings About Learning
"Only the curious will learn and only the resolute overcome the obstacles to learning. The quest quotient has always excited me more than the intelligence quotient." – Eugene S. Wilson
"Every student can learn, just not on the same day, or the same way." – George Evans
"Teachers have three loves: love of learning, love of learners, and the love of bringing the first two loves together." – Scott Hayden
"The illiterate of the 21st century will not be those who cannot read and write, but those who cannot learn, unlearn, and relearn." – Alvin Toffler
"If a child can't learn the way we teach, maybe we should teach the way they learn." – Ignacio 'Nacho' Estrada
"That's what learning is. You suddenly understand something you understood all your life, but in a new way." – Doris Lessing
"We learn more by looking for the answer to a question and not finding it than we do from learning the answer itself." – Lloyd Alexander
P.S. Get free downloads, checklists, inspirational emails & more when you sign up for our Free Resource Library!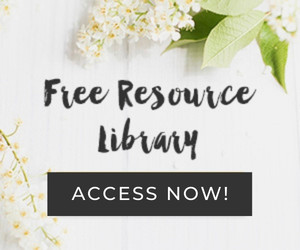 I hope you enjoyed these learning quotes and quotes about learning!