20+ Quotes About Courage and Bravery
Affiliate Disclaimer: This site contains affiliate links, which means we earn money if you purchase through our link. As an Amazon Associate, I earn from qualifying purchases. Read our Disclosure Policy.
Being brave isn't about never being afraid but taking action in spite of your fear. Here are 20+ quotes about courage and quotes about bravery to inspire you to be a little braver today.
In the movies, bravery looks like battle cries and war songs and sacrifice, but in the real world courage can be a little quieter. It takes courage to get started, courage to keep going, and courage to not give up when things get tough.
Courage is a soft presence that comes into your life when you need a little push toward greatness.
Courage is the inner strength you muster up when you think you can't go on another step.
You can. And you will.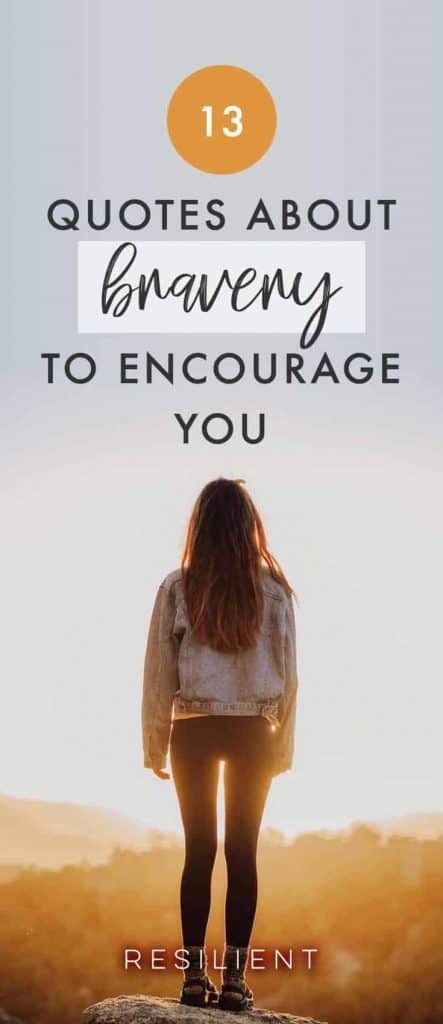 Courage doesn't have to be a loud announcement or proclamation to the entire world. Courage can be little victories that you win only in your own mind.
Courage can be soft and gentle and quiet.
Courage can be fierce loyalty and commitment to your values, beliefs, and dreams.
Courage is when you keep going, even when you want to give up.
Courage is when you refuse to quit, and you keep trying until you figure out something that works.
It's not always easy to have courage. Sometimes you're scared and you just want to hide away from the world. Sometimes what you really need is to curl up under your blankets with a soft kitty and a warm cup of tea.
But after you've taken care of yourself and made sure that you're ok, it's time to dust yourself off and go back into the battle, whether that battle is fierce and loud or just made up of tiny little thoughts in your own mind.
Bravery comes in many different forms.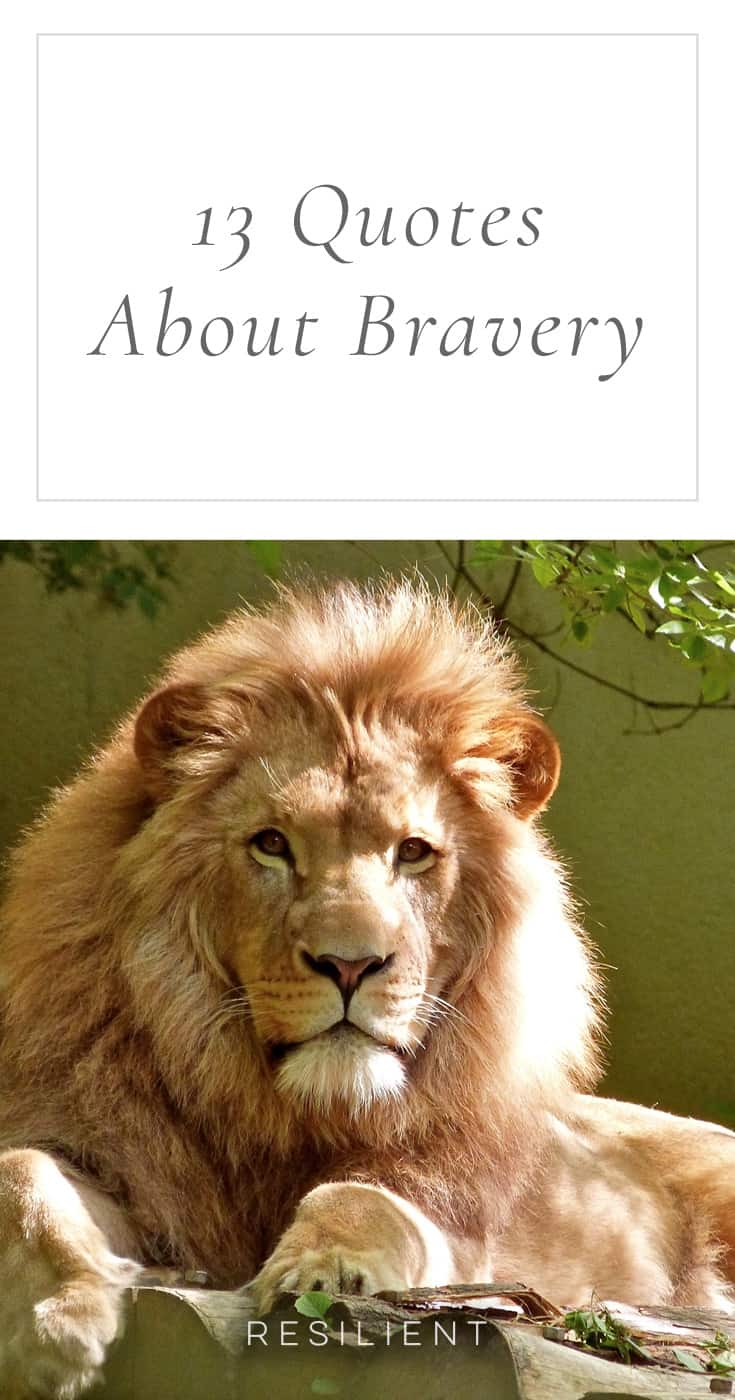 More Inspirational Quote Posts:
20+ Quotes About Bravery | Quotes about Courage
1. "Fear can keep a man out of danger but courage only can support him in it." – Thomas Fuller
2. "If it scares you, it might be a good thing to try." – Seth Godin
3. "Great crisis produce great men and great deeds of courage." – John F Kennedy
4. "Bravery is not a quality of the body. It is of the soul." – Mahatma Gandhi
5. "Being brave means knowing that when you fail, you don't fail forever." – Lana Del Rey
6. "Courage doesn't always roar; sometimes courage is the tiny voice at the end of the day saying, 'I will try again tomorrow." – Mary Anne Radmacher
7. "Bravery is being the only one who knows you're afraid." – Franklin P. Jones
8. "I learned that courage was not the absence of fear, but the triumph over it. The brave man is not he who does not feel afraid, but he who conquers that fear." – Nelson Mandela
9. "One of the greatest discoveries a man makes, one of his great surprises, is to find he can do what he was afraid he couldn't do." – Henry Ford
10. "You gain strength, courage, and confidence by every experience in which you really stop to look fear in the face. You must do the thing you think you cannot do." – Eleanor Roosevelt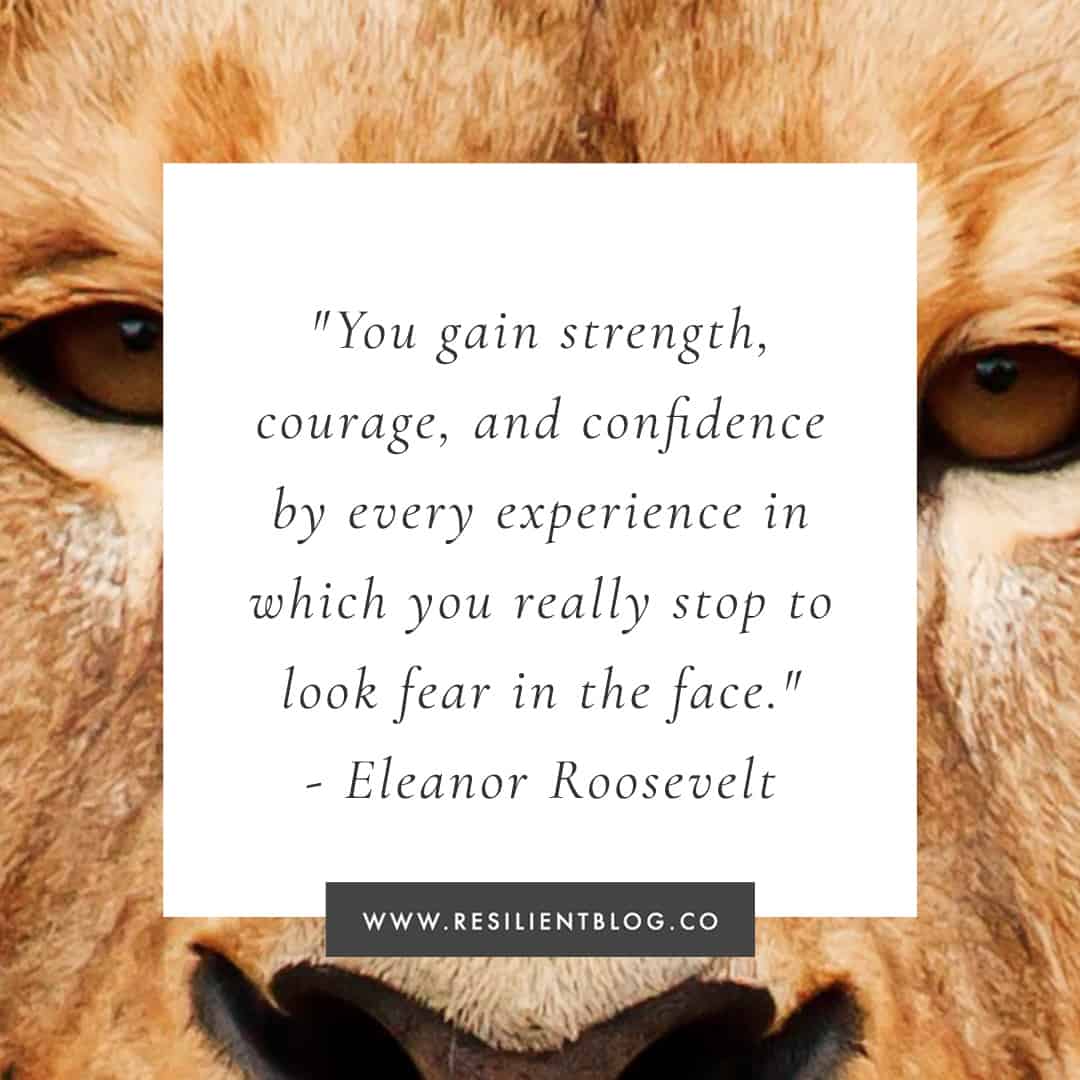 11. "Moral excellence comes about as a result of habit. We become just by doing just acts, temperate by doing temperate acts, brave by doing brave acts." – Aristotle
12. "Life shrinks or expands in proportion to one's courage." – Anais Nin
13. "Life is not meant to be easy, my child; but take courage and it can be delightful." – George Bernard Shaw
14. "Bravery is the capacity to perform properly even when scared half to death." – Omar N. Bradley
15. "What you feel doesn't matter in the end; it's what you do that makes you brave." – Andre Agassi
16. "Courage is the first of human qualities because it is the quality which guarantees the others." – Aristotle
17. "Take chances, make mistakes. That's how you grow. Pain nourishes your courage. You have to fail in order to practice being brave." – Mary Tyler Moore
18. "The ultimate measure of a man is not where he stands in moments of comfort and convenience, but where he stands at times of challenge and controversy." – Martin Luther King, Jr.
19. "A brave man acknowledges the strength of others." – Veronica Roth
20. "Expose yourself to your deepest fear; after that, fear has no power, and the fear of freedom shrinks and vanishes. You are free." – Jim Morrison
21. "There is no living thing that is not afraid when it faces danger. The true courage is in facing danger when you are afraid." – L. Frank Baum
22. "Fortune favors the brave." – Anonymous
Bravery and Courage Quotes | Quotes for Bravery
P.S. Get free downloads, checklists, inspirational emails & more when you sign up for our Free Resource Library!