100+ Good Morning Quotes to Inspire Your Morning
Affiliate Disclaimer: This site contains affiliate links, which means we earn money if you purchase through our link. As an Amazon Associate I earn from qualifying purchases. Read our Disclosure Policy.
Morning is a special time of day when the day is fresh and new and full of possibility for the future. Here are 100+ good morning quotes and inspirational quotes about having a good morning.
These quotes about morning will inspire you to start your day off right with a small dose of inspiration and motivation, or you can send one of these good morning sayings to a loved one or friend to brighten their day.
Click here to subscribe to our Youtube channel!
100+ Inspirational Good Morning Quotes
"You've got to get up every morning with determination if you're going to go to bed with satisfaction." – George Horace Lorimer
"You have to have a dream so you can get up in the morning." – Billy Wilder
"I'm a very early riser, and I don't like to miss that beautiful early morning light." – David Hockney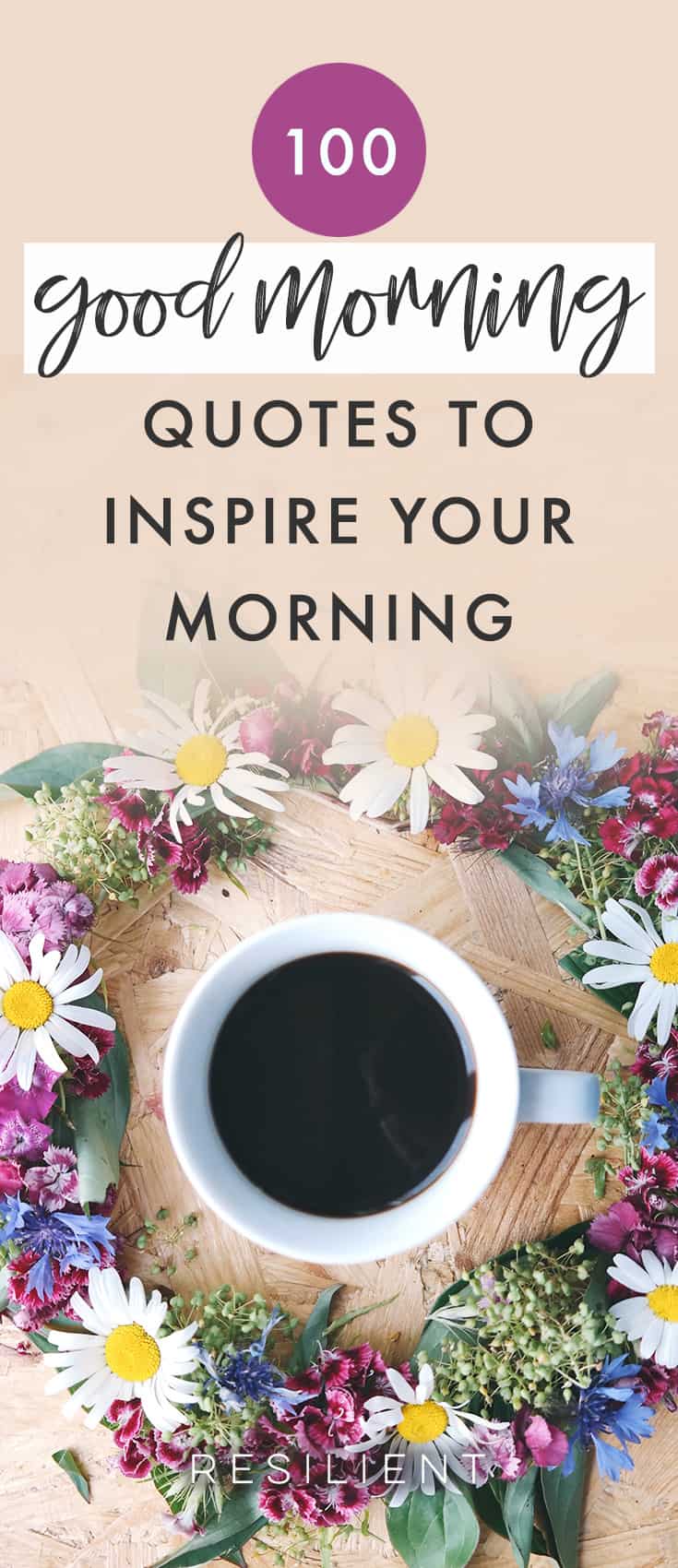 "It was morning; through the high window I saw the pure, bright blue of the sky as it hovered cheerfully over the long roofs of the neighboring houses. It too seemed full of joy, as if it had special plans, and had put on its finest clothes for the occasion." – Hermann Hesse
"Nothing is more beautiful than the loveliness of the woods before sunrise." – George Washington Carver
Related Post: 30+ Inspirational Sunshine Quotes
"Greet every morning with open arms and say thanks every night with a full heart. Each day is a precious gift to be savored and used, not left unopened and hoarded for a future that may never come." – Regina Brett
"If you get up in the morning and think the future is going to be better, it is a bright day. Otherwise, it's not." – Elon Musk
"The miracle lies in the newness of a morning." – Lailah Gifty Akita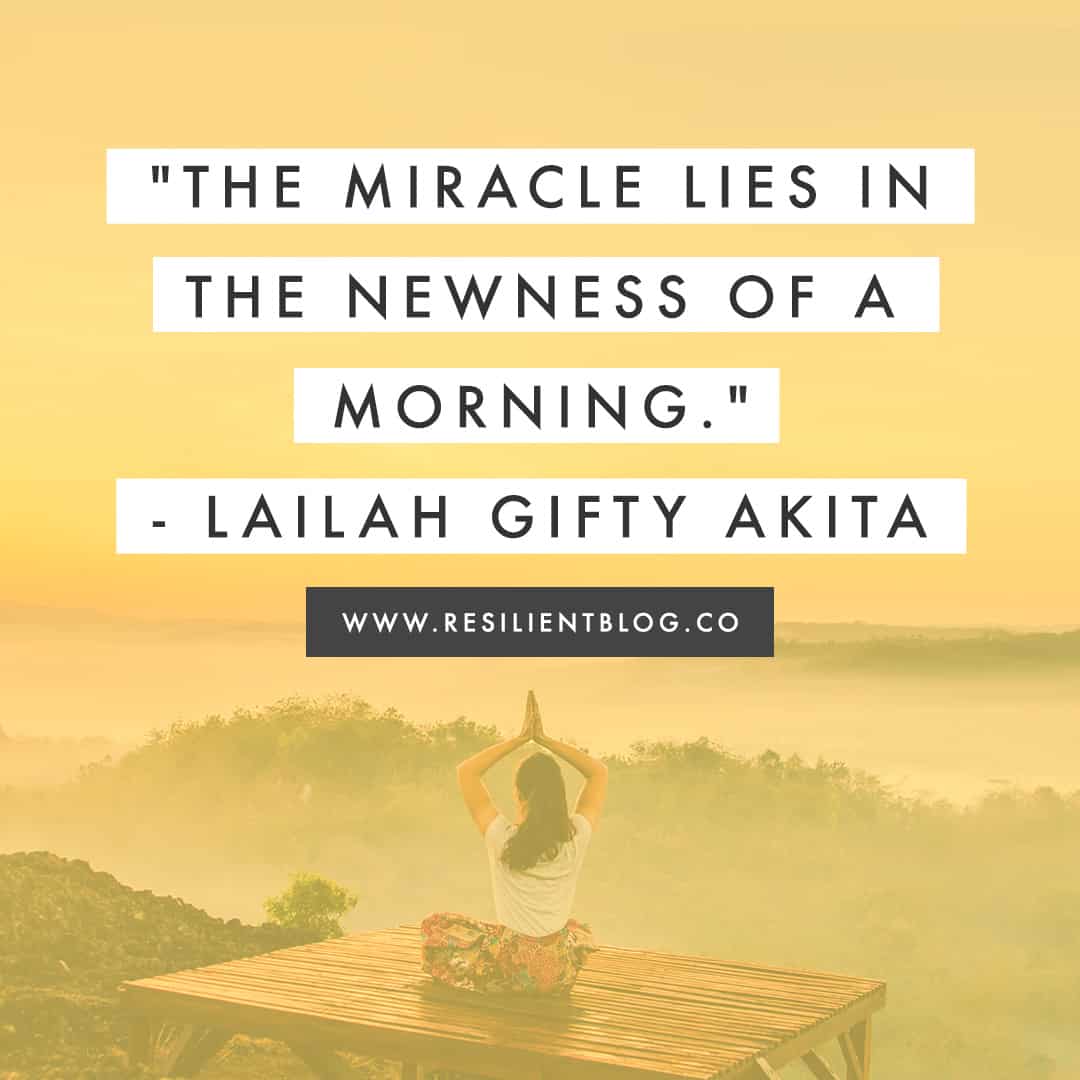 "Some people dream of success, while other people get up every morning and make it happen." – Wayne Huizenga
"Early to bed and early to rise makes a man healthy, wealthy, and wise." – Benjamin Franklin
"Get up tomorrow early in the morning, and earlier than you did today, and do the best that you can." – Joan of Arc
"I arise in the morning torn between a desire to improve the world and a desire to enjoy the world." – E. B. White
"It is in the early morning hour that the unseen is seen, and that the far-off beauty and glory, vanquishing all their vagueness, move down upon us till they stand clear as crystal close over against the soul." – Sarah Smiley
"Every morning was a cheerful invitation to make my life of equal simplicity, and I may say innocence, with Nature herself." – Henry David Thoreau
"Morning is when I am awake and there is a dawn in me." – Henry David Thoreau
Morning Motivational Messages
"When I wake up every morning, I thank God for the new day." – F. Sionil Jose
"Give every day the chance to become the most beautiful day of your life." – Mark Twain
"The sun is a daily reminder that we too can rise again from the darkness, that we too can shine our own light." – S. Ajna
"Let me wake up next to you, have coffee in the morning and wander through the city with your hand in mine, and I'll be happy for the rest of my little life." – Charlotte Eriksson
"Nothing is better than waking up in the morning and being excited to go into work." – Caprice Bourret
"Each morning we are born again. What we do today is what matters most." – Buddha
"I wake up in the morning and my heart is light, man. It's not heavy. I don't have skeletons in the closet on their way out." – Drake
"I wake up every morning and I surprise myself. I wake up to a new me." – Gina Carano
👉 Products We Recommend:
"My formula for living is quite simple. I get up in the morning and I go to bed at night. In between, I occupy myself as best I can." – Cary Grant
"I couldn't be luckier to wake up every morning and be so excited to get to work, even if it's five in the morning." – Carly Chaikin
"My principal motivation is supporting my family, which is not a bad reason for getting up in the morning. That's always been my motivation – to take care of the people who rely on me." – Tony Parsons
"Outside the open window, the morning air is all awash with angels." – Richard Wilbur
"If you're bored with life – you don't get up every morning with a burning desire to do things – you don't have enough goals." – Lou Holtz
"It is always with excitement that I wake up in the morning wondering what my intuition will toss up to me, like gifts from the sea. I work with it and rely on it. It's my partner." – Jonas Salk
"Waking up this morning, I smile. 24 brand new hours are before me. I vow to live fully in each moment." – Thich Nhat Hanh
"Smile in the mirror. Do that every morning, and you'll start to see a big difference in your life." – Yoko Ono
"Every morning brings new potential, but if you dwell on the misfortunes of the day before, you tend to overlook tremendous opportunities." – Harvey Mackay
"If you're changing the world, you're working on important things. You're excited to get up in the morning." – Larry Page
"This is your daily morning reminder that you can handle whatever this week throws at you." – Unknown
"The fact that you woke up this morning is proof that this day has already been predetermined in your favor." – Russell Kyle
"You know that feeling when you wake up in the morning and you're excited for the day? That's one of my main goals in life." – Kirsten Dunst
"With the new day comes new strength and new thoughts." – Eleanor Roosevelt
"First thing every morning before you arise say out loud, 'I believe,' three times." – Ovid
"This is a wonderful day. I've never seen this one before." – Maya Angelou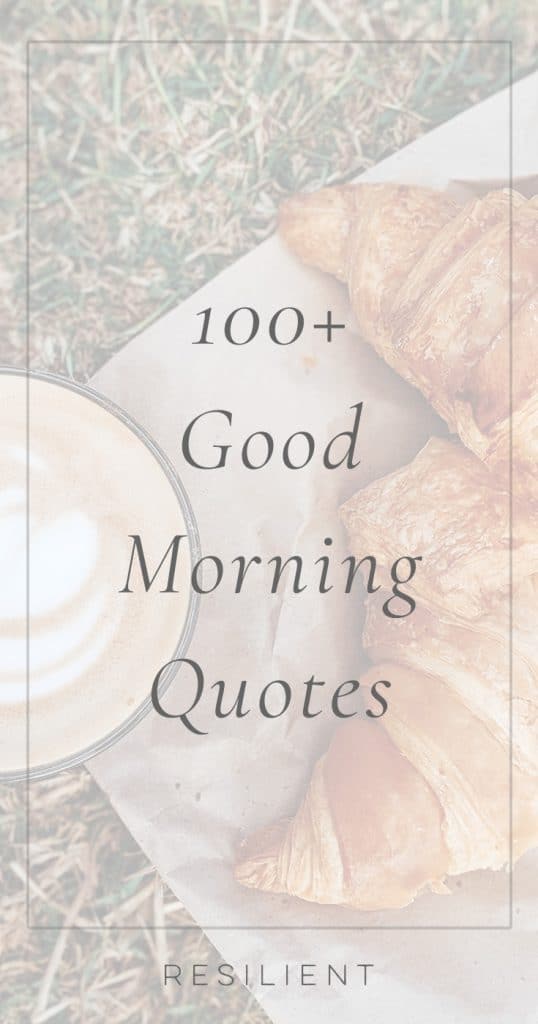 Short Good Morning Quotes
"Be willing to be a beginner every single morning." – Meister Eckhart
"My future starts when I wake up every morning." – Miles Davis
"Every day brings new choices." – Martha Beck
"Dawn is a friend of the muses." – Latin Proverb
"Not the day only, but all things have their morning." – French Proverb
"Joyful morning, good morning, good day." – Lailah Gifty Akita
"I like my coffee black and my mornings bright." – Terri Guillemets
"The early morning has gold in its mouth." – Benjamin Franklin
"The sun is new each day." – Heraclitus
"Morning without you is a dwindled dawn." – Emily Dickinson
"An early-morning walk is a blessing for the whole day." – Henry David Thoreau
"Purpose is an incredible alarm clock." – Unknown
"Every day I am inspired by what's possible." – Maynard Webb
"The sun has not caught me in bed in fifty years." – Thomas Jefferson
"The morning was full of sunlight and hope." – Kate Chopin
More Quote Posts:
Funny Morning Quotes
"If it's your job to eat a frog, it's best to do it first thing in the morning. And If it's your job to eat two frogs, it's best to eat the biggest one first." – Mark Twain
"Lose an hour in the morning, and you will spend all day looking for it." – Richard Whately
"Early morning cheerfulness can be extremely obnoxious." – William Feather 😂
"When I woke up this morning my girlfriend asked me, "Did you sleep good?" I said "No, I made a few mistakes." – Steven Wright
"Morning is wonderful. Its only drawback is that it comes at such an inconvenient time of day." – Glen Cook
"Everyone wants me to be a morning person. I could be one, only if morning began after noon." – Tony Smite
"Every morning I get up and look through the Forbes list of the richest people in America. If I'm not there, I go to work." – Robert Orben
"When reality and your dreams collide, typically it's just your alarm clock going off." – Crystal Woods
"There is no snooze button on a cat who wants breakfast." – Henry David Thoreau
"I simply wake up every morning a better person than when I went to bed." – Sidney Poitier
"Morning is the dream renewed, the heart refreshed, earth's forgiveness painted in the colors of the dawn." – Kent Nerburn
"The breeze at dawn has secrets to tell you. Don't go back to sleep." – Rumi
"When you wake up each morning, you can choose to be happy or choose to be sad. Unless some terrible catastrophe has occurred the night before, it is pretty much up to you. Tomorrow morning, when the sun shines through your window, choose to make it a happy day." – Lynda Resnick
"I used to love night best but the older I get the more treasures and hope and joy I find in mornings." – Terri Guillemets
"I remind myself every morning: Nothing I say this day will teach me anything. So if I'm going to learn, I must do it by listening." – Larry King
"Everyone has highs and lows that they have to learn from, but every morning I start off with a good head on my shoulders, saying to myself, 'It's going to be a good day!'". – Lindsay Lohan
"Every morning, my dad would have me looking in the mirror and repeat, 'Today is going to be a great day; I can, and I will." – Gina Rodriguez
"Just one small positive thought in the morning can change your whole day." – Dalai Lama
"Be pleasant until ten o'clock in the morning and the rest of the day will take care of itself." – Elbert Hubbard
"Every day we wake up, we have an opportunity to do some good." – Chesley Sullenberger
More Inspirational Morning Sayings
"Every day you wake up is an opportunity to go beyond." – Carlos Santana
"For in the dew of little things the heart finds its morning and is refreshed." – Khalil Gibran
"I wake up every morning at nine and grab for the morning paper. Then I look at the obituary page. If my name is not on it, I get up." – Benjamin Franklin
"No matter how bad things are, you can at least be happy that you woke up this morning." – D. L Hughley
"Although time seems to fly, it never travels faster than one day at a time. Each day is a new opportunity to live your life to the fullest. In each waking day, you will find scores of blessing and opportunities for positive change. Do not let your today be stolen by the unchangeable past or the indefinite future! Today is a new day! Good Morning." – Steve Maraboli
"Thank God every morning when you get up that you have something to do that day, which must be done, whether you like it or not." – James Russell Lowell
"Every day I feel is a blessing from God. And I consider it a new beginning. Yeah, everything is beautiful." – Prince
"Today I choose life. Every morning when I wake up I can choose joy, happiness, negativity, pain… To feel the freedom that comes from being able to continue to make mistakes and choices – today I choose to feel life, not to deny my humanity but embrace it." – Kevyn Aucoin
"When I first open my eyes upon the morning meadows and look out upon the beautiful world, I thank God I am alive." – Ralph Waldo Emerson
"Think in the morning. Act in the noon. Eat in the evening. Sleep in the night." – William Blake
"A good idea will keep you awake during the morning, but a great idea will keep you awake during the night." – Marilyn vos Savant
"When you rise in the morning, give thanks for the light, for your life, for your strength. Give thanks for your food and for the joy of living." – Tecumseh
"Write it on your heart that every day is the best day in the year." – Ralph Waldo Emerson
"It ain't as bad as you think. It will look better in the morning." – Colin Powell
"When you arise in the morning, think of what a precious privilege it is to be alive – to breathe, to think, to enjoy, to love." – Marcus Aurelius
Good Morning Texts for Him or Her
"Good morning beautiful!"
"Good morning sunshine!"
"Rise and shine, lovely."
"The early bird gets the worm."
"Good morning! You were the first thing I thought of today."
"Have a nice morning, I made you breakfast."
"Good morning, I made you a cup of coffee!"
"Wakey wakey, eggs and bakey!"
More Inspirational Morning Messages
"Morning is an important time of day, because how you spend your morning can often tell you what kind of day you are going to have." – Lemony Snicket
"Prayer is the key of the morning and the bolt of the evening." – Mahatma Gandhi
"Do I get up every morning and ask: am I doing the things that I believe in and am I doing them for the best possible motives? Yes. Unambiguously yes." – Nick Clegg
"I get up every morning and it's going to be a great day. You never know when it's going to be over so I refuse to have a bad day." – Paul Henderson
"Every morning, leave your worries outside your gate, because that's where they pick up the garbage! Have a worry free day! Rise and shine." – Bar Refaeli
"Now that your eyes are open, make the sun jealous with your burning passion to start the day. Make the sun jealous or stay in bed." – Malak El Halabi
"The morning wind spreads its fresh smell. We must get up and take that in, that wind that lets us live. Breathe before it's gone." – Rumi
"For each new morning let there be flow of love. Let there be light of happiness in every direction." – Amit Ray
"I love that this morning's sunrise does not define itself by last night's sunset." – Steve Maraboli
"There is a morning inside you waiting to burst open into light." – Rumi
"I have always been delighted at the prospect of a new day, a fresh try, one more start, with perhaps a bit of magic waiting somewhere behind the morning." – By J. B. Priestley
"When you do something beautiful and nobody noticed, do not be sad. For the sun every morning is a beautiful spectacle, and yet most of the audience still sleeps." – John Lennon
"Every morning, I wake up saying, I'm still alive, a miracle. And so I keep on pushing." – Jim Carrey
P.S. Get free downloads, checklists, inspirational emails & more when you sign up for our Free Resource Library!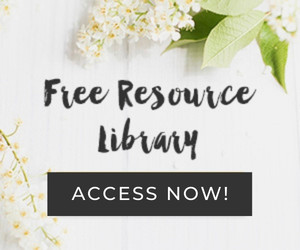 I hope you've enjoyed this collection of good morning quotes!