The universe is a beautiful and wonderful place.  Sometimes it helps to think about how big and incredibly awe-inspiring our world and the whole universe is to put things in perspective.  We don't have all the answers yet, but this planet is a pretty incredible place to be and it's an amazing time to be alive.  Just go outside and look up at the stars. 🙂  Here are 12 inspiring quotes about the universe.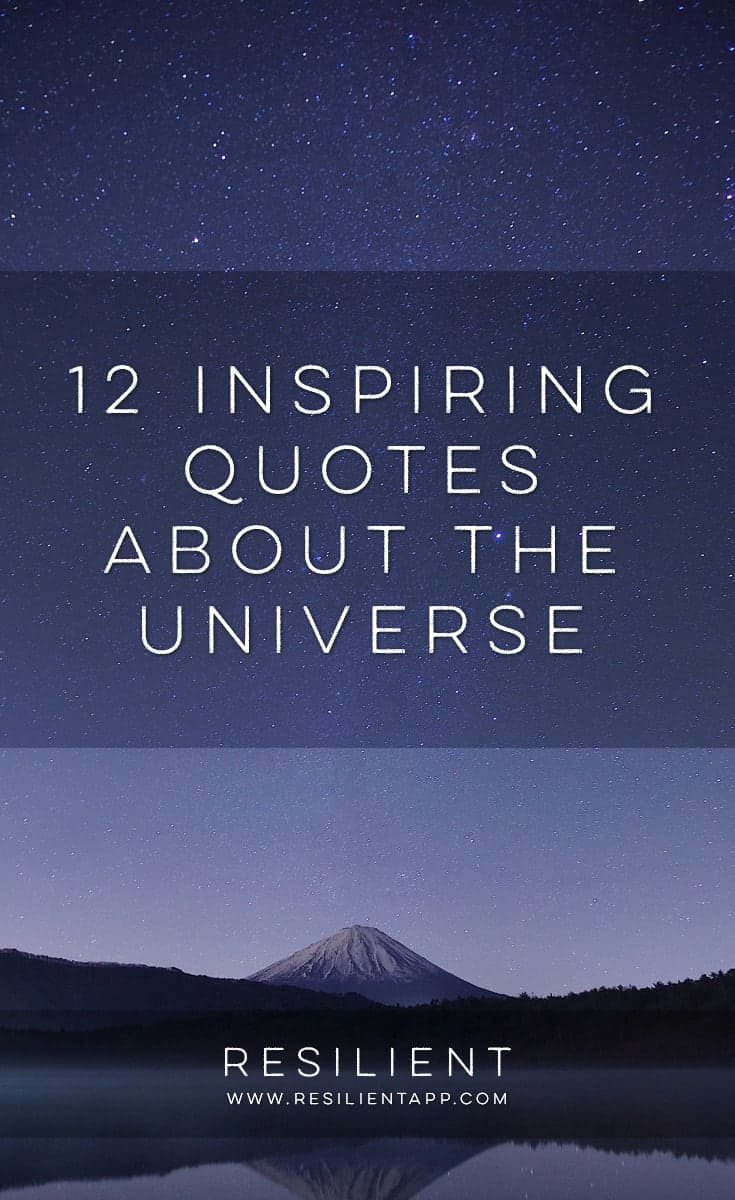 Related Posts:
Inspiring Quotes about the Universe | Universe Quotes
"You can search throughout the entire universe for someone who is more deserving of your love and affection than you are yourself, and that person is not to be found anywhere. You yourself, as much as anybody in the entire universe deserve your love and affection."
– Buddha
"Look up at the stars and not down at your feet. Try to make sense of what you see, and wonder about what makes the universe exist. Be curious."
– Stephen Hawking
"There is only one corner of the universe you can be certain of improving, and that's your own self."
– Aldous Huxley
"Look at the sky. We are not alone. The whole universe is friendly to us and conspires only to give the best to those who dream and work."
– A. P. J. Abdul Kalam
"Follow your bliss and the universe will open doors where there were only walls."
– Joseph Campbell
[See Also: 11 Inspirational Quotes for People with Depression]
"Compassion hurts. When you feel connected to everything, you also feel responsible for everything. And you cannot turn away. Your destiny is bound with the destinies of others. You must either learn to carry the Universe or be crushed by it. You must grow strong enough to love the world, yet empty enough to sit down at the same table with its worst horrors."
– Andrew Boyd
"no, no, it's not all random, if it really was all random, the universe would abandon us completely. and the universe doesn't. it takes care of its most fragile creations in ways we can't see. like with parents who adore you blindly. and a big sister who feels guilty for being human over you. and a little gravelly-voiced kid whose friends have left him over you. and even a pink-haired girl who carries your picture in her wallet. maybe it is a lottery, but the universe makes it all even out in the end. the universe takes care of all its birds."
– R.J. Palacio
"To the mind that is still, the whole universe surrenders."
– Lao Tzu
"He who lives in harmony with himself lives in harmony with the universe."
– Marcus Aurelius
"Music in the soul can be heard by the universe."
– Lao Tzu
"I find hope in the darkest of days, and focus in the brightest. I do not judge the universe."
– Dalai Lama
"For most people, we often marvel at the beauty of a sunrise or the magnificence of a full moon, but it is impossible to fathom the magnitude of the universe that surrounds us."
– Richard H. Baker
"There are no extra pieces in the universe. Everyone is here because he or she has a place to fill, and every piece must fit itself into the big jigsaw puzzle."
– Deepak Chopra
"Once you make a decision, the universe conspires to make it happen."
– Ralph Waldo Emerson
If you would like more inspirational quotes and tips, check out our 365 Recovery Tips.