Affiliate Disclaimer: This site contains affiliate links, which means we earn money if you purchase through our link. As an Amazon Associate I earn from qualifying purchases. Read our Disclosure Policy.
A queen isn't just official royalty but also a self-confident and strong woman. Here are 20+ inspiring queen quotes and quotes about queens.
Subscribe to our Youtube channel!
20+ Quotes About Queens | Queen Quotes
"Every woman is a queen, and we all have different things to offer." – Queen Latifah
"Think like a queen. A queen is not afraid to fail. Failure is another steppingstone to greatness." – Oprah Winfrey
"When you are a real queen, there is absolutely no reason to try and make people believe that you are one. Because you just are. Life is lived with grace, courage, and serenity. If you must dedicate any amount of time and mental ability to making anyone believe that you are one; you're not!" – C. JoyBell C.
"Always wear an internal crown and have a queendom mindset. A queen is a leader and role model." – Janna Cachola
"A queen—a queen who bowed to no one, a queen who had faced them all down and triumphed. A queen who owned her body, her life, her destiny, and never apologized for it." – Sarah J. Maas
"In every woman, there is a Queen. Speak to the Queen and the Queen will answer." – Norwegian Proverb
👉 Products We Recommend:

Inspirational Queen Quotes
"The Queen is the only person who can put on a tiara with one hand, while walking down stairs." – Princess Margaret
"Her hair is full of icy wind and daylight. She is every princess, every queen, in the history book." – Lauren DeStefano
"As women, we have superpowers. We are sisters. We are healers. We are mothers. We are goddess warriors." – Merle Dandridge
"I look those haters straight in the eye, keep my chin up and shoulders back. Because I know I'm a fierce queen – and they know it, too." – Alyssa Edwards
"If a man does not treat you like a princess during courtship, he will not treat you like a queen during marriage." – Matshona Dhliwayo
"You are a Queen. Let mine be the joy of giving you your kingdom." – Katherine Mansfield
"You better treat her like your queen, if you want to be treated like a king." – Moosa Rahat
"The strength of a kingdom comes from its King, The strength of a King comes from his Queen." – Cody Edward Lee
More Inspirational Quote Posts:
More Sayings About Queens
"I've always said, if you treat yourself like a queen, you'll attract a king." – Pepa
"It's like chess, you know. The Queen saves the King." – Terry Pratchett
"I want to encourage women to embrace their own uniqueness. Because just like a rose is beautiful, so is a sunflower, so is a peony. I mean, all flowers are beautiful in their own way, and that's like women too." – Miranda Kerr
"You are a queen that demands respect and God will bring the right person into your life to make you forget why you ever wasted your time on nothing important." – Shannon L. Alder
"My Queen, this is for you. I bring you the stars, the stars from the borderless sea." – Matt Suddain
"I am a queen because I know how to govern myself." – Lailah Gifty Akita
"Being the Queen is not all about singing, and being a diva is not all about singing. It has much to do with your service to people. And your social contributions to your community and your civic contributions as well." – Aretha Franklin
P.S. Get free downloads, checklists, inspirational emails & more when you sign up for our Free Resource Library!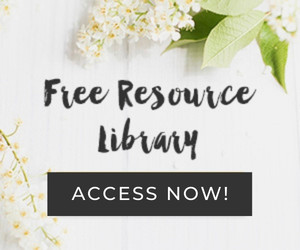 I hope you enjoyed these queen quotes and quotes about queens!