On days when you're feeling low or need a little pick-me-up or me time, you can devote some time to self care and pampering with these gifts for self love and care. Here are 8 self care gift ideas. 🙂
You can incorporate a self care routine into your daily life with these self care products or have a special self care day when you use several of these products for self care at the same time.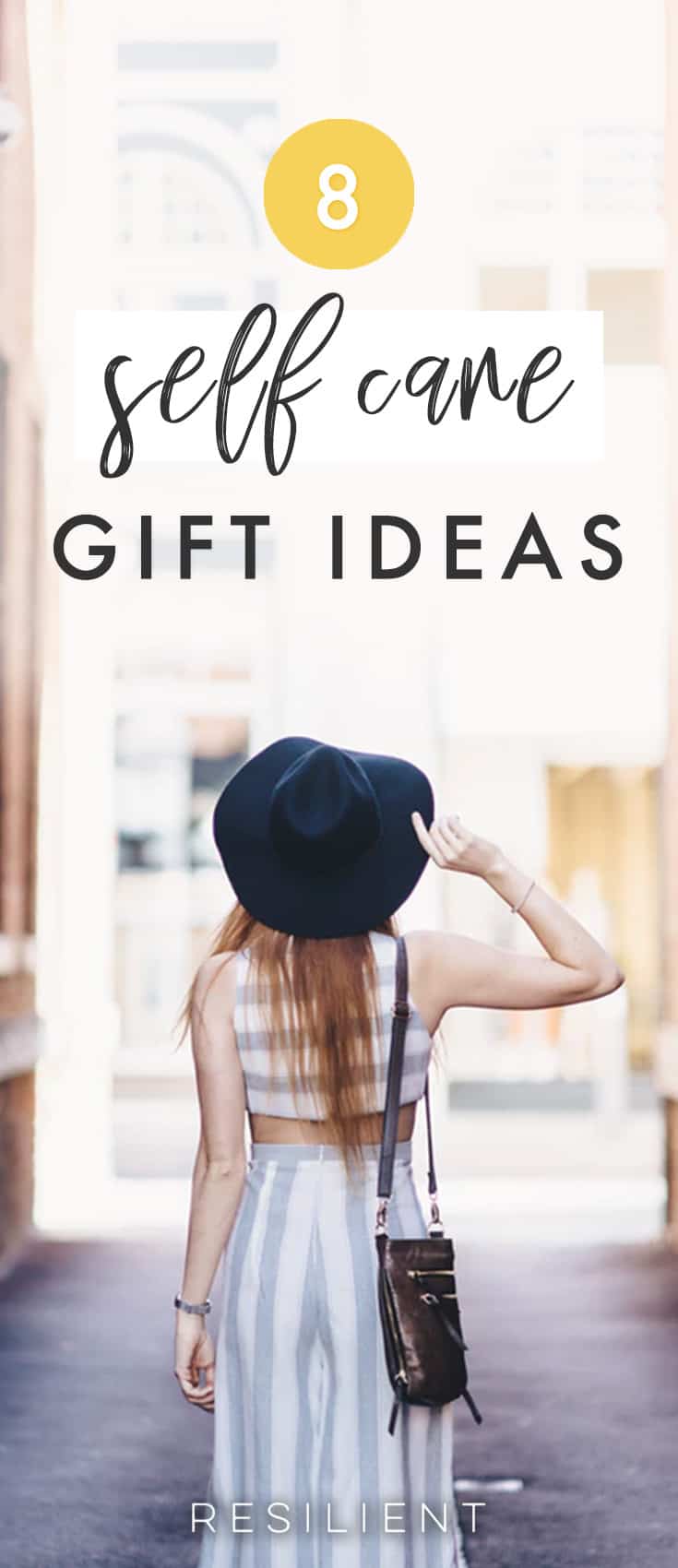 8 Self Care Gift Ideas | Gifts for Self Care

Bath bombs are a fun way to add color and scent to your bubble bath in a luxurious way. There are lots of different beautiful sets of bath bombs available. You can also try making some homemade bath bombs or a DIY sugar scrub for a fun DIY gift.
Here's another vegan one too:
Essential oils are super popular (they basically use aromatherapy to make you more relaxed / less stressed / happier), and this one includes blends like Stress Relief and Uplift. I have a handful of essential oils and rollerballs that I use on a regular basis for relaxing and unwinding, etc, and it can be a nice natural addition to your life. 🙂
Related Post: 8 Best Essential Oils for Depression and Anxiety

Use an essential oil diffuser like this one to scent the air in a room with the relaxing aromatherapy of essential oils.
👉 Related Post: The Best Weighted Blankets for Calming

Add on a bathtub caddy to your bath bombs above and you have the perfect relaxing bubble bath experience!
Related Posts:
Keep your favorite self care goodies in one handy holo bag with this Self Care Package. It comes with a face mask, eye mask, lavender essential oil, habit tracker, and more!

Check out some digital inspirational prints with quotes on them! Print it out, stick it on your wall, and feel a little inspired every day.
Related Posts:
Get a bunch of ideas for self care plus printables for your daily self care routine and checklist with our Self Care Planner.

I have one of these and it's pretty awesome – it's like scarf type of massager that you can wrap around you and it massages your shoulders and neck. There's also a heat option!

Remember to make self care a regular part of your life with a monthly subscription box like Therabox! You'll receive bath goodies and other relaxing items. Also makes a great gift idea.

This spa box includes lots of bath goodies like bath bombs, candles, bath salts, handmade soap, and more, and having a spa day can help you relax and unwind from the day. 🙂 You can also try making some homemade bath bombs or a DIY sugar scrub for a fun DIY gift.

Bonus: Soul CBD Oil – save 10% with our link!