There are many different ways to improve yourself and make your life better. Here are 25 self improvement tips and ideas for improving your life.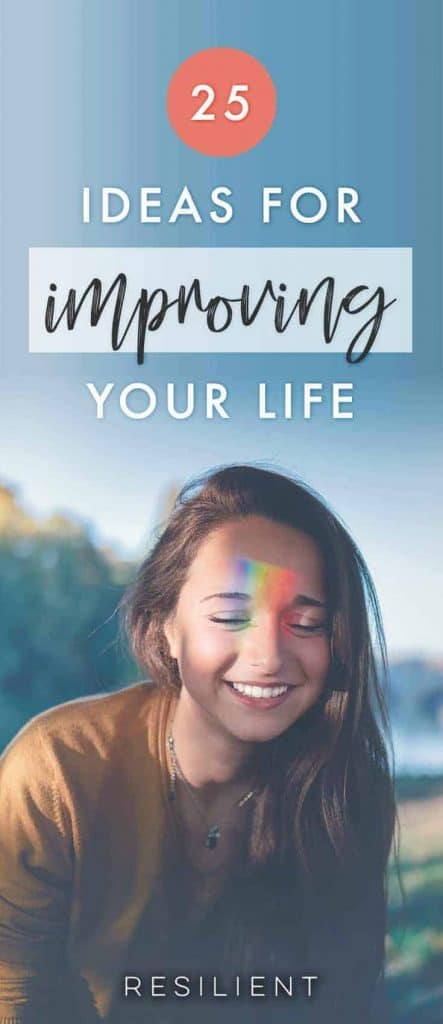 Click here to subscribe to our Youtube channel!
25 Self Improvement Tips
I would recommend, as I usually do, that if you're going to make changes in your life, try tackling just one change at a time until you feel comfortable with it or it becomes a habit before moving on to adding more things. It might be tempting to try everything at once, but it's more effective to master one thing at a time. 😃

Having said that, if something doesn't work for you, you can just cross it off your list and try something else.
1. Think about at least 3 things you're grateful for everyday
2. Keep an on-going gratitude list. Each morning or evening, ask your "What are at least three things I'm grateful for today?"
3. Declutter your home
4. Organize your things
5. Compliment someone every day
6. Perform a random act of kindness every day
7. Tell yourself positive affirmations
8. Do forgiveness work. The best way to move forward is to let go of the past.
9. Read self improvement blogs (like Resilient ;))
10. Think about why you want to improve yourself. What is your "why" for making a life change?
11. Move your body daily. Exercise, dance, walk – anything you like.
12. Meditate more, or start meditating if you've never done it before.
13. Set goals for yourself
14. Eat better. More fruits, more vegetables, less junk.
15. Be kind to yourself. Be your own best friend. 🙂
16. Keep a positive attitude
17. Continuously learn new things
18. Forgive people and yourself. Forgiveness is important.
19. Let go of the past
20. Live in the present moment
21. Find the lesson in every hardship.  Look for the silver lining.
22. Do what you want to do
23. Write a list of things you're proud of
24. Try journaling about your thoughts
25. Learn from your mistakes
Which self improvement tips are you going to try?
P.S. If you're ready to improve your life and keep track of all your progress and goals, check out Your Best Life Planner. It's a kit of 36 digital printables that help you plan your days with monthly, weekly, and daily planners, set goals, vision your future, create self care and gratitude lists, and so much more! Check it out here now and create your best life.