25 Self Improvement Tips to Improve Your Life
Affiliate Disclaimer: This site contains affiliate links, which means we earn money if you purchase through our link. As an Amazon Associate I earn from qualifying purchases. Read our Disclosure Policy.
There are many different ways to improve yourself and make your life better. Here are 25 self improvement tips and ideas for improving your life.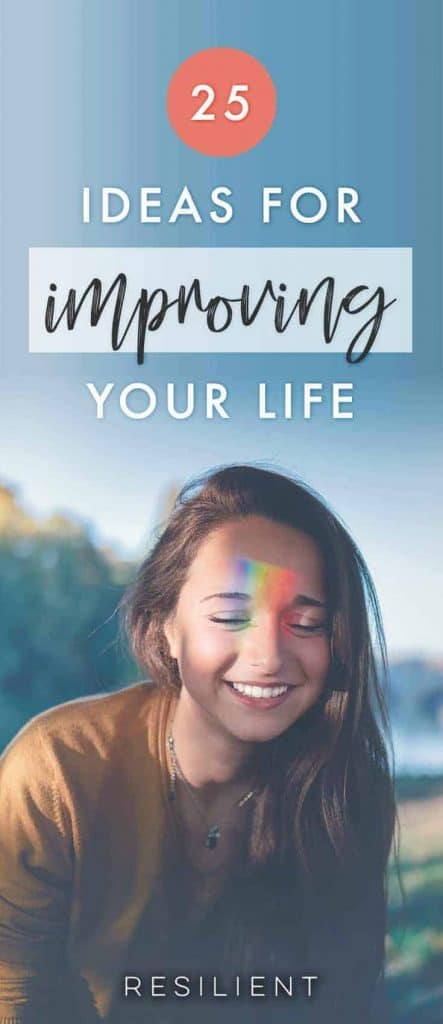 Click here to subscribe to our Youtube channel!
25 Self Improvement Tips | Self Improvement Ideas
I would generally recommend that if you're going to make changes in your life, try tackling just one change at a time until you feel comfortable with it or it becomes a habit before moving on to adding more things.
It might be tempting to try everything at once, but it's more effective to master one thing at a time. ?

Having said that, if something doesn't work for you, you can just cross it off your list and try something else.
Here's a secret: improving your life is like learning languages. Once you learn one language, it's a lot easier to learn more because the fundamentals are the same.
And once you improve one area of your life, it's a lot easier to improve every area of your life because you've already learned the fundamentals. Here's how to improve your entire life.
How to Improve Your Entire Life
I will tell you that improving the first area of your life is the hardest. It's like learning your first foreign language: deciphering all the new pronunciations and accent marks; figuring out how the grammar is structured; learning new verb conjugations and pronouns.
It can take years and feel like a constant uphill battle. But once you've got that down, learning something else, or improving something else, is a breeze.
Products We Recommend:
That's why you sometimes see people who overhaul their health end up becoming happier or more confident or improving other areas of their life as a result.
Or when someone declutters their home, they end up gaining a lot more than just an organized house.
Here are some areas of your life that you might work on:
– Happiness
– Health
– Fitness
– Passion / Purpose
– Career
– Spirituality
– Finances
– Organization
Becoming happy, for example, isn't just about applying a few tips and tricks here and there. It's about changing the way you approach life.
If your happiness and mental health is the first area of your life you want to improve, here are some of our blog posts that will help you get started:
More Posts You Might Like:
Or you might even find that it's easier to improve a different area of your life first, and happiness is just a natural by-product.
If you were to change careers to something you're more passionate about, for example, you might end up being a lot happier without even having to do anything else. Or you might find that improving your financial life gives you more confidence.
All areas of your life are interrelated in some way. You can't tug on one string of your life without pulling on the others. ?
That goes in the opposite direction too. So if one area of your life is in complete disarray, it's a lot harder to get control of the rest of your life.
Start by picking just one area from the list above to tackle first. Maybe that's the area causing you the most grief and stress right now, or maybe that's an area that seems like it would be the easiest to fix and would give you some small victories to keep the momentum going.

Pick the area you want to improve, and today, take three small steps forward toward improving just this small area of your life.
Tomorrow, take three more steps to improve the same area, and keep doing that until you see progress. You might just find that you end up improving a lot more than you realized. 🙂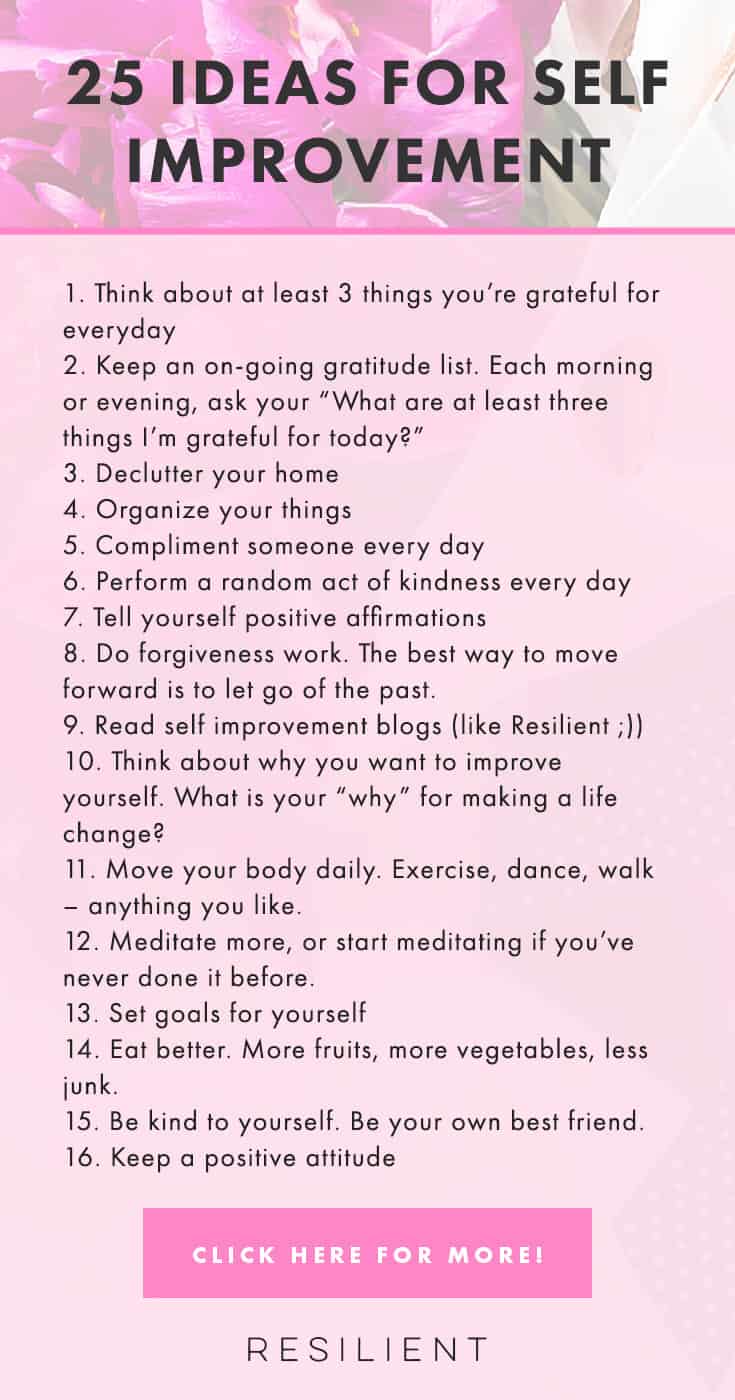 Ideas for Self Improvement
1. Think about at least 3 things you're grateful for everyday
2. Keep an on-going gratitude list. Each morning or evening, ask yourself, "What are at least three things I'm grateful for today?"
3. Declutter your home
4. Organize your things
5. Compliment someone every day
6. Perform a random act of kindness every day
7. Tell yourself positive affirmations
8. Do forgiveness work. The best way to move forward is to let go of the past.
9. Read self improvement blogs (like Resilient ;))
10. Think about why you want to improve yourself. What is your "why" for making a life change?
11. Move your body daily. Exercise, dance, walk – anything you like.
12. Meditate more, or start meditating if you've never done it before.
13. Set goals for yourself
14. Eat better. More fruits, more vegetables, less junk.
15. Be kind to yourself. Be your own best friend. 🙂
16. Keep a positive attitude
17. Continuously learn new things
18. Forgive people and yourself. Forgiveness is important.
19. Let go of the past
20. Live in the present moment
21. Find the lesson in every hardship.  Look for the silver lining.
22. Do what you want to do
23. Write a list of things you're proud of
24. Try journaling about your thoughts
25. Learn from your mistakes
There's an (awful) saying that applies very nicely to the pursuit of happiness:
"There's more than one way to skin a cat."
This idiom isn't supposed to be literal, it just means that there's more than one way to do something to reach the same goal.
It's the same way with happiness and self improvement.
There's lots of tips in the world about how to be happy, whole books written about it, varying expert opinions, sometimes conflicting studies, alternative healing methods, and of course lots of life advice posts on this blog and others too. ?
Sometimes it can feel overwhelming because you don't know where to start and you don't know what will work for you, and almost any of the common methods you hear about has the potential to help you- therapy, medication, a healthier diet, a positive attitude, exercise, forgiveness, gratitude, changing your beliefs and thought patterns, meditation, and on and on and on.
So which one do you do?!?
Do whatever you discover works for you, and that you can do consistently.
You might naturally start off with something you've been recommended by someone else, but if that doesn't work, try going with whatever technique sounds the easiest and most manageable to you right now.
Often, the best results in your life come from consistently applying a technique to your life over a period of time, rather than doing something once or sporadically.
And the easiest way to be consistent is to pick something that's easy for you to do.
So if the idea of running every day for the endorphin boost when you can't even get out of bed right now is overwhelming, try something else. Try something less overwhelming. You can get results without forcing yourself to do the most "difficult" thing on the list.
There is, as they say, more than one way to skin a cat. ?
Some people will claim that their method is the ONLY solution for whatever problem you are facing.
Usually, there are actually many different possible solutions.
If something doesn't work for you, it doesn't mean there's something wrong with you or that you're a "hopeless" case. It just means that that method isn't the right one for you.
There are dozens and dozens of different ways to achieve the same goal – if something doesn't work for you after you've applied it consistently, don't beat yourself up. Just try something different.
Tips for Self Improvement | Self Improvement Ideas
P.S. Get free downloads, checklists, inspirational emails & more when you sign up for our Free Resource Library!