The idea of changing the world: is it a necessary ambition or just a pipe dream? No matter how you see it, one person can make an impact on the world in a way that ripples out way past their own circles. Here are 15 quotes about changing the world.
Click here to subscribe to our Youtube channel!
Related Posts:
These quotes have a few different perspectives on what it means to "change the world" and whether or not it's really possible. Some people say that it's our purpose to try and change the world, while others say that the only way to change the world is to start by changing yourself.
15 Quotes About Changing the World | Change the World Quotes
1. "I alone cannot change the world, but I can cast a stone across the waters to create many ripples." – Mother Teresa
2. "We must become the change we wish to see in the world." – Mahatma Gandhi
3. "In order to change the world, you have to get your head together first." – Jimi Hendrix
4. "Every great dream begins with a dreamer. Always remember you have within you the strength, the patience and the passion to reach for the stars to change the world." – Harriet Tubman
5. "Things don't have to change the world to be important." – Steve Jobs
6. "Yesterday I was clever, so I wanted to change the world. Today I am wise, so I am changing myself." – Rumi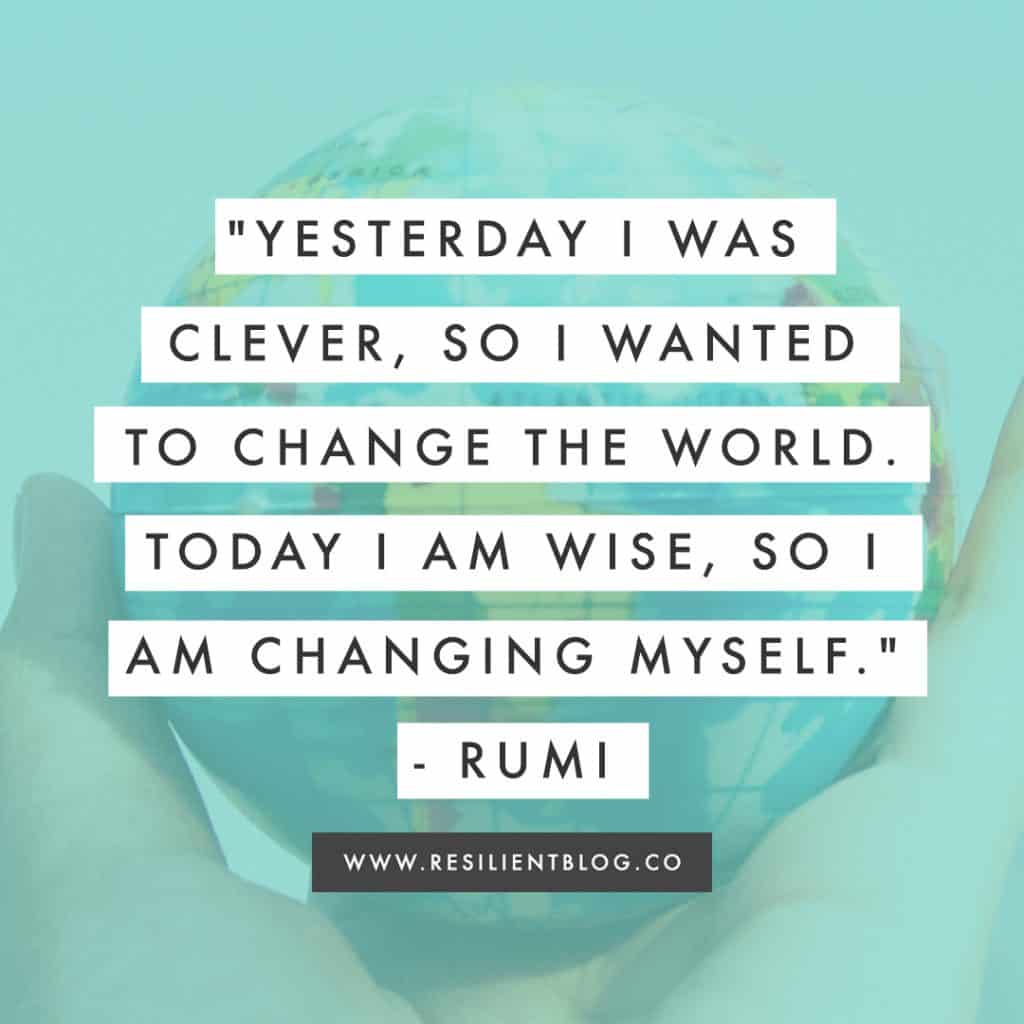 7. "We can change the world one thought at a time, one child at a time, one family at a time, one community at a time, one city, one state and one country at a time." – Bryant McGill
8. "When you inspire one person you have already changed the world." – Sabina Nore
9. "Be what you are. Do what you love. Speak what you feel. Don't hide your humanity. Celebrate it. Embrace it. That is how you change the world." – Vironika Tugaleva
10. "If there is no transformation inside of us, all the structural change in the world will have no impact on our institutions." – Peter Block
11. "The only way we can change our world is to take responsibility for our part in it." – Rachael Bermingham
12. "Let us pick up our books and our pens. They are our most powerful weapons. One child, one teacher, one book, and one pen can change the world." – Malala Yousafzai
13. "Choose your corner, pick away at it carefully, intensely and to the best of your ability and that way you might change the world." – Charles Eames
14. "The only way we can change our world is to take responsibility for our part in it." – Rachael Bermingham
15. "In a gentle way, you can shake the world." – Mahatma Gandhi
If you would like more inspirational quotes and tips, check out our 365 Recovery Tips.
Changing the World Quotes | Quotes for Changing the World
P.S. If you're ready to improve your life and keep track of all your progress and goals, check out Your Best Life Planner. It's a kit of 36 digital printables that help you plan your days with monthly, weekly, and daily planners, set goals, vision your future, create self care and gratitude lists, and so much more! Check it out here now and create your best life.