How to Improve Your Life Overnight
Affiliate Disclaimer: This site contains affiliate links, which means we earn money if you purchase through our link. As an Amazon Associate I earn from qualifying purchases. Read our Disclosure Policy.
How'd you like to dramatically improve your life right now? The title of this post is a little tongue-in-cheek because ultimately it takes time to see lasting results in your life (in any area) and lots of little baby steps, but there are a few things you can do to see results almost instantly and improve your life overnight.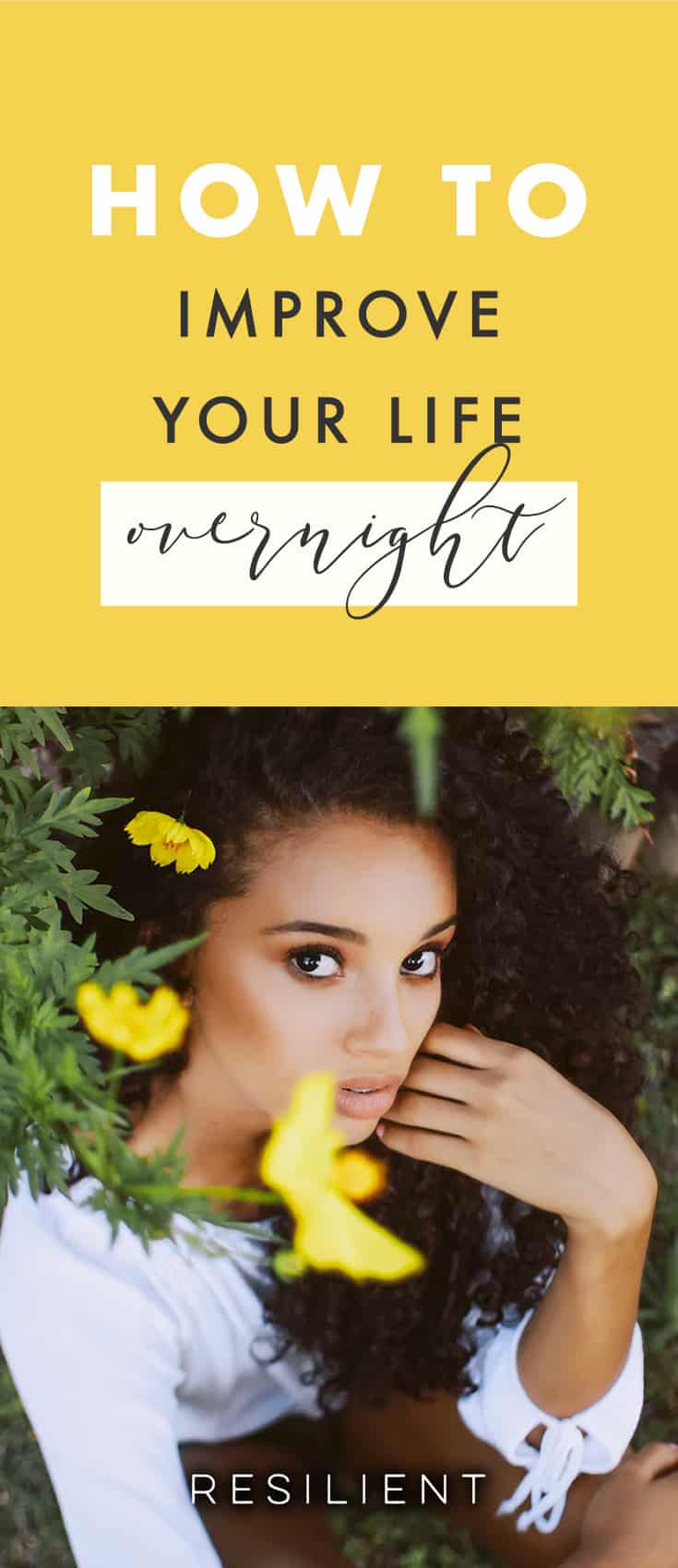 Click here to subscribe to our Youtube channel!
"The more you praise and celebrate your life, the more there is in life to celebrate."
– Oprah Winfrey
How to Improve Your Life Overnight
One thing you can do to improve your life on the spot is gratitude. Yeah, yeah, you've probably heard it before a million times. But have you actually implemented a practice of gratitude into your daily life?
Are you actually writing down or actively thinking about what you're grateful for every single day?
Do you have a gratitude list somewhere to look at when you're having a bad day?

More Posts You Might Like:
Here's how to start using gratitude in your life so you can make a positive difference right away.
First, write down or think about three things you're grateful for every day.
Writing is better in the beginning, but after a while it's ok if you just want to run through a quick mental list at the beginning or end of the day. For a while I wrote down what I was grateful for every day, and it made a big difference.
Products We Recommend:
You might think you have nothing going for you and that your life completely sucks, but when you make yourself find things to be grateful for, you'll realize that there are actually a lot more good things in your life than you realize.
Here are a few ideas of things you can be grateful for:
– You're alive.
– You're breathing.
– You're reading this blog post, so you're literate. A lot of the world isn't.
– You probably have food to eat, water to drink, and a roof over your head.
After you have a few basic things like these down, you can think of other things like if you have loved ones or friends or family who care about you, a job that pays the bills, etc. Maybe you're following your dreams or have time for a hobby you love or a pet that loves you unconditionally.
Next, gather a running list of everything you're grateful for. I actually have a list of 100 things that I'm grateful for that I can look at whenever I need a little positive boost, and it really helps.
I made it by writing down about 5-10 things every day for a few weeks, and now I have a huge list of everything in my life that I love and appreciate.
Gratitude is really powerful stuff. Anytime you start to feel bad, make yourself come up with something to be grateful for or something positive to see in your situation. Sometimes gratitude is the only thing separating a bad mood from a good one.
Try it.
P.S. Get free downloads, checklists, inspirational emails & more when you sign up for our Free Resource Library!