20+ Quotes About Happiness to Make You Happier
Affiliate Disclaimer: This site contains affiliate links, which means we earn money if you purchase through our link. As an Amazon Associate I earn from qualifying purchases. Read our Disclosure Policy.
I love reading quotes because they can be very inspiring and can also make you think about things in a completely new way. Here are 20+ quotes about happiness and happiness quotes to inspire you on your journey toward a happier life. 🙂
Click here to subscribe to our Youtube channel!
20+ Quotes about Happiness | Inspirational Happiness Quotes
"Happiness is when what you think, what you say, and what you do are in harmony." – Mahatma Gandhi
"We tend to forget that happiness doesn't come as a result of getting something we don't have, but rather of recognizing and appreciating what we do have." – Frederick Keonig
"Success is not the key to happiness. Happiness is the key to success. If you love what you are doing, you will be successful." – Herman Cain
"Happiness is not something ready-made. It comes from your own actions." – Dalai Lama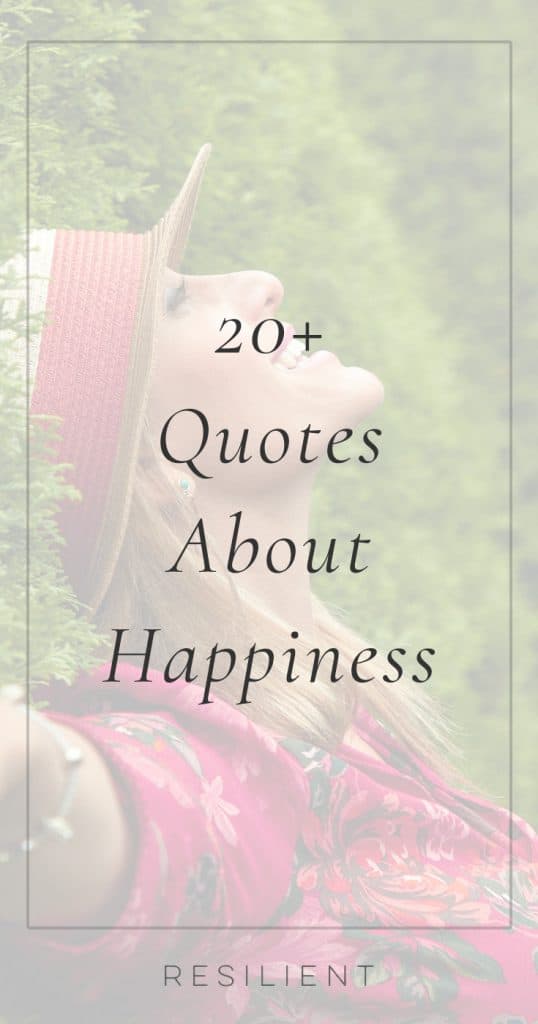 Products We Recommend:
"When one door of happiness closes, another opens, but often we look so long at the closed door that we do not see the one that has been opened for us." – Helen Keller
"Learn to let go. That is the key to happiness." – Buddha
"Don't rely on someone else for your happiness and self-worth. Only you can be responsible for that. If you can't love and respect yourself – no one else will be able to make that happen. Accept who you are – completely; the good and the bad – and make changes as YOU see fit – not because you think someone else wants you to be different." – Stacey Charter
I Wish You Happiness
I wish you happiness. Not the kind that bubbles up and then disappears, but the kind you feel deep in your bones.
I wish you joy. I hope that you always find a friend to laugh with and a shoulder to cry on.
"It's rebellious, in a way, to choose joy, to choose to dance, to choose to love your life."
– Cold Tangerines
I hope that your days are filled with endless adventures and you stay up late into the night talking about your philosophy of life and what this all means.
I wish you exciting times and boring times, times to rejoice over and times to mourn.
I wish you a full spectrum of life, bursting at the seams with hues of color.
I wish you a freshly-picked flower on a rainy day and chocolate for any occasion.
I hope that you find the courage to do something courageous every once in a while, and the bravery it takes to stand up to your adversaries.
I hope your life is filled with life and in between calm moments of peace, there are always speckled moments of excitement.
But most of all, I wish you happiness and success in your life.

The Secret to Happiness is Already in Front of You
If you're looking for the secret to happiness, here it is:
You have to choose this.
It's that simple, and that complex.
No one else can make you be happy or walk this journey for you.
You have to choose this.
And after you choose to be happy, you have to commit to making it happen. Knowing that it is just going to happen, instead of hoping or wishing that one day it might happen.
It happens when you make it happen.
That's not to say you should force anything to happen, just that you need to be putting in consistent, daily effort.
Effort on what?
Lots of things. Gratitude, meditation, exercise, forgiveness, mindset, personal development. Anything you want to do to become a happier person.
Study self help books daily. Read inspirational quotes. It's amazing to see that humans throughout history have already figured out everything you need to know about being happy and fulfilled with your life.
Seriously, read a bunch of inspirational quotes. They are full of centuries of wisdom from people who know their stuff.

Write down three things you're grateful for every day. Gratitude takes whatever situation or circumstances you have and makes it into something worth being grateful for.
With a tiny mindset shift to "I'm so thankful for…" you can turn what you already have into enough.
Exercise if you're feeling down. Eat something healthy. Drink lots of water. Having a healthy body can only help your mind.
Forgive people. Forgive your past. Forgive yourself, for everything past, present, and future.
"Holding on to anger is like grasping a hot coal with the intent of throwing it at someone else; you are the one who gets burned."
– Buddha
And work on improving your mindset about things above all else. How can you see this in a positive way? Always look for the positive in any situation.
How would a happy person act? How would you behave if you were a person who loved themselves? And so on.
That's it. That's all there is to happiness.
Choose to be happy, commit to making it happen, and then take consistent, daily action to work on yourself and get there.
I Wish You All the Happiness | Wish You Happiness Quotes

More Happiness Quotes | Quotes About Happiness
"The grass is always greener where you water it." – Unknown
"The happiest people in the world are those who feel absolutely terrific about themselves, and this is the natural outgrowth of accepting total responsibility for every part of their life." – Brian Tracy
"Optimism is a happiness magnet. If you stay positive, good things and good people will be drawn to you." – Mary Lou Retton
"I believe compassion to be one of the few things we can practice that will bring immediate and long-term happiness to our lives." – Dalai Lama
"Sometimes your joy is the source of your smile, but sometimes your smile can be the source of your joy." – Thich Nhat Hanh
"Most people are about as happy as they make up their minds to be." – Abraham Lincoln
"Life will bring you pain all by itself. Your responsibility is to create joy." – Milton Erickson
"Thousands of candles can be lighted from a single candle, and the life of the candle will not be shortened. Happiness never decreases by being shared." – Buddha
"The moments of happiness we enjoy take us by surprise. It is not that we seize them, but that they seize us." – Ashley Montagu
More Inspirational Quote Posts:
Quotes for Happiness | Inspiring Happy Quotes
"If you want happiness for an hour — take a nap.'
If you want happiness for a day — go fishing.
If you want happiness for a year — inherit a fortune.
If you want happiness for a lifetime — help someone else." – Chinese Proverb
"There is only one way to happiness and that is to cease worrying about things which are beyond the power of our will." – Epictetus
"To be happy, we must not be too concerned with others." – Albert Camus
"Happiness comes when your work and words are of benefit to yourself and others." – Jack Kornfield
"Be happy, and a reason will come along." – Robert Brault
"It isn't what you have, or who you are, or where you are, or what you are doing that makes you happy or unhappy. It is what you think about." – Dale Carnegie

What's your favorite quote about happiness? 🙂
Happiness Quotes for Life | Quotes About Being Happy
P.S. Get free downloads, checklists, inspirational emails & more when you sign up for our Free Resource Library!