20+ Quotes About Believing in Yourself
Affiliate Disclaimer: This site contains affiliate links, which means we earn money if you purchase through our link. As an Amazon Associate, I earn from qualifying purchases. Read our Disclosure Policy.
When you're following your dreams or doing what you love, you're bound to come up against some obstacles or tough times when you start to doubt yourself. In those times, it's important to surround yourself with inspiration and remember how to believe in yourself. Here are 20+ quotes about believing in yourself.
Subscribe to our Youtube channel!
I think sometimes we expect other people to believe in us when we don't believe in ourselves yet, but then we just end up disappointed.
More than that, motivation has to come from within, or it won't last very long. No one can push you into being motivated to want to do something.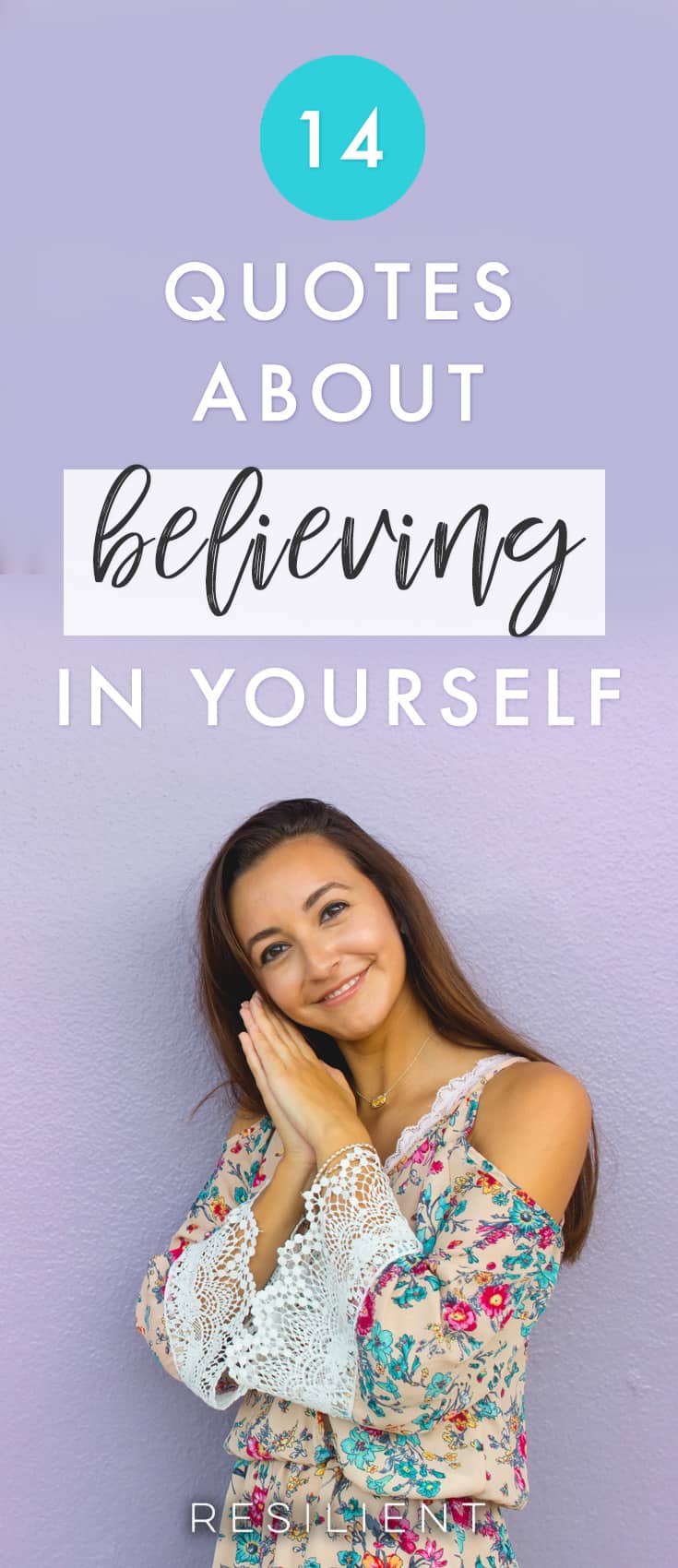 If you want to believe in yourself, you have to find a compelling reason why you want to do what you're trying to do. Maybe you want to be happy or you want to be able to follow your dreams or you want to graduate college or you want to be confident.
Products We Recommend:
Whatever it is, make sure it's enough to motivate yourself. Really dig deep to get to the core reason underlying why you want to do something.
Beyond that, what about when other people don't believe in you, or when they discourage you from following your dreams or doing what you love?
If it feels like other people are trying to get you down, try not to let them discourage you if this goal is something that's really important to you.
If you believe in yourself, it doesn't matter what other people think. Keep going back to your reason why.
If you're having doubts about what you're doing, sometimes people pick up on that and then try to talk you out of doing it or tell you that you're never going to succeed, etc.
It's totally normal to doubt yourself, but sometimes you have to just act confident around your so-called "haters" so they don't have any material to pick you apart on.
Ultimately, the only person who needs to believe in you is you. It's as easy and as difficult as that.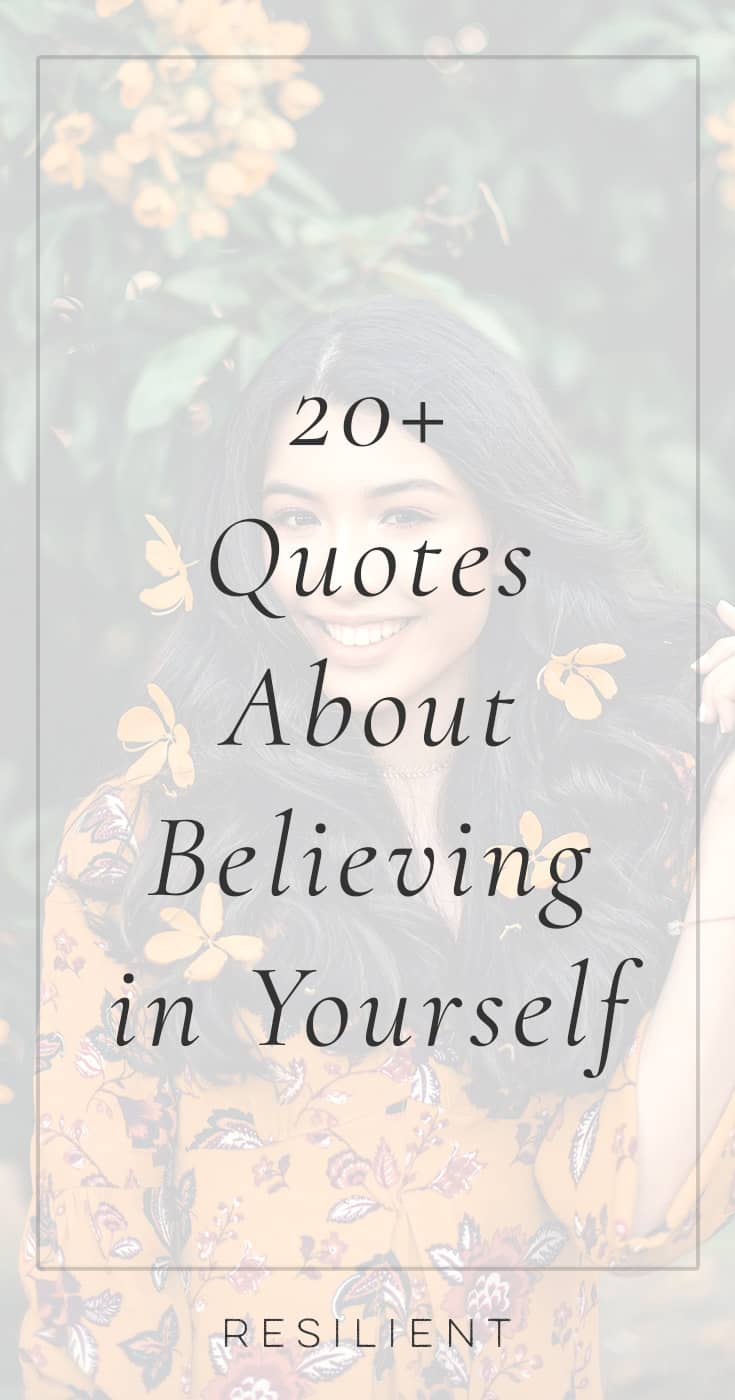 Quotes About Believing in Yourself | Belief in Yourself Quotes
1. "If you hear a voice within you say 'you cannot paint', then by all means paint, and that voice will be silenced."
– Vincent Van Gogh
2. "When there is no enemy within, the enemies outside cannot hurt you."
– African Proverb
3. "It is not the mountain we conquer but ourselves."
– Edmund Hillary
4. "Aerodynamically the bumblebee shouldn't be able to fly, but the bumblebee doesn't know that so it goes on flying anyway."
– Mary Kay Ash
5. "Many of life's failures are people who did not realize how close they were to success when they gave up."
– Thomas A. Edison
More Quotes on Belief in Yourself
6. "If you're going through hell, keep going."
– Winston Churchill
7. "A successful man is one who can lay a firm foundation with the bricks others have thrown at him."
– David Brinkley
8. "It is never too late to be what you might have been."
― George Eliot
9. "If you believe in yourself and have dedication and pride – and never quit, you'll be a winner. The price of victory is high but so are the rewards."
– Paul Bryant
10. "Believe in yourself, and the rest will fall into place. Have faith in your own abilities, work hard, and there is nothing you cannot accomplish."
– Brad Henry
11. "Life shrinks or expands in proportion to one's courage."
– Anaïs Nin
12. "It is not the mountain we conquer but ourselves."
– Edmund Hillary
13. "Always act like you're wearing an invisible crown."
– Author Unknown
14. "If we all did the things we are capable of doing, we would literally astound ourselves."
– Thomas Edison
You Are Capable of More Than You Realize
Hey, you.
You behind the computer or phone screen. Reading these words. This is for you. 🙂
I want you to know that you can do this. You can do anything you set your mind to.
It may not be easy. It may be a lot of hard work. It may be a constant struggle and feel like an uphill battle.
"You may have to fight a battle more than once to win it." – Margaret Thatcher
But in the end?
You're going to win. And it's going to be so worth it.
You may not feel like it, but you're more capable than you realize.
I was reading a personal development book one time and the author, who was a motivational coach, said, "When you think you're at your limit, you've only reached 10% of your full capacity." And obviously this isn't a scientific fact, but it is something to motivate you and worth thinking about.
Imagine if that were true.
Imagine that when you've done everything you can and you feel like you've given it everything you have, there's actually a whole other 90% out there that you have left to give.
It's kind of cool to think about the fact that you don't even know yet what you're truly capable of. You have so much potential if you just keep trying and working hard.
Going after your dreams can be tough. Whether that's becoming happy, finding love, getting your dream job, or something else, it takes a lot of strength and resilience to keep fighting for what you believe in.
But you can do this. There might be tears. It's going to be hard. You might want to give up.
But you don't even know what you're capable of yet until you push yourself to keep fighting. Take stock every now and then and make sure you're still going in the direction you want to be going in, and then get back into the battle and fight for the life you want.
You can do this.
More Quote Posts:
More Quotes About Belief in Yourself
15. "Don't wait until everything is just right. It will never be perfect. There will always be challenges, obstacles, and less than perfect conditions. So what? Get started now. With each step you take, you will grow stronger and stronger, more and more skilled, more and more self-confident, and more and more successful." – Mark Victor Hansen
16. "Once we believe in ourselves, we can risk curiosity, wonder, spontaneous delight, or any experience that reveals the human spirit." – E.E. Cummings
17. "One important key to success is self-confidence. An important key to self-confidence is preparation." – Arthur Ashe
18. "If we all did the things we are capable of doing, we would literally astound ourselves." – Thomas Edison
19. "Trust yourself. You know more than you think you do." – Dr. Benjamin Spock
20. "It is not the mountain we conquer, but ourselves." – Sir Edmund Hillary
21. "Nothing can stop the man with the right mental attitude from achieving his goal; nothing on earth can help the man with the wrong mental attitude." – Thomas Jefferson
22. "Confidence is a habit that can be developed by acting as if you already had the confidence you desire to have." – Brian Tracy
23. "The man who moves a mountain begins by carrying away small stones." ― Confucius
24. "To be a champ, you have to believe in yourself when nobody else will." – Sugar Ray Robinson
25. "A successful man is one who can lay a firm foundation with the bricks others have thrown at him." – David Brinkley
26. "Do not wait; the time will never be 'just right.' Start where you stand, and work with whatever tools you may have at your command, and better tools will be found as you go along." – George Herbert
27. "You may be the only person left who believes in you, but it's enough. It takes just one star to pierce a universe of darkness. Never give up." – Richelle E. Goodrich
How to Believe in Yourself When the World is Against You
Sometimes when you have a dream it seems like the whole world is against you, and you're in this alone.
And even if that's true, that doesn't mean you should give up on your dream. Other people might discourage you out of so-called realism or love, but it's only because they don't see your dream the way you do. They don't understand what you see.
But that's ok. The only person who has to believe in you is YOU.
Even if the whole world is against you, if you just believe in yourself, that's all that matters (and I believe in you :)).
You might fail hundreds of times and make countless mistakes, but you just have to pick yourself up and keep going.
Is this dream important to you? Obstacles are there not to stop you, but to see how much this goal matters to you. It's a test of your will and commitment.
Maybe you don't really believe in yourself either, or you're letting other people's comments get to you. That's ok too.
How would you behave if you WERE someone who believed in themselves? Do you have a role model? What would they do in your situation?
Start acting as if you're already there, and you'll get there faster.
Just keep believing in yourself. You can do it.
Quotes About Believing in Yourself | Believe in Yourself Quotes and Sayings
P.S. Get free downloads, checklists, inspirational emails & more when you sign up for our Free Resource Library!