Affiliate Disclaimer: This site contains affiliate links, which means we earn money if you purchase through our link. As an Amazon Associate I earn from qualifying purchases. Read our Disclosure Policy.
Having a sister can be like having a lifelong friend and confidante. Here are 25+ inspiring sister quotes and quotes about sisters.
Subscribe to our Youtube channel!
25+ Quotes About Sisters | Sister Quotes
"The best thing about having a sister was that I always had a friend." – Cali Rae Tumer
"I've known every love possible, but as the years stretched out, the love I longed for the most is the one I shared with my sister." – Josephine Angelini
"She is your mirror, shining back at you with a world of possibilities. She is your witness, who sees you at your worst and best, and loves you anyway." – Barbara Alpert
"So distant yet so close. So different yet so similar. That's why I love my sister." – Maxime Lagacé
"There's nobody in the world that knows me better than my sister." – Tia Mowry
"In thee my soul shall own combined the sister and the friend." – Catherine Killigrew
"A sister is everything you wish you could be and everything you wish you weren't." – M. Molly Backes
"The two sisters didn't come wailing. They came quietly, holding on to each other. As if they needed no one's comfort but the other's." – Kristen Ciccarelli
Products We Recommend:

Inspirational Sister Quotes
"We are sisters. We will always be sisters. Our differences may never go away, but neither, for me, will our song." – Elizabeth Fishel
"The only thing better than having you as my sister is my children having you as their aunt." – Unknown
"I'm the big sister. I want to make sure she has everything, even if I don't have anything. I love her too much." – Venus Williams
"Shoulder to shoulder, sister." – Brené Brown
"Unconditional love; the definition of sister." – Alicia Cook
"To have a loving relationship with a sister is not simply to have a buddy or a confident… it is to have a soul mate for life." – Victoria Secunda
"The ones that stay with you through everything – they're your true best friends. Don't let go of them. Also remember, sisters make the best friends in the world." – Marilyn Monroe
"A sister can be seen as someone who is both ourselves and very much not ourselves – a special kind of double." – Toni Morrison
"Sister is our first friend and second mother." – Sunny Gupta
More Quote Posts:
More Quotes on Sisters | Quotes for Sisters
"One's sister is part of one's essential self, an eternal presence of ones' heart, soul and memory." – Susan Cabil
"Friends grow up and move away. But the one thing that's never lost is your sister." – Gail Sheeny
"Is solace anywhere more comforting than that in the arms of a sister?" – Alice Walker
"A sister is someone who loves you from the heart. No matter how much you argue you cannot be drawn apart. She is a joy that cannot be taken away. Once she enters your life, she is there to stay." – Shiva Sharma
"You're not my best friend. You're my sister, and that's more." – Jenny Han
"A sister is a gift to the heart, a friend to the spirit, a golden thread to the meaning of life." – Isadora James
"She is the mother I never had, she is the sister everybody would want. She is the friend that everybody deserves. I don't know a better person." – Oprah Winfrey
"There's no better friend than a sister." – Mary Engelbreit
"A sister is a little bit of childhood that can never be lost." – Marion C. Garretty
"Sisters are friends we have for a lifetime." -Catherine Pulsifer
"Sweet is the voice of a sister in the season of sorrow." – Benjamin Disraeli
"You know full well as I do the value of sisters' affections; there is nothing like it in this world." – Charlotte Bronte
P.S. Get free downloads, checklists, inspirational emails & more when you sign up for our Free Resource Library!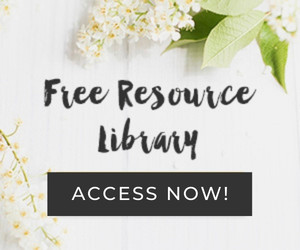 I hope you enjoyed these sister quotes and quotes about sisters!