Compassion is the thread that connects humans to each other. Here are 23 heart-warming quotes about compassion.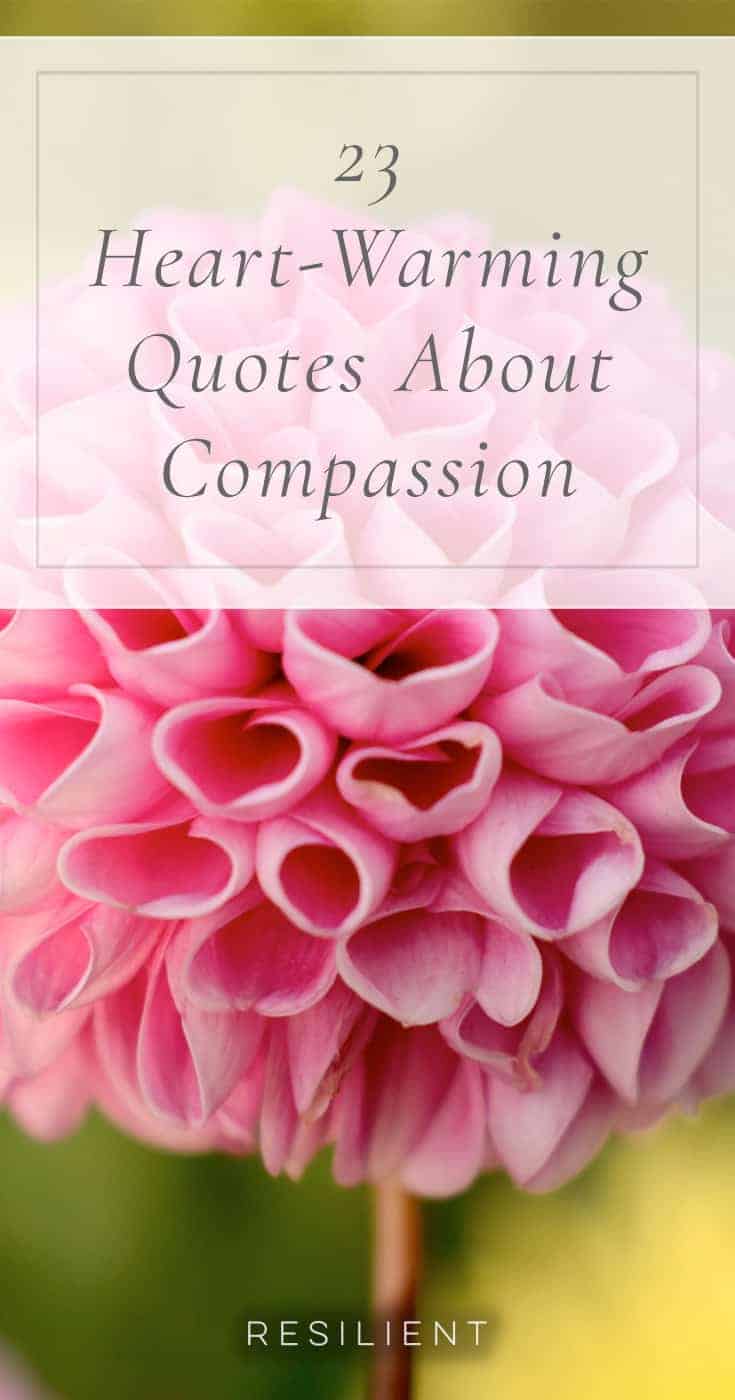 Related Posts:
23 Heart-Warming Quotes About Compassion
"Compassion is the radicalism of our time." – Dalai Lama
"It is in deep solitude that I find the gentleness with which I can truly love my brothers." – Thomas Merton
"If you want others to be happy, practice compassion. If you want to be happy, practice compassion." – Dalai Lama
"Compassion will cure more sins than condemnation." – Henry Ward Beecher
"Compassion is the basis of all morality." – Arthur Schopenhauer
"If we have no peace, it is because we have forgotten that we belong to each other." – Mother Teresa
"Compassion brings us to a stop, and for a moment we rise above ourselves." – Mason Cooley
"Compassion is a foundation for sharing our aliveness and building a more humane world." – Martin Lowenthal
"No matter who we are, no matter how successful, no matter what our situation, compassion is something we all need to receive and give." – Catherine Pulsifer
"The whole idea of compassion is based on a keen awareness of the interdependence of all these living beings, which are all part of one another, and all involved in one another." – Thomas Merton
"You may call God love, you may call God goodness. But the best name for God is compassion." – Meister Eckhart
"I feel the capacity to care is the thing which gives life its deepest significance." – Pablo Casals
"People will forget what you said, people will forget what you did, but people will never forget how you made them feel." – Maya Angelou
"Life is an exciting business, and most exciting when it is lived for others." – Helen Keller
"You cannot do a kindness too soon, for you never know how soon it will be too late." – Ralph Waldo Emerson
"The only way out of the labyrinth of suffering is to forgive." – John Green
"Be kind, for everyone you meet is fighting a hard battle." – Plato
"All I ever wanted was to reach out and touch another human being not just with my hands but with my heart." -Tahereh Mafi
"Love and compassion are necessities, not luxuries. Without them, humanity cannot survive." – Dalai Lama
"The individual is capable of both great compassion and great indifference. He has it within his means to nourish the former and outgrow the latter." – Norman Cousins
"Human kindness has never weakened the stamina or softened the fiber of a free people. A nation does not have to be cruel to be tough." – Franklin D. Roosevelt
"If there is any kindness I can show, or any good thing I can do to any fellow being, let me do it now, and not deter or neglect it, as I shall not pass this way again." – William Penn
"I would rather make mistakes in kindness and compassion than work miracles in unkindness and hardness." – Mother Teresa
If you would like more inspirational quotes and tips, check out our 365 Recovery Tips.