Let this sink in: you don't always get to control what happens in your life, but you do always get to choose your attitude and how you respond. Here are 15 quotes about attitude in life.
Click here to subscribe to our Youtube channel!
15 Quotes About Attitude | Quotes About Choosing Your Attitude in Life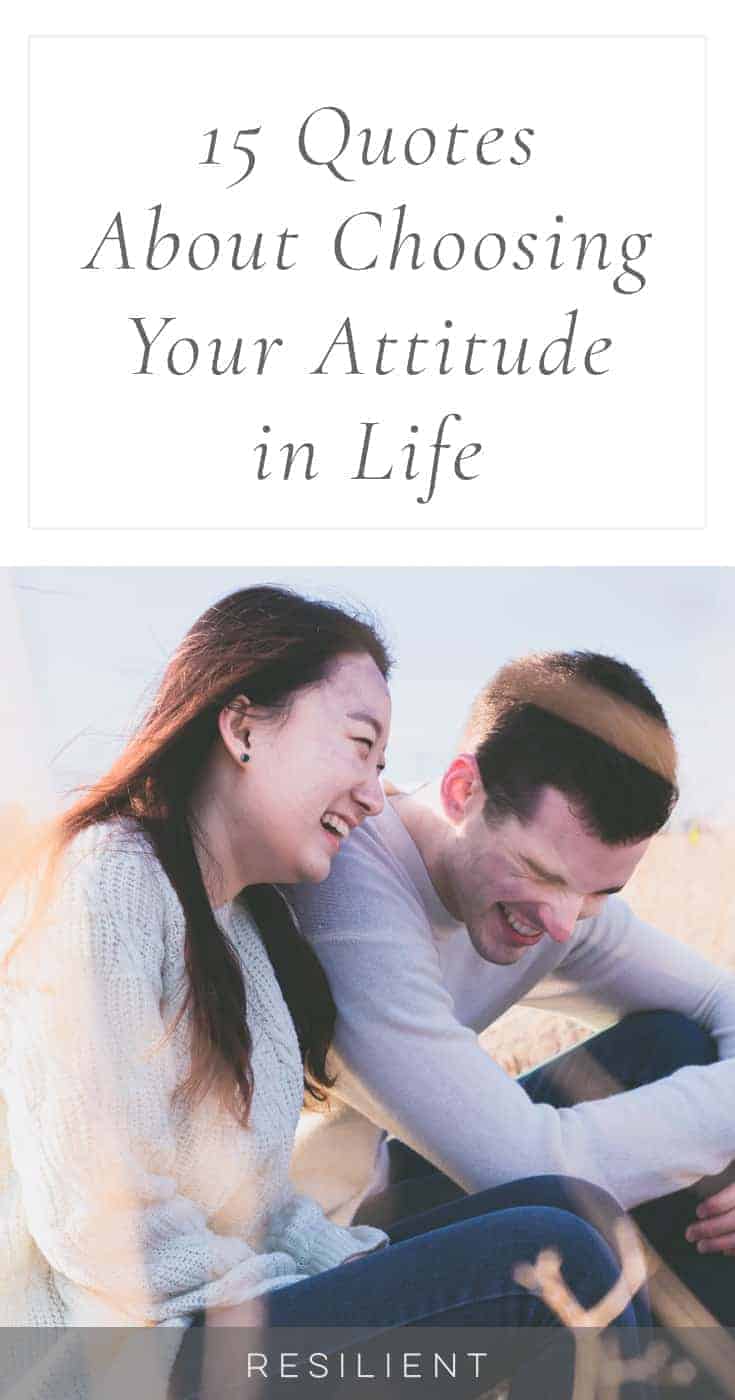 1. "Life is 10% what happens to me and 90% of how I react to it." – Charles Swindoll
2. "The mind is everything. What you think you become." – Buddha
3. "Most of the shadows of this life are caused by standing in one's own sunshine." – Ralph Waldo Emerson
4. "I am not a product of my circumstances. I am a product of my decisions." – Stephen Covey
5. "Whether you think you can or you think you can't, you're right." – Henry Ford
6. "Everything has beauty, but not everyone can see." – Confucius
7. "Remember no one can make you feel inferior without your consent." – Eleanor Roosevelt
Choosing Your Attitude in Life: Why You'll Always Find What You're Looking For
I believe that once you make a choice to believe something, you'll always find what you're looking for. Both the good and the bad. Here's why.
When you believe something about life – which ultimately starts with a choice to believe that – you'll always find things that support your belief and subtly ignore things that contradict you. We want validation that our beliefs are real and true.
But what if your beliefs are negative? What if you believe that you're fundamentally unlovable, or that no one wants to be your friend, or that life is always a struggle? You will, in fact, find just what you're looking for. You'll keep finding scenarios that "prove" that you're unlovable or subconsciously sabotaging yourself in ways that make life back up your beliefs.
So is it really true that the world is out to get you and bad things always happen to you, or is that based on a few bad situations in the past that you're replaying in your mind? If you search for the negative in life, you'll always find it.
But if you search for the positive, you'll find that too.
The world is neither good nor bad – it's what we choose to see it as. There are bad things in the world and also good things happening around the clock.
If you want to believe that the world is a terrible place, then you'll look for things that back up your belief, hang out with negative people, look for the bad in people, and look for things happening in the news that prove your point. You'll be right, because you're only looking for the bad.
But do you want to be right, or do you want to be happy?
You don't have to live like that. There is a whole other side to the world that is a much brighter and kinder and more positive place to live – all you have to do is look hard enough. If you make the choice to believe the best in people and see life through a positive lens, you'll always find what you're looking for too. Because then when you hear about something good happening or you actively seek out positive people, you'll be proving that belief instead.
So which side is true? Well, both are. But it's very tiring to constantly dwell on the negativity in life, so why not choose to see the positive instead?
In our world, choosing to be happy and see the good in life is the greatest act of rebellion.
Related Quote Posts:
More Attitude Quotes | Attitude in Life Sayings
8. "If you look at what you have in life, you'll always have more. If you look at what you don't have in life, you'll never have enough." – Oprah Winfrey
9. "Adopting the right attitude can convert a negative stress into a positive one." – Hans Selye | Quotes About Attitude
10. "It's easy to get negative because you get beat down. You go through a few disappointments and it's easy to stay in that negative frame of mind. Choosing to be positive and having a grateful attitude is a whole cliche, but your attitude is going to determine how you're going to live your life." – Joel Osteen
11. "Two men look out the same prison bars; one sees mud and the other stars." – Frederick Langbridge
12. "It is our attitude at the beginning of a difficult task which, more than anything else, will affect It's successful outcome." – William James
Changing Your Attitude in Life: When The Only Problem is That You Think There's a Problem
I'm beginning to think that a lot of our problems in life are entirely self-created.
By that I mean we create problems where there isn't really a problem, or where there doesn't need to be a problem. Humans can be addicted to the drama of always having some problem to deal with in their lives.
I've been thinking lately about how my dreams have gotten smaller over the years, and for a while this stressed me out, but now I realize that this is only a problem because I think it is.
When I was in high school I was determined that I would be one of the few women on the Fortune 500 (with a company I founded, of course). I wanted to change the world, no, save the world, and I wanted to impact millions of lives. I remember writing in one of my journals that I wanted to be the most influential female entrepreneur of all time.
Yep, I had big dreams.
Then the depression hit, and it hit hard. I was depressed for several years, actually, but it got really bad in college.
And for a while, that blew out the candle on my dreams. I was a shell of the vibrant, ambitious, social justice fighting girl that I once was. The depression took out all the light inside me.
But from the broken pieces, new dreams formed. I still wanted to change the world, but I knew that if I was ever going to do that I had to be happy and well first.
So that's what I focused on. I worked on improving myself and becoming happier and reading everything I could about personal development and spirituality.
And over time, I grew new dreams, born out of helping other people recover from similar challenges. These dreams were "smaller" than the old ones – I was content to run a quiet one person business from my laptop instead of a fifty story skyscraper surrounded by hundreds of employees, but they were just as valuable.
For a long time I thought that it was a problem that my dreams were smaller. That somehow, the depression had permanently damaged part of me and took away the big dreams I used to have. That it took away my ambition and drive. It felt like a problem because I saw other people shouting out their message that you have to work eighty hours a week or you're not trying hard enough, or that you should work until you're burned out and then keep on working at 150%, because that's the only way to succeed.
But it wasn't really a problem. I'm still ambitious and I still set goals, but I'm content with a quieter, more peaceful and slow pace of life. A cup of coffee, a fluffy blanket, and writing on my laptop for Resilient are all that it takes to make me happy now. I realized that I don't need millions of dollars or tons of material possessions or employees to be happy. I'm perfectly happy with my minimalist apartment and a fulfilling and meaningful business I can run from anywhere.
My dreams are different than they used to be, but it was only a problem because I thought it was a problem. No one way of thinking is right or wrong or better than the others.
They're just different.
So it is with you. Maybe you think that because you think differently than other people, there's something wrong with you. Or that it's a problem that you don't look the way everyone else does. Or you have completely different ideas about life than most.
But when it comes down to it, it's only a problem if you think it's a problem. Even if someone tries to make you feel wrong or bad for being different, that's just their problem, not yours.
Being different does not mean there's a problem with you or that there's something wrong with you. It just means that you're different.
And different is a beautiful thing.
More Quotes on Attitude and Choosing Your Attitude Toward Life
13. "It is your attitude, not your aptitude, that determines your altitude." – Zig Ziglar
14. "Our attitude towards what has happened to us in life is the important thing to recognize. Once hopeless, my life is now hope-full, but it did not happen overnight. The last of human freedoms, to choose one's attitude in any given set of circumstances, is to choose one's own way." – Victor Frankl
15. "Life is what we make it, always has been, always will be." – Grandma Moses
P.S. If you'd like more ways to let go of the negativity in your life, check out our 30 Day Negativity Detox.
P.S. If you're ready to improve your life and keep track of all your progress and goals, check out Your Best Life Planner. It's a kit of 36 digital printables that help you plan your days with monthly, weekly, and daily planners, set goals, vision your future, create self care and gratitude lists, and so much more! Check it out here now and create your best life.
Attitude Quotes | Quotes About Attitude in Life
(Visited 1,326 times, 1 visits today)