Affiliate Disclaimer: This site contains affiliate links, which means we earn money if you purchase through our link. As an Amazon Associate I earn from qualifying purchases. Read our Disclosure Policy.
Perseverance is about continuing on even in the face of adversity. Here are 30+ inspiring perseverance quotes and quotes about persevering.
Subscribe to our Youtube channel!
30+ Quotes About Perseverance | Persevering Quotes
"Just remember, you can do anything you set your mind to, but it takes action, perseverance, and facing your fears." – Gillian Anderson
"Through perseverance many people win success out of what seemed destined to be certain failure." – Benjamin Disraeli
"Perseverance is a positive, active characteristic. It is not idly, passively waiting and hoping for some good thing to happen. It gives us hope by helping us realize that the righteous suffer no failure except in giving up and no longer trying. We must never give up, regardless of temptations, frustrations, disappointments, or discouragements." – Joseph P. Wirthlin
"The road to perseverance lies by doubt." – Francis Quarles
"The path from dreams to success does exist. May you have the vision to find it, the courage to get on to it, and the perseverance to follow it." – Kalpana Chawla
"Nothing in this world can take the place of persistence. Talent will not; nothing is more common than unsuccessful people with talent. Genius will not; unrewarded genius is almost a proverb. Education will not; the world is full of educated derelicts. Persistence and determination alone are omnipotent. The slogan "press on" has solved and always will solve the problems of the human race." – Calvin Coolidge
"Great works are performed not by strength but by perseverance." – Samuel Johnson
"If four things are followed – having a great aim, acquiring knowledge, hard work, and perseverance – then anything can be achieved." – A. P. J. Abdul Kalam
"Patience and perseverance have a magical effect before which difficulties disappear and obstacles vanish." – John Quincy Adams
"Perseverance and perspective until victory." – Lincoln Diaz-Balart
Products We Recommend:
What to Do When You Feel Like a Failure & Why Failure Can Be a Good Thing
At the time, failure feels like the worst possible outcome in a situation. But sometimes it's not until much later that we learn important lessons from our mistakes and realize that we actually got more out of the experience than we realized. Here's what to do when you feel like a failure, and why failure can actually be a good thing.
First, I don't think you can really fail unless you give up completely. Even if you have a temporary setback or mess up, you can keep going toward your goal if it's something really important to you, and in that way you definitely haven't failed.
But even if you do call a setback a "failure," you have to realize failure isn't the opposite of success; failure is part of success.
It's almost impossible to succeed at a big enough goal unless you first fail a few times along the way. It's just part of the learning process.
But if you go into it knowing that ahead of time, then if you hit some kind of obstacle along the way, you won't get as discouraged if you know that it's just part of the process.
"Every strike brings me closer to the next home run." – Babe Ruth
On the other hand, maybe your "failure" actually makes you realize that your original goal isn't actually what you wanted all along.
"Remember that sometimes not getting what you want is a wonderful stroke of luck." – Dalai Lama
Setbacks along the way are like a test to determine how badly you want something. Maybe an early obstacle makes you actually realize that no, this isn't what you want.
Then you can change course more quickly and move into doing something that you're really passionate about.

Inspirational Perseverance Sayings
"I think one of the most important attributes is perseverance." – David Rose
"Never, never, never, never give up." – Winston Churchill
"Adversity, and perseverance and all these things can shape you. They can give you a value and a self-esteem that is priceless." – Scott Hamilton
"Grit is that 'extra something' that separates the most successful people from the rest. It's the passion, perseverance, and stamina that we must channel in order to stick with our dreams until they become a reality." – Travis Bradberry
"Energy and persistence conquer all things." – Benjamin Franklin
"Our greatest weakness lies in giving up. The most certain way to succeed is always to try just one more time." – Thomas Edison
"You aren't going to find anybody that's going to be successful without making a sacrifice and without perseverance." – Lou Holtz
"Perseverance, secret of all triumphs." – Victor Hugo
"To succeed, you must have tremendous perseverance, tremendous will. "I will drink the ocean," says the persevering soul; "at my will mountains will crumble up." Have that sort of energy, that sort of will; work hard, and you will reach the goal." – Swami Vivekananda
"Perseverance is not a long race; it is many short races one after another." – Walter Elliott
More Inspirational Quote Posts:
More Quotes on Perseverance
"Perseverance is a virtue that cannot be understated." – Bob Riley
"Perseverance is a great element of success. If you only knock long enough and loud enough at the gate, you are sure to wake up somebody." – Henry Wadsworth Longfellow
"Success seems to be largely a matter of hanging on after others have let go." – William Feather
"Perseverance is the hard work you do after you get tired of doing the hard work you already did." – Newt Gingrich
"Perseverance is failing 19 times and succeeding the 20th." – Julie Andrews
"The difference between perseverance and obstinacy is that one comes from a strong will, and the other from a strong won't." – Henry Ward Beecher
"Success is no accident. It is hard work, perseverance, learning, studying, sacrifice and most of all, love of what you are doing or learning to do." – Pele
"It's perseverance that's the key. It's persevering for long enough to achieve your potential." – Lynn Davies
"In the confrontation between the stream and the rock, the stream always wins – not through strength but by perseverance." – H. Jackson Brown
"There are two ways of attaining an important end, force and perseverance; the silent power of the latter grows irresistible with time." – Sophie Swetchine
P.S. Get free downloads, checklists, inspirational emails & more when you sign up for our Free Resource Library!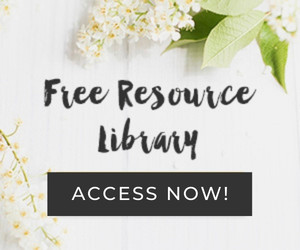 I hope you enjoyed these perseverance quotes and quotes about perseverance!