20+ Inspirational Christmas Quotes
Affiliate Disclaimer: This site contains affiliate links, which means we earn money if you purchase through our link. As an Amazon Associate I earn from qualifying purchases. Read our Disclosure Policy.
Christmas is not just a one day holiday but a festive and magical time of year that embodies the spirit of giving and love and the important people in your life. Here are 20+ inspiring quotes about Christmas and Christmas quotes.
Subscribe to our Youtube channel!
20+ Quotes About Christmas | Inspiring Christmas Quotes 🎅🏻
"Christmas is most truly Christmas when we celebrate it by giving the light of love to those who need it most." – Ruth Carter Stapleton
"Christmas gives us the opportunity to pause and reflect on the important things around us." – David Cameron
"Christmas will always be as long as we stand heart to heart and hand in hand." – Dr. Seuss
"Christmas is a season not only of rejoicing but of reflection." – Winston Churchill
"The Christmas spirit is a spirit of giving and forgiving." – James Cash Penney
👉 Products We Recommend:

Quotes on Christmas | Festive Christmas Quotations
"Christmas waves a magic wand over this world, and behold, everything is softer and more beautiful." – Norman Vincent Peale
"Just remember, the true spirit of Christmas lies in your heart." – The Polar Express
"Peace on earth will come to stay when we live Christmas every day." – Helen Steiner Rice
"My idea of Christmas, whether old-fashioned or modern, is very simple: loving others. Come to think of it, why do we have to wait for Christmas to do that?" – Bob Hope
"What is Christmas? It is the tenderness of the past, courage for the present, and hope for the future." – Agnes M. Pahro

Inspirational Christmas Quotes | Quotes for Christmas
"Christmas is a time when everybody wants his past forgotten and his present remembered." – Phyllis Diller
"The joy of brightening other lives becomes for us the magic of the holidays." – W.C. Jones
"The best way to spread Christmas cheer is singing loud for all to hear." – Buddy the Elf
"Blessed is the season which engages the whole world in a conspiracy of love." – Hamilton Wright Mabie
More Quote Posts:
Christmas Inspirational Quotes | Festive Christmas Sayings
"When we remember a special Christmas, it is not the presents that made it special, but the laughter, the feeling of love, and the togetherness of friends and family that made that Christmas special." – Catherine Pulsifer
"Christmas is the season for kindling the fire of hospitality." – Washington Irving
"It has been said that beauty is in the eye of the beholder. Perhaps this is true, but because of Christmas, those who behold and believe can also experience beauty in their hearts and souls." – Paul M. Miller
"Now, granted, the Christmas tree doesn't have "everlasting life" just because it is evergreen, but it does represent that to us. It is a symbol of life." – Patricia Meyers

More Inspirational Quotes for Christmas Spirit
"Christmas is a tonic for our souls. It moves us to think of others rather than of ourselves. It directs our thoughts to giving." – B.C. Forbes
"From home to home, and heart to heart, from one place to another. The warmth and joy of Christmas, brings us closer to each other." – Emily Matthews
"This time of year means being kind to everyone we meet, To share a smile with strangers we may pass along the street." – Betty Black
"It's not what's under the Christmas tree that matters, it's who is around it." – Anonymous
"Christmas isn't a season. It's a feeling." – Edna Ferber
P.S. Get free downloads, checklists, inspirational emails & more when you sign up for our Free Resource Library!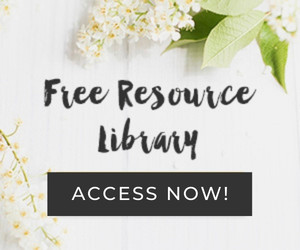 I hope these Christmas quotes and quotes about Christmas help you get into a festive mood! 🎄