Affiliate Disclaimer: This site contains affiliate links, which means we earn money if you purchase through our link. As an Amazon Associate I earn from qualifying purchases. Read our Disclosure Policy.
As they say, gratitude makes what you have into enough. Having a grateful attitude can truly change your entire life by just changing your mindset. Here are 20+ gratitude quotes and quotes about gratitude.
Subscribe to our Youtube channel!
20+ Gratitude Quotes | Quotes About Gratitude
"Gratitude and attitude are not challenges; they are choices." – Robert Braathe
"Those with a grateful mindset tend to see the message in the mess. And even though life may knock them down, the grateful find reasons, if even small ones, to get up." – Steve Maraboli
"When eating bamboo sprouts, remember the man who planted them." – Chinese Proverb
"Be grateful for what you have, work hard for what you don't have." – Unknown
"I may not be where I want to be but I'm thankful for not being where I used to be." – Habeeb Akande
Products We Recommend:

Quotes About Being Grateful | Being Grateful Quotes
"Gratitude for the present moment and the fullness of life now is the true prosperity." – Eckhart Tolle
"Develop an attitude of gratitude, and give thanks for everything that happens to you, knowing that every step forward is a step toward achieving something bigger and better than your current situation." – Brian Tracy
"As we express our gratitude, we must never forget that the highest appreciation is not to utter words, but to live by them." – John F. Kennedy
"When life is sweet, say thank you and celebrate. And when life is bitter, say thank you and grow." – Shauna Niequist

Inspiring Gratitude Quotes | Be Grateful Quotes
"Thankfulness is the beginning of gratitude. Gratitude is the completion of thankfulness. Thankfulness may consist merely of words. Gratitude is shown in acts."- Henri Frederic Amiel
"Let us rise up and be thankful, for if we didn't learn a lot today, at least we learned a little, and if we didn't learn a little, at least we didn't get sick, and if we got sick, at least we didn't die; so, let us all be thankful." – Buddha
"At times, our own light goes out and is rekindled by a spark from another person. Each of us has cause to think with deep gratitude of those who have lighted the flame within us." – Albert Schweitzer
"Gratitude makes sense of our past, brings peace for today, and creates a vision for tomorrow." – Melody Beattie
More Quote Posts:
Quotes for Being Grateful
"Feeling grateful or appreciative of someone or something in your life actually attracts more of the things that you appreciate and value into your life." – Christiane Northrup
"Gratitude is a currency that we can mint for ourselves, and spend without fear of bankruptcy." – Fred De Witt Van Amburgh
"Acknowledging the good that you already have in your life is the foundation for all abundance." – Eckhart Tolle
"Let us be grateful to people who make us happy; they are the charming gardeners who make our souls blossom." – Marcel Proust

More Quotes on Gratefulness
"An attitude of gratitude brings great things." – Yogi Bhajan
"Love and gratitude can part seas, move mountains, and create miracles." – Rhonda Byrne
"It's not happiness that brings us gratitude. It's gratitude that brings us happiness." – Anonymous
"Gratitude, like faith, is a muscle. The more you use it, the stronger it grows, and the more power you have to use it on your behalf." – Alan Cohen
"Gratitude is one of the sweet shortcuts to finding peace of mind and happiness inside. No matter what is going on outside of us, there is always something we could be grateful for." – Barry Neil Kaufman
P.S. Get free downloads, checklists, inspirational emails & more when you sign up for our Free Resource Library!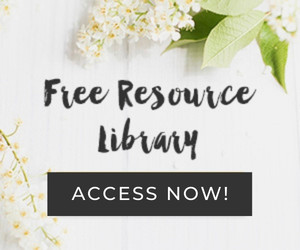 I hope you loved these quotes about gratitude and gratitude quotes in time for Thanksgiving! ?