30+ Most Famous Quotes Ever
Affiliate Disclaimer: This site contains affiliate links, which means we earn money if you purchase through our link. As an Amazon Associate I earn from qualifying purchases. Read our Disclosure Policy.
Some of the best wisdom in the world has been repeated so many times that these quotes are now famous. Here are 30+ inspirational famous quotes you may have heard before.
Subscribe to our Youtube channel!
30+ Famous Inspirational Quotes | Famous Quotes That Will Inspire You
"Be the change that you wish to see in the world." – Mahatma Gandhi
"It is never too late to be what you might have been." – George Eliot
"The best and most beautiful things in the world cannot be seen or even touched – they must be felt with the heart." – Helen Keller
"That which does not kill us makes us stronger." – Friedrich Nietzsche
"It is during our darkest moments that we must focus to see the light." – Aristotle
"Never let the fear of striking out keep you from playing the game." – Babe Ruth
"If you look at what you have in life, you'll always have more. If you look at what you don't have in life, you'll never have enough." – Oprah Winfrey
"Do what you can, with what you have, where you are." – Theodore Roosevelt
"Folks are usually about as happy as they make their minds up to be." – Abraham Lincoln
Products We Recommend:

Famous Motivational Quotes
"I have not failed. I've just found 10,000 ways that won't work." – Thomas A. Edison
"In three words I can sum up everything I've learned about life: it goes on." – Robert Frost
"You will face many defeats in life, but never let yourself be defeated." – Maya Angelou
"Life is either a daring adventure or nothing at all." – Helen Keller
"Spread love everywhere you go. Let no one ever come to you without leaving happier." – Mother Teresa
"Do not go where the path may lead, go instead where there is no path and leave a trail." – Ralph Waldo Emerson
"Don't judge each day by the harvest you reap but by the seeds that you plant." – Robert Louis Stevenson
"There are only two ways to live your life. One is as though nothing is a miracle. The other is as though everything is a miracle." – Albert Einstein
"Yesterday is history, tomorrow is a mystery, today is a gift of God, which is why we call it the present." – Bil Keane
"Live as if you were to die tomorrow. Learn as if you were to live forever." – Mahatma Gandhi
More Quote Posts:
More Famous Quotes to Inspire You
"Do what you feel in your heart to be right – for you'll be criticized anyway." – Eleanor Roosevelt
"Many of life's failures are people who did not realize how close they were to success when they gave up." – Thomas A. Edison
"Life is what happens when you're busy making other plans." – John Lennon
"Your time is limited, so don't waste it living someone else's life. Don't be trapped by dogma – which is living with the results of other people's thinking." – Steve Jobs
"In the end, it's not the years in your life that count. It's the life in your years." – Abraham Lincoln
"Tell me and I forget. Teach me and I remember. Involve me and I learn." – Benjamin Franklin
"The future belongs to those who believe in the beauty of their dreams." – Eleanor Roosevelt
"When you reach the end of your rope, tie a knot in it and hang on." – Franklin D. Roosevelt
"The greatest glory in living lies not in never falling, but in rising every time we fall." – Nelson Mandela
"The way to get started is to quit talking and begin doing." – Walt Disney
"What lies behind us and what lies before us are tiny matters compared to what lies within us." – Ralph Waldo Emerson
P.S. Get free downloads, checklists, inspirational emails & more when you sign up for our Free Resource Library!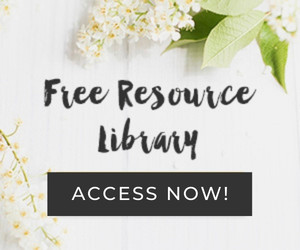 I hope you enjoyed these famous quotes and inspirational quotes that are famous!