Depression is an extremely trying and difficult experience in life. But you can get through it, and there is hope for your future. Here are 50+ inspirational quotes for depression and recovery depression quotes to encourage you to keep fighting this and give you hope for a better future.
Click here to subscribe to our Youtube channel!
Inspirational Depression Quotes for People with Depression | Quotes About Depression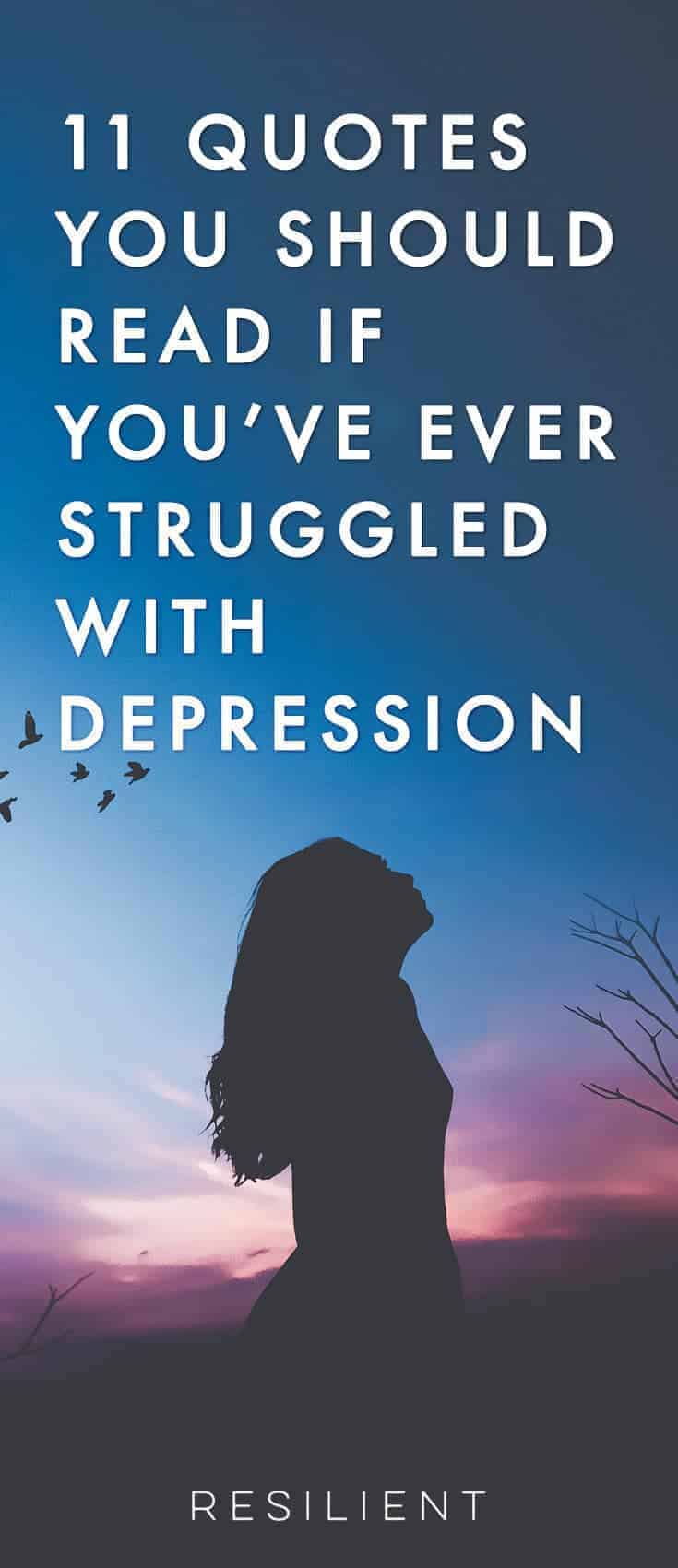 Subscribe to our Youtube channel here!
1. "Do not let what you cannot do interfere with what you can do." – John Wooden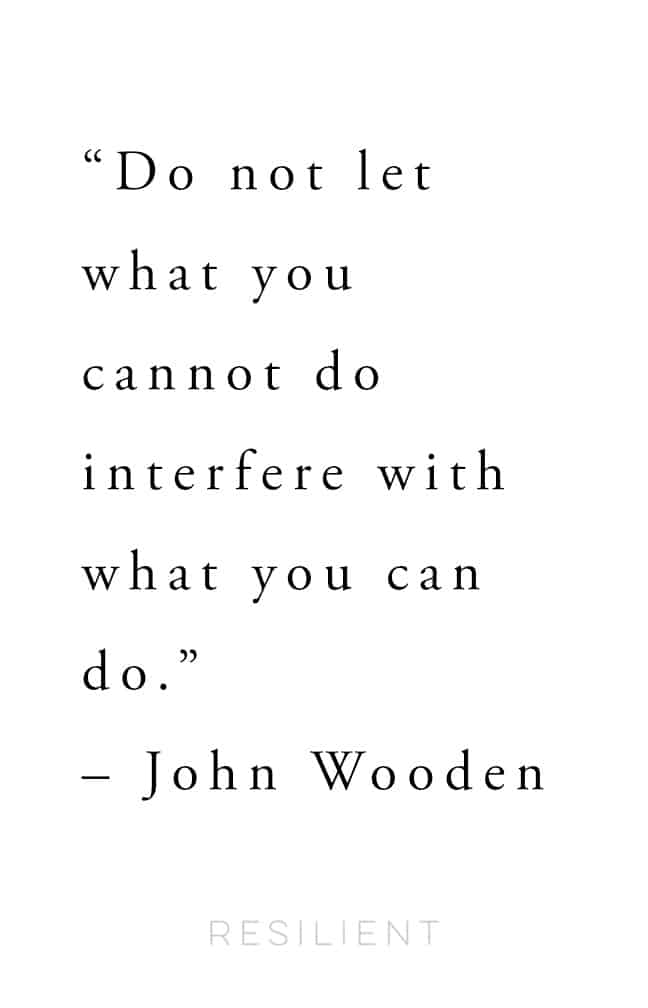 2. "Although the world is full of suffering, it is also full of the overcoming of it." – Helen Keller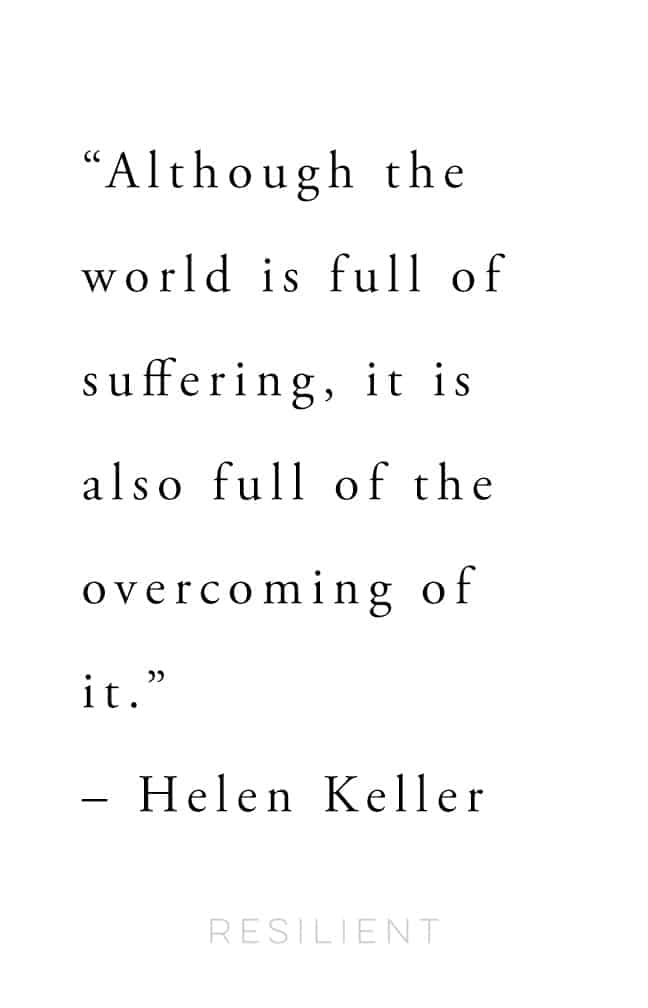 👉 Products We Recommend:
3. "In the midst of winter, I finally learned that there was in me an invincible summer." – Albert Camus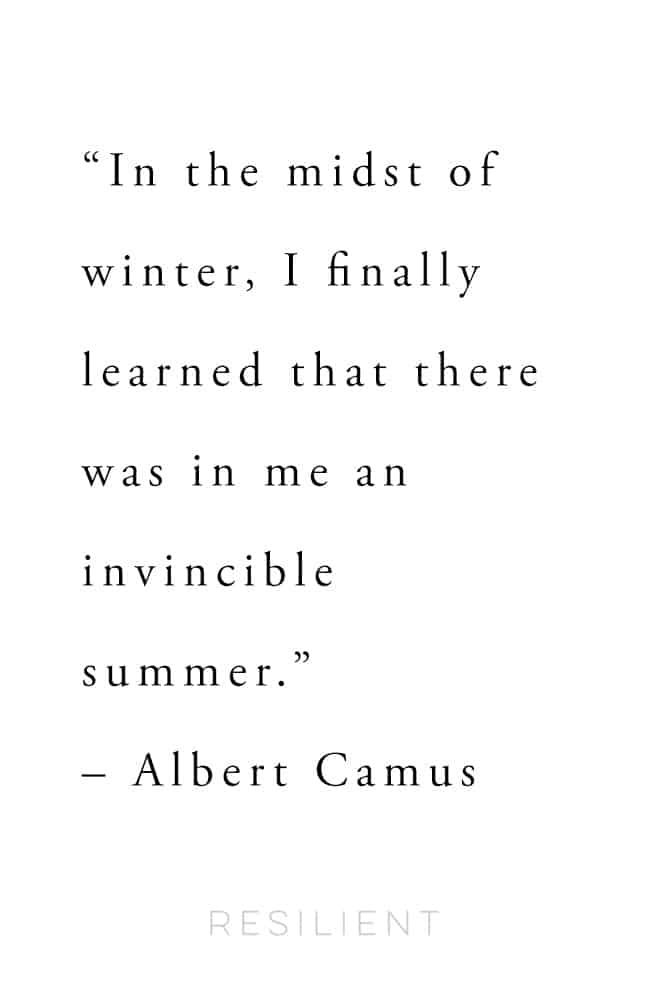 4. "Truly, it is in the darkness that one finds the light, so when we are in sorrow, then this light is nearest of all to us." – Meister Eckhart

How Your Attitude Affects Your Recovery
"Whether you think you can or you think you can't, you're right." –Henry Ford
The thing about happiness is that it all comes down to whether or not you think you can be happy.
If you're convinced that you're never going to be happy, then you're dooming yourself to that fate. But if you can convince yourself (or just constantly tell yourself) that you are happy and that you deserve to be happy, then that will be your fate.
The starting point of it all is your attitude. Like Henry Ford said, if you think you're never going to get better, you're absolutely right. So you have to tell yourself that you are going to be happy, and then work on believing it.
It helps to have a reason why you want to recover. It doesn't have to be big. I shared in a recent post that a funny picture of a pug and an awkward seal meme was my reason to keep going (said somewhat sarcastically). But really, when it gets right down to it, what makes you tick? If you lost everything in your life, what would compel you to keep going? You have to have a strong enough reason – to you personally, at least – to get you through the rough times and the bad days.
Because there will be times when you don't feel like doing anything or you just want to give up. But you have to keep trying. Take a day off if you want, but never give up.
If you have the right attitude, you can accomplish anything in life.
Related Inspirational Quote Posts:
More Inspirational Quotes for Depression | Helping with Depression Quotes
5. "Have patience with everything unresolved in your heart and to try to love the questions themselves. Don't search for the answers, which could not be given to you now, because you would not be able to live them. And the point is to live everything. Live the questions now. Perhaps then, someday far in the future, you will gradually, without even noticing it, live your way into the answer." – Rainer Maria Rilke
6. "You shall be free indeed when your days are not without a care nor your nights without want and a grief. But rather when these things girdle your life and yet you rise above them naked and unbound." – Khalil Gibran
7. "Life isn't about waiting for the storm to pass, it's about learning how to dance in the rain." – Author Unknown
8. "You become what you think about." – Earl Nightingale
Quotes of Encouragement for Depression
9. "Character cannot be developed in ease and quiet. Only through experience of trial and suffering can the soul be strengthened, ambition inspired, and success achieved." – Helen Keller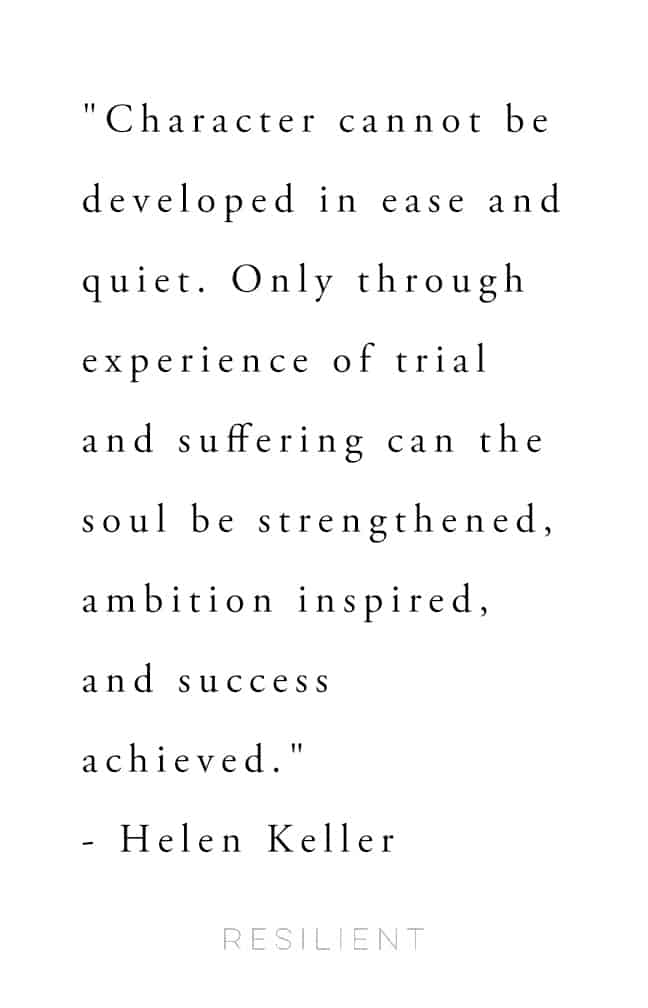 10. "A positive attitude gives you power over your circumstances instead of your circumstances having power over you." – Joyce Meyer
11. "Man is fond of counting his troubles, but he does not count his joys. If he counted them up as he ought to, he would see that every lot has enough happiness provided for it." – Fyodor Dostoevsky
Relatable and Sad Quotes About Depression
12. "When people don't know exactly what depression is, they can be judgmental." – Marion Cotillard
13. "Depression is the most unpleasant thing I have ever experienced. . . . It is that absence of being able to envisage that you will ever be cheerful again. The absence of hope. That very deadened feeling, which is so very different from feeling sad. Sad hurts but it's a healthy feeling. It is a necessary thing to feel. Depression is very different." – J.K. Rowling
14. "I saw the world in black and white instead of the vibrant colours and shades I knew existed." – Katie McGarry
15. "You don't have to live a lie. Living a lie will mess you up. It will send you into depression. It will warp your values." – Gilbert Baker
16. "The pupil dilates in darkness and in the end finds light, just as the soul dilates in misfortune and in the end finds God." – Victor Hugo
17. "Maybe we all have darkness inside of us and some of us are better at dealing with it than others." – Jasmine Warga

Should We Always Fight Against Depression?
"…when I've practiced acceptance, when I've floated instead of fought, when I've rested, even for a moment, on the surface instead of wrestling the water itself. And those moments are like heaven." – Shauna Niequist, Bittersweet
I've been thinking about this idea for a few years that we always say you should "fight" depression.
And most of the time, that's a great idea. You have to fight for the life you want.
But sometimes, I think it's better to make peace with your depression. Make friends with that part of you. Don't try to fight it or resist it.
Look at your depression like it's a scared child and say, "I understand you're in pain. We will get through this."
Because really, depression is just a part of you that's a little scared and a little sad mixed in with other emotions, and sometimes fighting depression feels like you're fighting against yourself instead of for yourself. But it's not an outside enemy.
You have to be your own biggest cheerleader and supporter. Depression is just a part of you, but it isn't all of you. And it doesn't have to define you.
Try listening compassionately to your depression, that darker side of you. What is the pain and hurt and sadness trying to tell you? Listen with love and empathy.
In the end, all we want is to be heard, loved, and understood. Treat your depression the same way, with compassion and love. It's not something to hate out of existence or be ashamed of but to show love to yourself and the darker parts of your mind so that you're not scared anymore.
Because while I still like saying things like, "stay strong," and "keep fighting," you just have to make sure that you're not just fighting another battle against yourself instead of for yourself.
You might also be interested in our 30 Day Negativity Detox, an online class about reducing the negativity in your life to make room for the positive. 🙂
Inspirational Quotes About Recovery from Depression
If you're in need of some inspiration, here are more inspirational quotes about recovery for depression.
18. "Do not wait until the conditions are perfect to begin. Beginning makes the conditions perfect." – Alan Cohen
19. "When one door of happiness closes, another opens, but often we look so long at the closed door that we do not see the one that has been opened for us." – Helen Keller
20. "So often times it happens that we live our lives in chains and we never even know we have the key." – The Eagles
21. "It is never too late to live happily ever after." – Anonymous
Depression Uplifting Quotes
22. "Positive thoughts and prayer have been the best means available, since the beginning of time, to transform darkness to light." – Cate Stevens
23. "Darkness cannot drive out darkness; only light can do that. Hate cannot drive out hate; only love can do that." – Martin Luther King, Jr.
24. "Faith is taking the first step even when you don't see the whole staircase." – Martin Luther King, Jr.
25. "You become what you think about." – Earl Nightingale
26. "Hope begins in the dark, the stubborn hope that if you just show up and try to do the right thing, the dawn will come. You wait and watch and work: you don't give up." – Anne Lamott
27. "People spend a lifetime searching for happiness; looking for peace. They chase idle dreams, addictions, religions, even other people, hoping to fill the emptiness that plagues them. The irony is the only place they ever needed to search was within." – Ramona L. Anderson
28. "Our greatest glory is not in never failing but in rising up every time we fail." – Ralph Waldo Emerson
29. "Smooth seas do not make skillful sailors." – African Proverb
30. "We will find only what we look for, nothing more and nothing less." – Anonymous
31. "The soul is dyed the color of its thoughts. Think only on those things that are in line with your principles and can bear the light of day. The content of your character is your choice. Day by day, what you choose, what you think, and what you do is who you become. Your integrity is your destiny … it is the light that guides your way." – Heraclitus
32. "No matter how dark the moment, love and hope are always possible." – George Chakiris
33. "It is often in the darkest skies that we see the brightest stars." – Richard Evans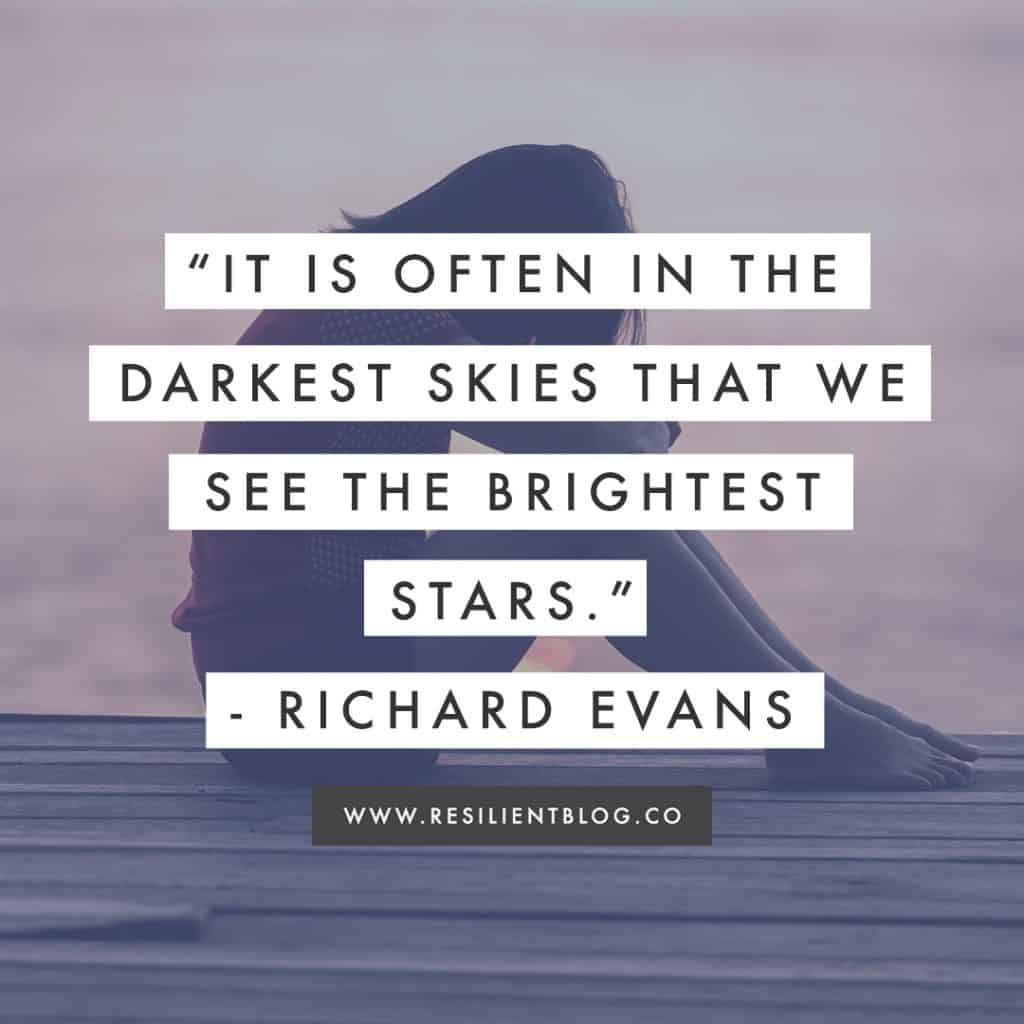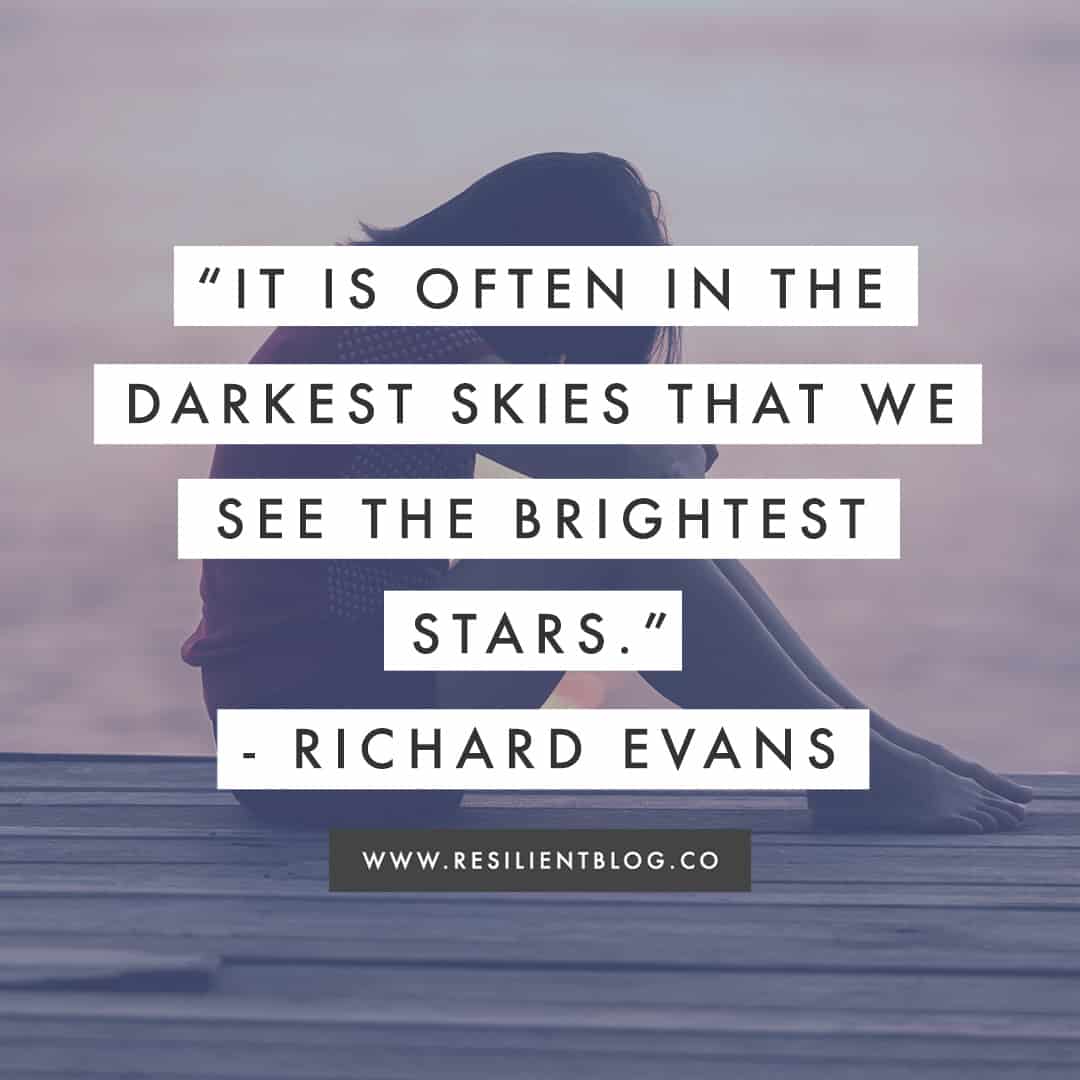 More Inspirational Sayings About Depression
34. "Even in the midst of devastation, something within us always points the way to freedom." – Sharon Salzberg
35. "In a moment of clarity, out of nowhere, I saw that when I believed my thoughts I suffered and when I questioned my thoughts I didn't suffer, and I have come to see that this is true for every human being. – Bryon Katie
36. "Experience is not what happens to you, it is what you do with what happens to you." – Aldous Huxley
37. "When we calm our mind, our thoughts, our complete being, we create in and around us a beautiful glow of positivity and peace." – Zeenat Merchant Syal
38. "When you adopt a positive mindset, you are harnessing the power of choice." – Victor Schueller
39. "When you have come to the edge of all light that you know and are about to drop off into the darkness of the unknown, Faith is knowing one of two things will happen: There will be something solid to stand on or you will be taught to fly." – Patrick Overton

Inspirational Quotes for Someone with Depression
40. "Every morning is a fresh beginning. Every day is the world made new. Today is a new day. Today is my world made new. I have lived all my life up to this moment, to come to this day. This moment…this day…is as good as any moment in all eternity. I shall make of this day…each moment of this day…a heaven on earth. This is my day of opportunity." – Dan Custer
41. "Do what you can, with what you have, where you are." – Theodore Roosevelt
42. "A journey of a thousand miles must begin with a single step." – Lao Tzu
43. "Don't be afraid if things seem difficult in the beginning. That's only the initial impression. The important thing is not to retreat; you have to master yourself." – Olga Korbut
44. "You gain strength, courage and confidence by every experience in which you really stop to look fear in the face." – Eleanor Roosevelt
45. "The best way out is always through." – Robert Frost
46. "The power is in you. The answer is in you. And you are the answer to all your searches: you are the goal. You are the answer. It's never outside." – Eckhart Tolle
47. "If all you can do is crawl, start crawling." – Rumi
48. "Every man has his secret sorrows which the world knows not; and often times we call a man cold when he is only sad." – Henry Wadsworth Longfellow
49. "You say you're 'depressed' – all I see is resilience. You are allowed to feel messed up and inside out. It doesn't mean you're defective – it just means you're human." – David Mitchell
50. "The lotus is the most beautiful flower, whose petals open one by one. But it will only grow in the mud. In order to grow and gain wisdom, first you must have the mud — the obstacles of life and its suffering." – Goldie Hawn
51. "Depression taught me the importance of compassion and hard work, and that you can overcome enormous obstacles." – Rob Delaney
If you'd like more inspiration and tips for depression, you might also be interested in our 30 Day Negativity Detox, an online class about reducing the negativity in your life to make room for the positive. 🙂
Inspirational Quotes for Someone Depressed
P.S. If you're ready to improve your life and keep track of all your progress and goals, check out Your Best Life Planner. It's a kit of 36 digital printables that help you plan your days with monthly, weekly, and daily planners, set goals, vision your future, create self care and gratitude lists, and so much more! Check it out here now and create your best life.