40+ Butterfly Quotes and Sayings to Float Away On
Affiliate Disclaimer: This site contains affiliate links, which means we earn money if you purchase through our link. As an Amazon Associate I earn from qualifying purchases. Read our Disclosure Policy.
Butterflies are a delicate reminder of the beauty of nature and appreciation of metamorphosis and transformation. Here are 40+ inspiring butterfly quotes and quotes about butterflies.
Subscribe to our Youtube channel!
40+ Quotes About Butterflies | Butterfly Quotes
"We delight in the beauty of the butterfly, but rarely admit the changes it has gone through to achieve that beauty." – Maya Angelou
"The only authority I respect is the one that causes butterflies to fly south in fall and north in springtime." – Tom Robbins
"Float like a butterfly, sting like a bee." – Muhammad Ali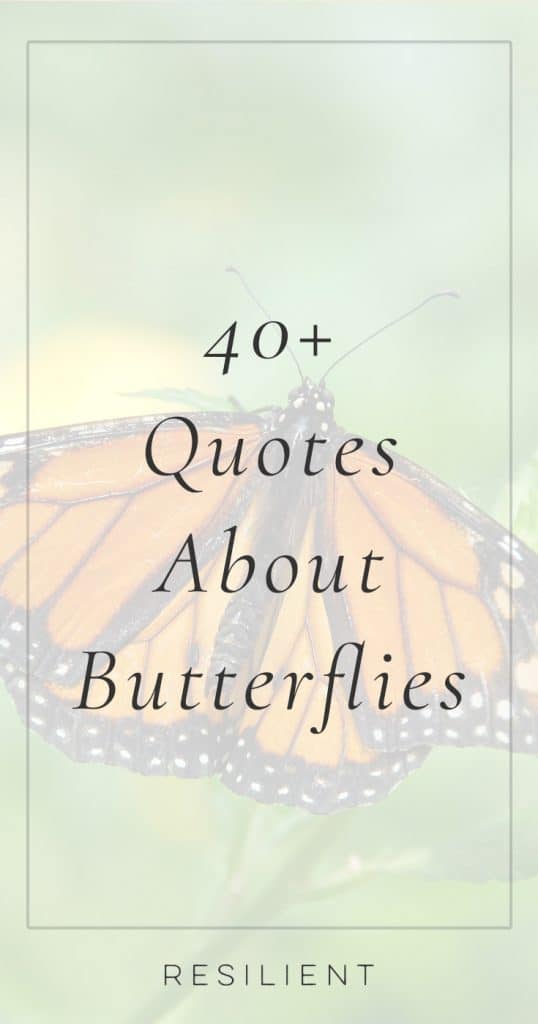 "I only ask to be free. The butterflies are free." – Charles Dickens
"A season of loneliness and isolation is when the caterpillar gets its wings. Remember that next time you feel alone." – Mandy Hale
"It's only when caterpillarness is done that one becomes a butterfly. That again is part of this paradox. You cannot rip away caterpillarness. The whole trip occurs in an unfolding process of which we have no control." – Ram Dass
"If nothing ever changed, there would be no such things as butterflies." – Wendy Mass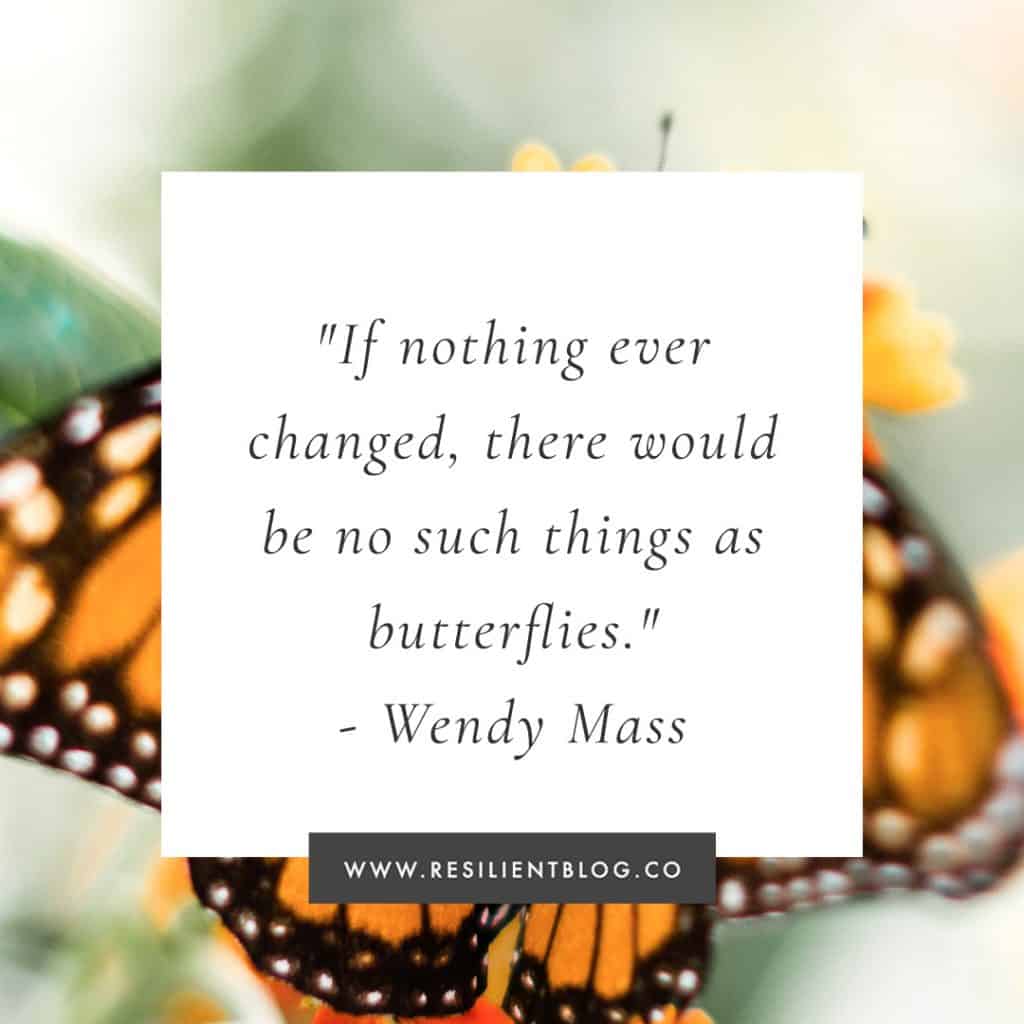 "The butterfly counts not months but moments, and has time enough." – Rabindranath Tagore
"I dreamed I was a butterfly, flitting around in the sky; then I awoke. Now I wonder: Am I a man who dreamt of being a butterfly, or am I a butterfly dreaming that I am a man?" – Chuang Tzu
"'Just living is not enough,' said the butterfly, 'one must have sunshine, freedom and a little flower.'" – Hans Christian Anderson
"Butterflies are self propelled flowers." – R.H. Heinlein
"Not quite birds, as they were not quite flowers, mysterious and fascinating as are all indeterminate creatures." – Elizabeth Goudge
"Be like a butterfly and a flower—beautiful and sought after, yet unassuming and gentle." – Jarod Kintz
"Failure is like a caterpillar before it becomes a butterfly." – Peta Kelly
"Butterflies are God's confetti, thrown upon the Earth in celebration of His love." – K. D'Angelo
👉 Products We Recommend:

Inspirational Butterfly Quotes
"The butterflies…What an educated sense of beauty they have. They seem only an ornament to society, and yet, if they were gone, how substantial would be their loss." – Phil Robinson
"The butterfly is a flying flower, the flower a tethered butterfly." – Ponce Denis Ecouchard Lebrun
"'How does one become a butterfly?' she asked pensively. 'You must want to fly so much that you are willing to give up being a caterpillar.'" – Trina Paulus
"Happiness is like a butterfly, the more you chase it, the more it will evade you, but if you notice the other things around you, it will gently come and sit on your shoulder." – Henry David Thoreau
"Forgetting… is a beautiful thing. When you forget, you remake yourself… For a caterpillar to become a butterfly, it must forget it was a caterpillar at all. Then it will be as if the caterpillar never was & there was only ever a butterfly." – Robert Jackson Bennett
"Take time to be a butterfly." – Gillian Duce
"Butterflies can't see their wings. They can't see how truly beautiful they are, but everyone else can. People are like that as well." – Naya Rivera
"May the wings of the butterfly kiss the sun / And find your shoulder to light on, / To bring you luck, happiness and riches / Today, tomorrow and beyond." – Irish Blessing
"Be a child again. Flirt. Giggle. Dip your cookies in your milk. Take a nap. Say you're sorry if you hurt someone. Chase a butterfly. Be a child again." – Max Lucado
"Butterflies are nature's angels. They remind us what a gift it is to be alive." – Robyn Nola
"As with the butterfly, adversity is necessary to build character in people." – Joseph B. Wirthlin
"Beautiful and graceful, varied and enchanting, small but approachable, butterflies lead you to the sunny side of life. And everyone deserves a little sunshine." – Jeffrey Glassberg
"You do not just wake up and become the butterfly. Growth is a process." – Rupi Kaur
"With the rose the butterfly's deep in love, A thousand times hovering round; But round himself, all tender like gold, The sun's sweet ray is hovering found." – Heinrich Heine
"The butterfly flits from bloom to bloom, as not to miss one fragrant plume. In her sight exists no garden finale, only paradise of flowered hill and valley." – K. D'Angelo
More Quote Posts:
More Quotes and Sayings About Butterflies
"Adding wings to caterpillars does not create butterflies, it creates awkward and dysfunctional caterpillars. Butterflies are created through transformation." – Stephanie Marshall
"Don't be afraid. Change is such a beautiful thing", said the Butterfly." – Sabrina Newby
"Well, I must endure the presence of a few caterpillars if I wish to become acquainted with the butterflies." – Antoine de Saint-Exupery, The Little Prince
"The butterfly does not look back upon its caterpillar self, either fondly or wistfully; it simply flies on." – Guillermo del Toro
"Representation is vital, otherwise the butterfly surrounded by a group of moths unable to see itself will keep trying to become the moth – representation." – Rupi Kaur
"Awaken to the universes simple gift of the butterfly. Watch with fascination and joy as a jeweled treasure glides by and gently touches your soul." – K. D'Angelo
"Butterflies live most of their lives being completely ordinary. And then, one day, the unexpected happens. They burst from their cocoons in a blaze of colors and become utterly extraordinary. It is the shortest phase of their lives, but it holds the greatest importance. It shows us how empowering change can be." – Kelseyleigh Reber
"When you find yourself cocooned in isolation and you cannot find your way out of darkness… Remember, this is similar to the place where caterpillars go to grow their wings." – Necole Stephens
"What the caterpillar calls the end of the world, the master calls a butterfly." – Richard Bach
"We are like butterflies who flutter for a day and think it is forever." – Carl Sagan
"Happiness is a butterfly, which when pursued, is always just beyond your grasp, but which, if you will sit down quietly, may alight upon you." – Nathaniel Hawthorne
"There is nothing in a caterpillar that tells you it's going to be a butterfly." – Richard Buckminster Fuller
"Butterflies are a breath of beauty fluttering by, they are mystery chronicled upon wing, they bring forth the grace and wonder of this world to our eyes everyday." – K. D'Angelo | Inspiring Quotes About Butterflies
"Just like the butterfly, I too will awaken in my own time." – Deborah Chaskin
P.S. Get free downloads, checklists, inspirational emails & more when you sign up for our Free Resource Library!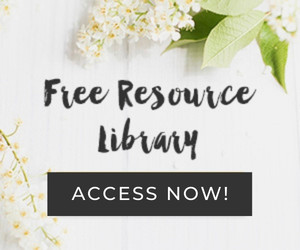 I hope you enjoyed these butterfly quotes and quotes about butterflies!