Affiliate Disclaimer: This site contains affiliate links, which means we earn money if you purchase through our link. As an Amazon Associate I earn from qualifying purchases. Read our Disclosure Policy.
Being blessed is about feeling appreciative and grateful for everything positive in your life. Here are 35+ inspiring blessed quotes and quotes about blessings. #blessed
Subscribe to our Youtube channel!
35+ Quotes About Blessings | Blessed Quotes
"You will be blessed the moment you realize you already are." – Bryant McGill
"Blessed is the influence of one true, loving human soul on another." – George Eliot
"Be thankful for the infinitesimal thing that you have. Learn to value the blessings." – Giridhar Alwar
"Being able to recognize and appreciate your blessings in life is a blessing." – Angel Moreira
"I have had a lot of blessed, interesting things happen to me and have bumped up against some amazing people." – Rob Lowe
"I'm surrounded by nothing but great people. I've been blessed with that, so really, I've got no choice but to be an all-around good person." – Tim Duncan
"To find the best comfort, I count my blessings." – Lailah Gifty Akita
"Count your blessings. Once you realize how valuable you are and how much you have going for you, the smiles will return, the sun will break out, the music will play, and you will finally be able to move forward the life that God intended for you with grace, strength, courage, and confidence." – Og Mandino
"Those who make time for others are forever blessed." – Margo Vader
"Feel the blessings of the moment, this will bring success in all matters." – Amit Ray
"You never know where a blessing can come from." – Teena Marie
"When I started counting my blessings, my whole life turned around." – Willie Nelson
👉 Products We Recommend:

Inspirational Quotes About Being Blessed
"The person who can bring the spirit of laughter into a room is indeed blessed." – Bennett Cerf
"Reflect upon your present blessings, of which every man has plenty; not on your past misfortunes, of which all men have some." – Charles Dickens
"Blessed are the hearts that can bend; they shall never be broken." – Albert Camus
"I've had a blessed life. I've pulled back from trying to control my destiny and gone back to accepting whatever fate has in store for me. I live for today because I don't know what'll happen tomorrow." – Cilla Black
"The hardest arithmetic to master is that which enables us to count our blessings." – Eric Hoffer
"The unthankful heart discovers no mercies; but the thankful heart will find, in every hour, some heavenly blessings." – Henry Ward Beecher
"The ripples of the kind heart are the highest blessings of the Universe." – Amit Ray
"Blessed are they who see beautiful things in humble places where other people see nothing." – Camille Pissarro
"When I look back on my life as a whole, it is impossible for me not to feel blessed." – George Best
"If I choose to bless another person, I will always end up feeling more blessed." – Marianne Williamson
"You have to participate relentlessly in the manifestation of your own blessings." – Elizabeth Gilbert
"I am absolutely blessed and I'm very grateful for where I am today." – Geri Halliwell
More Quote Posts:
More Blessing Quotes
"If you can make a living doing what you love, that is a blessing." – David A. R. White
"When we lose one blessing, another is often most unexpectedly given in its place." – C.S. Lewis
"To me, life is a gift, and it's a blessing to just be alive. And each person should learn what a gift it is to be alive no matter how tough things get." – Tony Bennett
"It is a blessed thing that in every age someone has had the individuality enough and courage enough to stand by his own convictions." – Robert Green Ingersoll
"I have been very blessed in my life and rewarded with good friends and good health. I am grateful and happy to be able to share this." – Eric Idle
"Those blessings are sweetest that are won with prayer and worn with thanks." – Thomas Goodwin
"If we should be blessed by some great reward, such as fame or fortune, it's the fruit of a seed planted by us in the past." – Bodhidharma
"Sometimes we don't realize the blessings we have until we no longer have them. Appreciate all the blessings in your life, take none for granted." – Catherine Pulsifer
"When one is thankful for the blessings in their life, they are choosing to attract more positivity and abundance." – Michael Austin Jacobs
"Being blessed is a condition of the heart and a frame of mind." – Errin Rhorie
"A contented mind is the greatest blessing a man can enjoy in this world." – Joseph Addison
"You're always in a blessed position if you have a great success story, especially to be in a position to be able to tell it so people can even understand." – Tionne Watkins
"I am an ordinary person who has been blessed with extraordinary opportunities and experiences." – Sonia Sotomayor
P.S. Get free downloads, checklists, inspirational emails & more when you sign up for our Free Resource Library!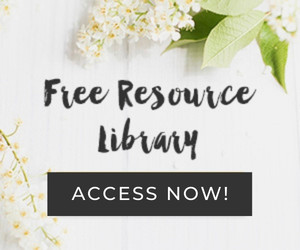 I hope you enjoyed these blessed quotes and quotes about blessings!