20+ Bittersweet Quotes to Appreciate Both Sides of Life
Affiliate Disclaimer: This site contains affiliate links, which means we earn money if you purchase through our link. As an Amazon Associate I earn from qualifying purchases. Read our Disclosure Policy.
They say you can't have a rainbow without rain, and you wouldn't know what sweetness tasted like without tasting the bitter. Here are 20+ beautiful bittersweet quotes to remind you to appreciate both the bitter and the sweet sides of life.
Subscribe to our Youtube channel!
Shauna Niequist is one of my favorite writers, and Bittersweet is probably my favorite spiritual book (It's Christian but I think anyone would enjoy it :)). Many of the bittersweet quotes below are from her book also named Bittersweet.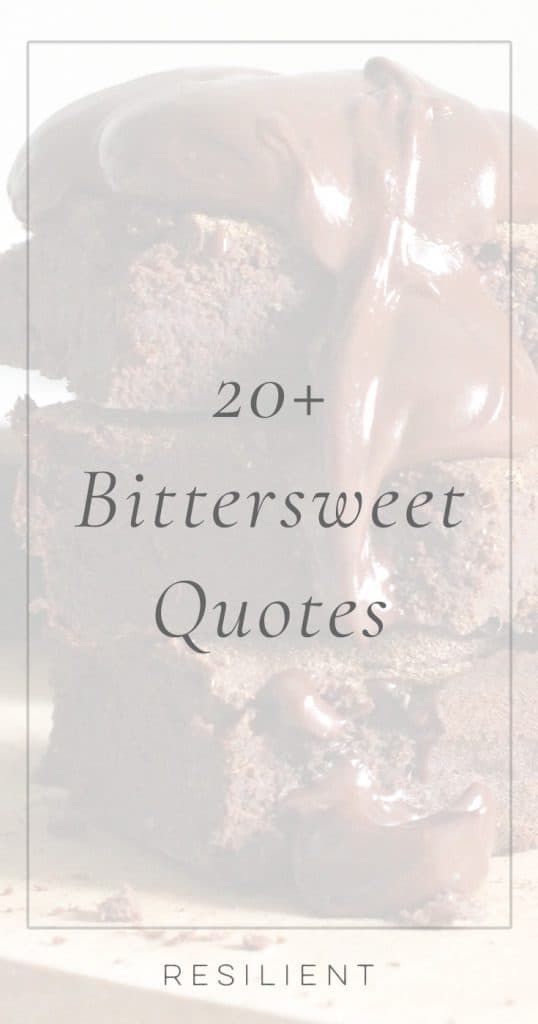 20+ Bittersweet Quotes to Appreciate Both Sides of Life
1. "When life is sweet, say thank you and celebrate. And when life is bitter, say thank you and grow." – Shauna Niequist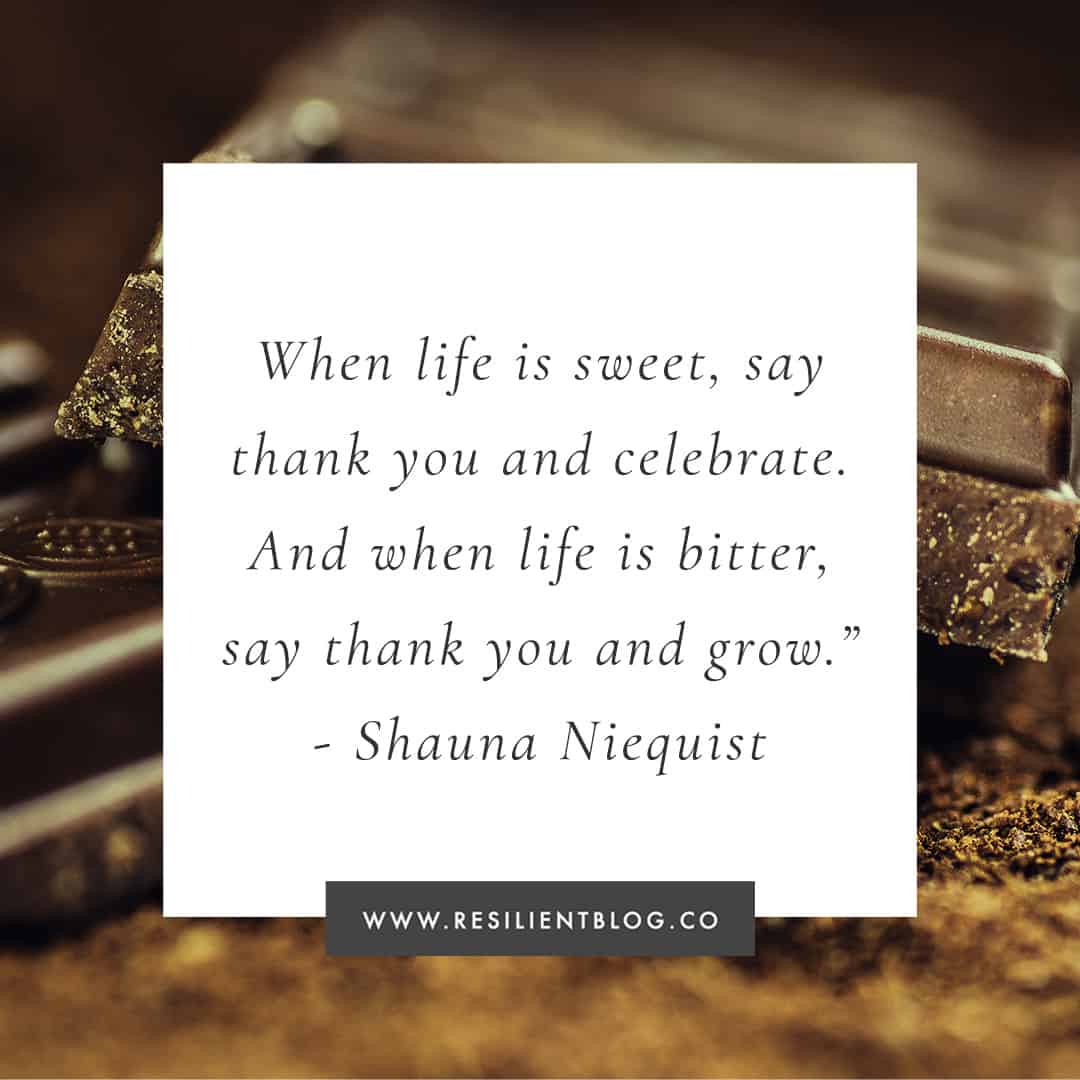 2. "There's always a bittersweet kind of thing, but I feel like everything had to work out the way it is. Everything that had to happen, happened." – Bruno Mars
3. "It's kind of bittersweet. The human spirit is not measured by the size of the act, but by the size of the heart." – Yakov Smirnoff
4. "We sometimes choose the most locked up, dark versions of the story, but what a good friend does is turn on the lights, open the window, and remind us that there are a whole lot of ways to tell the same story." – Shauna Niequist
5. "If you begin to face your fears, something bittersweet is going to happen to you: You'll grow up." – Martha Beck
👉 Products We Recommend:
6. "…sometimes the happiest ending isn't the one you keep longing for, but something you absolutely cannot see from where you are." – Shauna Niequist
7. "To me, the human experience does involve a great deal of anguish. It's joyful, but it's bittersweet. I just think that's life." – Amy Grant
8. "When things fall apart, the broken pieces allow all sorts of things to enter, and one of them is the presence of God." – Shauna Niequist
9. "Life hands us opportunities at every turn to get over ourselves, to get outside ourselves, to wake up from our own bad dreams and realize that really lovely things are happening all the time." – Shauna Niequist
10. "Experience life in all possible ways — good-bad, bitter-sweet, dark-light, summer-winter. Experience all the dualities. Don't be afraid of experience, because the more experience you have, the more mature you become." – Rajneesh
11. "But our hearts are more elastic than we think, and the work of forgiveness and transformation and growth can do things you can't even imagine from where you're standing now." – Shauna Niequist
12. "Happiness. Simple as a glass of chocolate or tortuous as the heart. Bitter. Sweet. Alive." – Joanne Harris
13. "I believe in a very deep way that our past is what brings us to our future. When I pray for someone, I thank God for every day of their life, for every moment, for every heartbreak and each moment of happiness that has brought them to be this person at this time. I believe in mining through the darkest seasons in our lives and choosing to believe that we'll find something important every time." – Shauna Niequist
14. "what is empty will be filled, what is broken will be repaired, and what is lost can always be found, no matter how many times it's been lost." – Shauna Niequist
15. "We thought humble and proud at the same time, all at once in love again with this painful bittersweet lovely thing called flight." – Richard Bach
More Inspirational Quote Posts:
16. "I understand the temptation to draw an angry X through a whole season or a whole town or a whole relationship, to crumple it up and throw it away, to get it as far away as possible from a new life, a new future. But I think that's both the easiest and the most cowardly choice. These days I'm walking over and retrieving those years from the trash, erasing the X, unlocking the door. It's the only way that darkness turns to light." – Shauna Niequist
17. "I don't know if this is a season of sweetness or one of sadness. But I'm learning that neither last forever." – Shauna Niequist
18. "Don't cry because it's over, smile because it happened." – Dr. Seuss
19. "You want me to say that when you grow, finally, all the changes will stop, but they don't. There will be another one, another opportunity to grow, to shed your skin, to rise like a phoenix from the ashes, to break out of your cocoon like a perfect new butterfly." – Shauna Niequist
20. "How lucky I am to have something that makes saying good bye so hard." – Winnie The Pooh
21. "Bittersweet is the idea that in all things there is both something broken and something beautiful, that there is a sliver of lightness on even the darkest of nights, a shadow of hope in every heartbreak, and that rejoicing is no less rich when it contains a splinter of sadness. Bittersweet is the practice of believing that we really do need both the bitter and the sweet, and that a life of nothing but sweetness rots both your teeth and your soul. Bitter is what makes us strong, what forces us to push through, what helps us earn the lines on our faces and the calluses on our hands." – Shauna Niequist
P.S. Get free downloads, checklists, inspirational emails & more when you sign up for our Free Resource Library!