Spring is a wonderful time of year when the winter chill thaws out and the flowers start blooming again under the sun. Here are 45+ inspiring spring quotes and quotes about spring.
Subscribe to our Youtube channel!
45+ Inspiring Spring Quotes | Quotes About Spring
"Every spring is the only spring, a perpetual astonishment." – Ellis Peters
"Spring is the time of year when it is summer in the sun and winter in the shade." – Charles Dickens
"Behold, my friends, the spring is come; the earth has gladly received the embraces of the sun, and we shall soon see the results of their love!" – Sitting Bull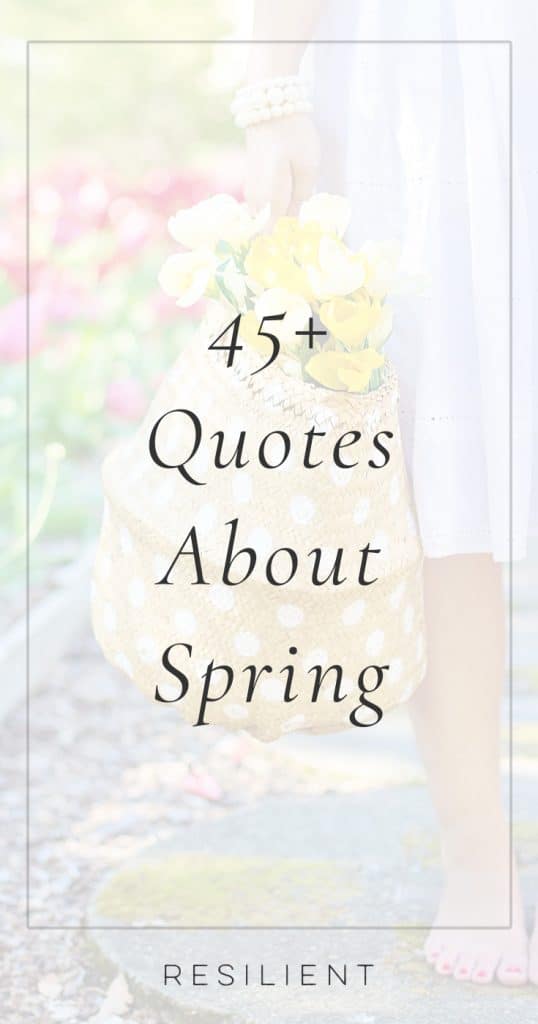 "The world's favorite season is the spring. All things seem possible in May." – Edwin Way Teale
"With the coming of spring, I am calm again." – Gustav Mahler
"The force of Spring – mysterious, fecund, powerful beyond measure." – Michael Garofalo
"Can words describe the fragrance of the very breath of spring?" – Neltje Blanchan
"Sit quietly, doing nothing, spring comes, and the grass grows by itself." – Zen saying
"Spring has returned. The Earth is like a child that knows poems." – Rainer Maria Rilke
"Spring won't let me stay in this house any longer! I must get out and breathe the air deeply again." – Gustav Mahler
"You can cut all the flowers but you cannot keep the Spring from coming." – Pablo Neruda
👉 Products We Recommend:

Inspirational Spring Quotes
"I believe in process. I believe in four seasons. I believe that winter's tough, but spring's coming. I believe that there's a growing season. And I think that you realize that in life, you grow. You get better." – Steve Southerland
"Despite the forecast, live like it's spring." – Lilly Pulitzer
"Come, gentle Spring! Ethereal Mildness! Come." – James Thomson
"Spring is when you feel like whistling even with a shoe full of slush." – Doug Larson
"No winter lasts forever; no spring skips its turn." – Hal Borland
"I am going to try to pay attention to the spring. I am going to look around at all the flowers, and look up at the hectic trees. I am going to close my eyes and listen." – Anne Lamott
"Spring is nature's way of saying, 'Let's party!'" – Robin Williams
"May and June. Soft syllables, gentle names for the two best months in the garden year: cool, misty mornings gently burned away with a warming spring sun, followed by breezy afternoons and chilly nights. The discussion of philosophy is over; it's time for work to begin." – Peter Loewer
"She turned to the sunlight And shook her yellow head, And whispered to her neighbor: 'Winter is dead.'" – A. A. Milne
"Spring is the time of plans and projects." – Leo Tolstoy
"Everything is blooming most recklessly; if it were voices instead of colors, there would be an unbelievable shrieking into the heart of the night." – Rainer Maria Rilke
"I think that no matter how old or infirm I may become, I will always plant a large garden in the spring. Who can resist the feelings of hope and joy that one gets from participating in nature's rebirth?" – Edward Giobbi
"In the spring, at the end of the day, you should smell like dirt." – Margaret Atwood
"In the scenery of spring, nothing is better, nothing worse; The flowering branches are of themselves, some short, some long." – Ryokan
"Never yet was a springtime, when the buds forgot to bloom." – Margaret Elizabeth Sangster
Related Inspirational Quote Posts:
More Springtime Quotes
"Spring unlocks the flowers to paint the laughing soil." – Reginald Heber
"Hope sleeps in our bones like a bear waiting for spring to rise and walk." – Marge Piercy
"The beautiful spring came; and when Nature resumes her loveliness, the human soul is apt to revive also." – Harriet Ann Jacobs
"The first day of spring is one thing, and the first spring day is another. The difference between them is sometimes as great as a month." – Henry Van Dyke
"Never cut a tree down in the wintertime. Never make a negative decision in the low time. Never make your most important decisions when you are in your worst moods. Wait. Be patient. The storm will pass. The spring will come." – Robert H. Schuller
"A single act of kindness throws out roots in all directions, and the roots spring up and make new trees." – Amelia Earhart
"Life stands before me like an eternal spring with new and brilliant clothes." – Carl Friedrich Gauss
"The naked earth is warm with Spring, and with green grass and bursting trees leans to the sun's kiss glorying, and quivers in the sunny breeze." – Julian Grenfell
"Spring: the music of open windows." – Terri Guillemets
More Inspirational Spring Quotes | Quotes for the Spring
"An optimist is the human personification of spring." – Susan J. Bissonette
"A little madness in the Spring Is wholesome even for the King." – Emily Dickinson
"Only in dreams of spring Shall I ever see again The flowering of my cherry trees." – Frances Hodgson Burnett
"Blossom by blossom the spring begins." – Algernon Charles Swinburne
"Science has never drummed up quite as effective a tranquilizing agent as a sunny spring day." – W. Earl Hall
"Spring comes: the flowers learn their colored shapes." – Maria Konopnicka
"The cuckoo comes in April, Sings a song in May: Then in June another tune, And then she flies away." – English Rhyme
"I love spring anywhere, but if I could choose I would always greet it in a garden." – Ruth Stout
"When spring came, even the false spring, there were no problems except where to be happiest. The only thing that could spoil a day was people and if you could keep from making engagements, each day had no limits. People were always the limiters of happiness except for the very few that were as good as spring itself." – Ernest Hemingway
"No matter how long the winter, spring is sure to follow." – Proverb
P.S. If you're ready to improve your life and keep track of all your progress and goals, check out Your Best Life Planner. It's a kit of 36 digital printables that help you plan your days with monthly, weekly, and daily planners, set goals, vision your future, create self care and gratitude lists, and so much more! Check it out here now and create your best life.
I hope you enjoyed these spring quotes and quotes about the spring season!