This post was written by Leo Babauta, originally for Zen Habits.  Republished here with permission.
Sometimes we all get lonely. You might be so used to having people around you to the point that being by yourself becomes strange, quiet, empty. And this feeling of emptiness can be frightening.  Here's what to do when you're lonely.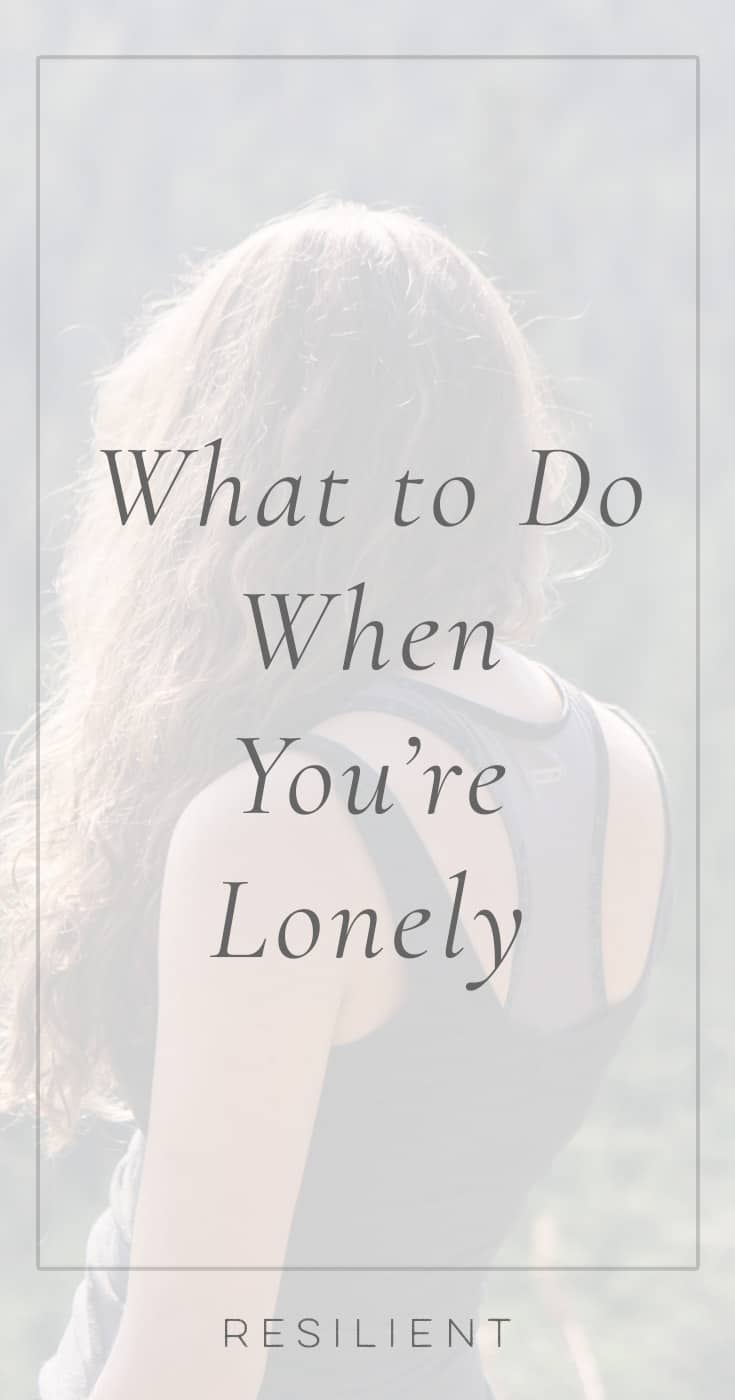 What to Do When You're Lonely
Sometimes it's nice to spend time alone, but for many people, it's a depressing thing. We can run to junk food and mindless distractions and sometimes even destructive behaviors, just to comfort ourselves and hide from the fear of being alone.
Related Posts:
I've been exploring this feeling of loneliness, and I recommend that exploration for others who feel alone sometimes (or much of the time). It's enlightening.
We run from the feeling of loneliness and try to fill the emptiness with comfort, and that's a very human thing to do. We want comfort, and we don't want to confront the distressing feelings we might have.
But try turning toward these bad feelings. There's a lot to be learned there. Opening yourself up to the feeling of loneliness, allowing yourself to really feel it and see it … this is where growth can happen. This is where you can learn about yourself, and what it's like to feel pain, and how to cope with it.
Turn inward and feel the pain. Where is it in your body? What kind of sensation is it? What is the quality of this sensation, the intensity of it, and does it change? Be curious about it. I've found that it isn't as bad as I think, once I allow myself to look at it.
Turn inward and see what else is there: a sense of curiosity, a sense of wanting intimacy, a desire to be a good person, a better person, a sense of being flawed. See everything that's there, really look.
And what you see is the divine. You are filled with wonder.
This cannot be seen when we are with others and our lives are filled with busy-ness and noise and distraction. This can only be seen when we are alone, and there is space to notice, and we allow ourselves to look.
Once you learn to appreciate the wonder inside of you, and find that you are enough, as you are, and that there is happiness right where you are … then you can be OK with being alone. And be much more content alone, or with others.
Once you find this, then find people in a running club or a yoga class or something like that, and be interested in them. Because this wonder is inside of them too, if you allow yourself to look.
This post was written by a guest author.
Loneliness can be a deeply unpleasant sensation. Whether short-term in the case of a temporary trip away from family or long-term when people feel they have no one to talk to, it can lead to serious effects like depression. Here are some ways to combat loneliness when it strikes.
How to Combat Loneliness
Related Posts:
State of Mind
The way loneliness affects people differs massively between individuals. Some people are so extroverted that a single evening home alone is enough to cause loneliness. Others, though, only begin to feel it after prolonged isolation. There's no right or wrong, although it's important to remember that being alone is sometimes necessary. Even if you have a good group of friends and family to rely on, sometimes you'll need to do things in isolation. Understanding that it only needs to be temporary can help keep negative thoughts at bay.
When trying to make sense of the sensation, your brain may take you down a dark path. You may feel that your loneliness is a result of poor social skills, for example. Try to look at the situation objectively: Do you have people you like and who like you back? Reach out to them, even if only for a phone call or quick coffee to recharge your social batteries.
Long-Term Loneliness
Sometimes, people are forced into isolation in the longer-term. Couples in long-distance relationships may feel lonely even if surrounded by friends, as their other half is not within reach. Levels of loneliness among seniors may often be high because children have left home and social circles can shrink as people retire. It's important to be pro-active, because it's rare that anyone is lucky enough to have a loved one that recognizes loneliness and pulls you out of it.
Be pro-active. The internet is a great place to find new social circles, with sites like Meetup allowing people of all ages with similar interests to meet each other and develop friendships. It can be tempting to wallow in isolation. However, you need to take the decisive step today and push yourself outside of your comfort zone for the sake of your mental health.
Altruism is a Great Remedy
Beyond socializing, giving something back can help make you feel better and more connected with your community. Engaging with local charities and fundraisers lets you feel that you're making a difference and connects you to your surroundings. Volunteering can also be a great way to meet new people and bond over a constructive activity.
Also, consider reaching out to friends you may not have talked to in a while. Listen to what they've been up to and work on becoming a good listener. People enjoy spending time with friends who make the effort to reach out and offer words of comfort where needed.
Loneliness can be a negative force that has an impact on mental health and general wellbeing. It's important to remember that being pro-active is key to avoiding such feelings. Taking advantage of existing social networks or developing new ones are great ways to feel more connected with other people and combat loneliness in the long-term.