15 Gifts for People with Depression
Affiliate Disclaimer: This site contains affiliate links, which means we earn money if you purchase through our link. As an Amazon Associate I earn from qualifying purchases. Read our Disclosure Policy.
Depression sucks, but sometimes you can make it a little more bearable with a few comforting depression gifts or inspiring books for depression. Here are 15 gifts for people with depression that are sure to brighten their day.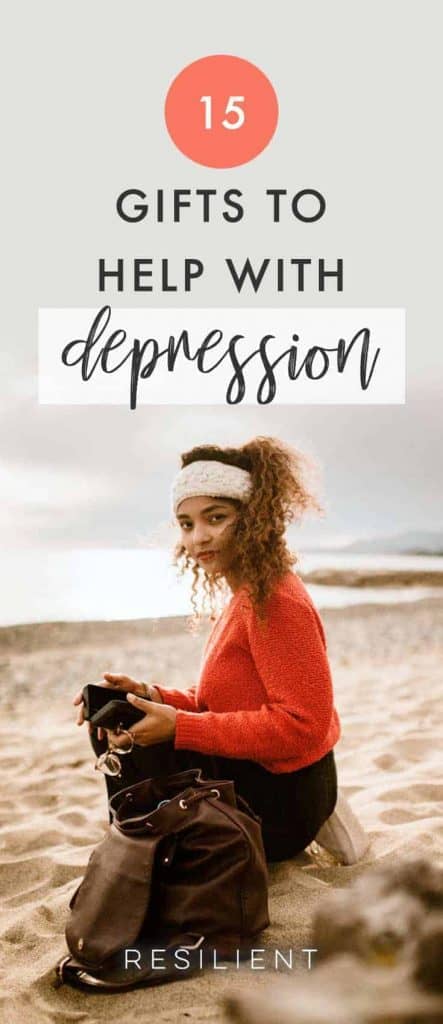 Subscribe to our Youtube channel!
Ultimately, coping with depression will involve a lot more inner and outer work than just buying one of these depression gift ideas, but sometimes a small item gifted to a loved one (or yourself!) can be a bright spot on a bad day.
15 Gifts for People with Depression | Depression Gifts for Someone with Depression
Here are some of my favorite items and gifts for depression, compiled from personal preferences, what I've seen recommended, and trial and error figuring out what can be a helpful addition to your life. 🙂
Products We Recommend:
Weighted blankets are a soothing and comforting way to relieve anxiety and sleeplessness. They can also help generally with stress or depression.
A weighted blanket is like a regular blanket but it has little pellets sewn into it to give the blanket a little bit of weight (10 pounds total for the size I got) that feels like a hug or massage (actually it's kind of like there's a cat sleeping on you haha).
It's recommended that you use a weighted blanket that's about 10% of your total body weight for the best feeling and comfort, or even a little lighter if it's your first time trying one.
If it's TOO light, it's not much different than a regular blanket, but if it's too heavy, it might be uncomfortable. So my 10 pound one was a great weight for a first time blanket.
Since I got it, I've literally been using this weighted blanket every single night!
If you're on more of a budget, you can also check out this weighted blanket. 🙂 It's an affordable price and comes in different colors and patterns.
2. CBD Oil
Discovering this was a big help for me. It feels calming and relaxing, and with CBD only, you get the positive benefits and not the "high."
There's a noticeable positive effect and I now take it every day. The gummies are great as well!

I love burning scented candles for the ambiance and relaxing or uplifting fragrances. This one is infused with relaxing aromatherapy scents like lavender, vanilla, and chamomile. You can even try candle gazing as an alternative to meditation!
I love having pretty candles around my apartment, and I find it so relaxing.
4. Himalayan salt candle holders
I also have some Himalayan salt candle holders that give off such a nice ambiance in the room with a little flame flickering in them. 🙂 You can also get them as a full sized electric light instead of a candle holder.
This beautiful journal lets you record a few thoughts – or one line a day – about your life so you can look back on it and see how the last 365 days have been.
It's a great way to record your progress or the ups and downs in life or also keep track of your mood.
More Posts You Might Like:
More Gifts for Someone with Depression
6. Light Therapy Lamp for depression (also known as a sad light or happy light)
I haven't experimented with these much (I've used one once before), but many psychiatrists and studies claim that exposure to light that mimics the sun (especially in the winter when you don't get as much natural sunlight) can help your mood. Worth looking into. 🙂
They also offer this smaller, more portable Happy Light that would be perfect for small apartments and dorm rooms!
You can also try taking a vitamin D supplement if there's not enough sunshine, like during winter or in perpetually rainy weather. This is definitely one that I utilize in the winter time when it's dark a lot and it makes a big difference for me. Always talk to a doctor first about supplements. 🙂
7. Therabox… or another happiness-related subscription box to help depression
These happiness, self care, and mental health-themed monthly subscription boxes like Therabox are a fun way to get a regular little boost of happiness and joy in the mail, with included items like candles, bath bombs, happiness challenges, and more.
They would also make a perfect gift to have sent to a loved one!
This is a magnesium supplement in the form of a powdered drink mix. It's my secret anxiety-fighting hack! Magnesium is good for depression and anxiety. I like the raspberry lemonade flavor. 🙂
This stuff is great if you're feeling really anxious and you need to calm down on the spot because it makes you sleepy and really calm and happy. Check with your doctor to make sure you can take supplements. Also, be careful not to have too much, as magnesium can sometimes cause an upset tummy.
9. An Inspirational Print or Gift for People with Depression
Try some digital or printed inspirational prints with quotes on them! Print it out, stick it on your wall, and feel a little inspired every day.
10. An Inspirational Quote Mug
Similarly, a quote mug is a great way to send a little dose of inspiration to a friend!

11. A Spa Basket
A spa box can include lots of bath goodies like bath bombs, candles, bath salts, handmade soap, and more, and having a spa day can help you relax and unwind from the day. 🙂
You can also try making some homemade bath bombs or a DIY sugar scrub for a fun DIY gift.
If you have depression, you might want to make a little self care kit or self care box to feel better on bad days.
12. Therapy Dough for Stress or Depression
Therapy dough is like an adult version of Play Dough. 🙂 Similar to a stress ball, you can pinch it, squeeze it, squish it, or smush it to relieve stress.
Essential oils are super popular right now (they basically use aromatherapy to make you more relaxed / less stressed / happier), and this one includes single oils as well as blends like Uplift and Stress Relief.
I have a bunch of essential oils and rollerballs that I use on a regular basis for relaxing and unwinding, etc, and it can be a nice natural addition to your life. 🙂
Lavender is a great essential oil for relaxing, so I have a big bottle of lavender and I like to take a few dropper-fulls and sprinkle it on fabric items like curtains and pillows to sneak in the scent of lavender everywhere. ?
Related Essential Oil Post: 8 Best Essential Oils for Depression and Anxiety

If you want to diffuse your essential oils from above throughout your room or home, you can use an essential oil diffuser for this exact purpose.
It diffuses out a mist-like stream of your essential oils over a period of time and is also a beautiful decoration for your home.
15. Hopebox
Hopebox is a subscription box (that you can give as a gift) that delivers encouragement and hope in the form of handmade and artisan items. Items may include things like candles, lip balm, inspirational cards, jewelry, and more.
These kinds of boxes are always popular gifts for someone with depression because one cute and curated box comes with several relevant items, so whether it's for you or someone else, you have a whole box full of goodies in one place!
P.S. Get free downloads, checklists, inspirational emails & more when you sign up for our Free Resource Library!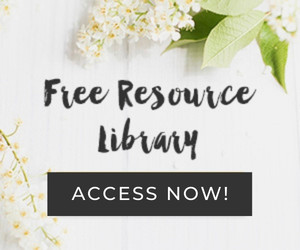 I hope this has given you some ideas for gift ideas for people with depression. 🙂