30+ Quotes About Journeys
Affiliate Disclaimer: This site contains affiliate links, which means we earn money if you purchase through our link. As an Amazon Associate I earn from qualifying purchases. Read our Disclosure Policy.
They say the journey of a thousand miles begins with a single step. Here are 30+ inspiring journey quotes and quotes about journeys.
Subscribe to our Youtube channel!
30+ Quotes About Journeys | Journey Quotes
"Focus on the journey, not the destination. Joy is found not in finishing an activity but in doing it." – Greg Anderson
"You must remain focused on your journey to greatness." – Les Brown
"To finish the moment, to find the journey's end in every step of the road, to live the greatest number of good hours, is wisdom." – Ralph Waldo Emerson
"As you journey down the path, don't forget to be present moment-by-moment and absorb the beauty and richness of simply being alive." – Cary David Richards
"This thing we call life is not a destination with an end but a path down which we continue to journey as long as we can breath. Life is to be lived not squandered or to give away waiting for the end to close upon us." – Byron Pulsifer
"Accomplishments will prove to be a journey, not a destination." – Dwight D. Eisenhower
"The benefits of the accomplished journey cannot be weighed in terms of perfect moments, but in terms of how this journey affects and changes our character." – Ella Maillart
"Time is a companion that goes with us on a journey. It reminds us to cherish each moment, because it will never come again. What we leave behind is not as important as how we have lived." – Captain Jean-Luc Picard
"Every day is a new journey for me, and I feel like, in my lifetime, I've been blessed to experience such a lot." – Bindi Irwin
"I believe that life is a journey, often difficult and sometimes incredibly cruel, but we are well equipped for it if only we tap into our talents and gifts and allow them to blossom." – Les Brown
Products We Recommend:

Inspirational Journey Quotes
"Good company in a journey makes the way seem shorter." – Izaak Walton
"Leadership is all about taking people on a journey. The challenge is that most of the time, we are asking people to follow us to places we ourselves have never been." – Andy Stanley
"The best part of life is to decide to make the journey through life like a best selling book. Tell a fantastic story when you are ready to tell others how you did it. Make sure life the best story ever written through a journey filled with overcoming obstacles, taking risks, and continuing to develop." – Catherine Pulsifer
"Temporary setbacks create opportunities for fresh commitment and renewal. There are seasons of sunshine as well as rain." – T. D. Jakes
"Life is a journey of either Fate or Destiny. Fate is the result of giving in to one's wounds and heartaches. Your Destiny unfolds when you rise above the challenges of your life and use them as Divine opportunities to move forward to unlock your higher potential." – Caroline Myss
"Life is about waking up. It is a journey of discovery and you've already bought the ticket and are sitting on the train." – Michael Sheridan
"Embrace your life journey with gratitude, so that how you travel your path is more important than reaching your ultimate destination." – Rosalene Glickman
"Life should not be a journey to the grave with the intention of arriving safely in a pretty and well preserved body, but rather to skid in broadside in a cloud of smoke, thoroughly used up, totally worn out, and loudly proclaiming 'Wow! What a Ride!'" – Hunter S. Thompson
"The real voyage of discovery consists not in seeking new landscapes, but in having new eyes." – Marcel Proust
"The only thing that is ultimately real about your journey is the step that you are taking at this moment. That's all there ever is." – Alan Watts
More Quote Posts:
More Quotes for Journeys
"Life is a journey, and if you fall in love with the journey, you will be in love forever." – Peter Hagerty
"Part of the challenge that comes with striving for success is how the entire journey comes with its own fair share of failures and disappointments." – Rupert Johnson
"Sometimes it's the journey that teaches you a lot about your destination." – Drake
"Life is a journey and it's about growing and changing and coming to terms with who and what you are and loving who and what you are." – Kelly McGillis
"Every journey that is successful has culs-de-sac and speed bumps. I carry a wisdom gene through my life through the good, the bad, and the ugly." – Peter Guber
"Improvement in the important areas of your life can and should be an ongoing journey." – Mark Sanborn
"In order to complete our amazing life journey successfully, it is vital that we turn each and every dark tear into a pearl of wisdom, and find the blessing in every curse." – Anthon St. Maarten
"Everyone is handed adversity in life. No one's journey is easy. It's how they handle it that makes people unique." – Kevin Conroy
"Look at education as a continuous life long journey." – Catherine Pulsifer
"Everybody has a different journey. Everybody has a different path, and you don't really know what to expect. All you know is to just keep plugging away, and you hope something will come through and something will happen." – Grace Gealey
P.S. Get free downloads, checklists, inspirational emails & more when you sign up for our Free Resource Library!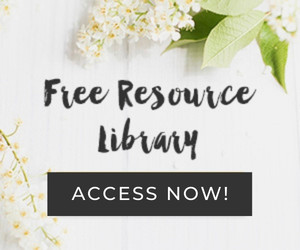 I hope you enjoyed these journey quotes and quotes about journeys!