Feelings and emotions are a unique part of the human experience. Here are 20+ inspiring quotes about feelings and emotions.
Click here to subscribe to our Youtube channel!
20+ Quotes About Feelings | Feeling Quotes
"What you resist persists." – Carl Jung
If you try to push away your feelings and live in a constant state of denial, then it's just going to be worse when you finally do feel the pain. If you numb yourself with alcohol or drugs or love or anything else, you're only putting off the bad feelings until a later time.
It's better to feel them now.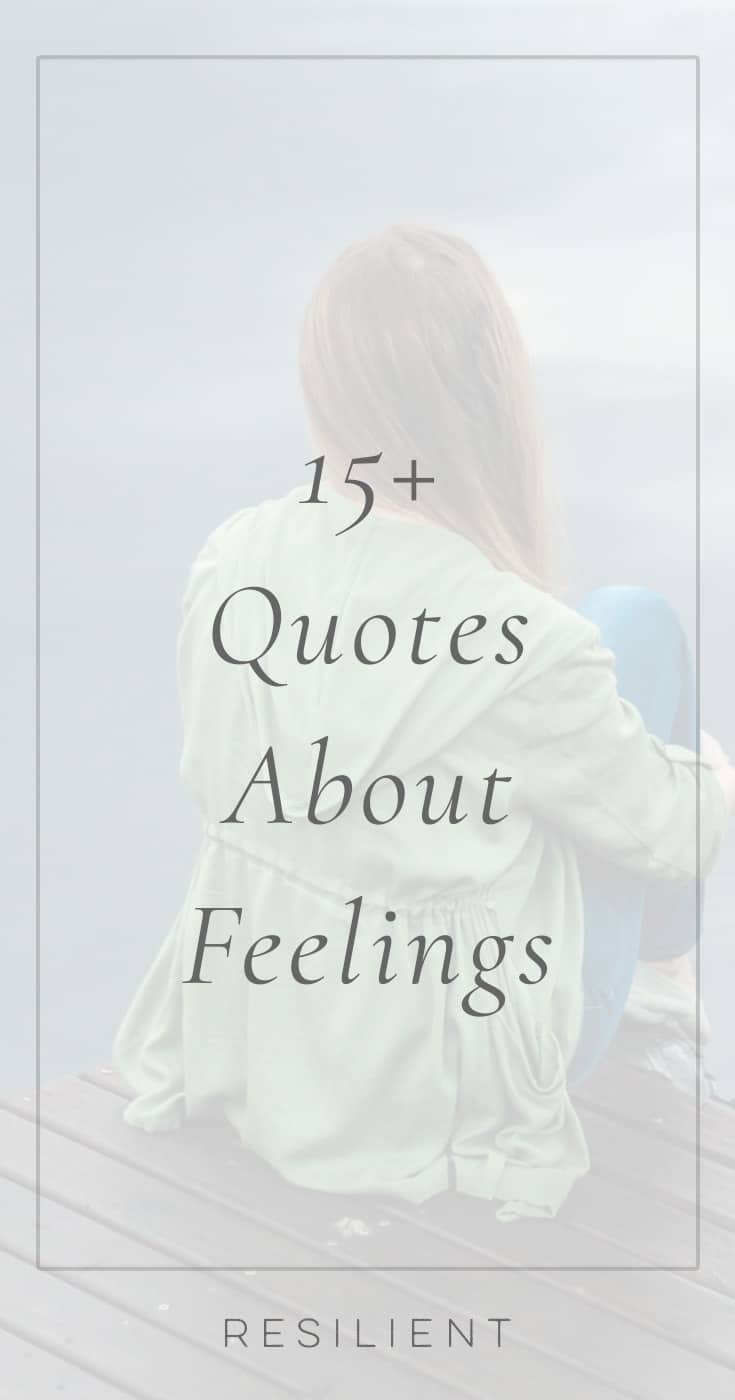 So let yourself feel the feelings. Feel the sadness, feel the hurt, feel all of the pain you thought you couldn't handle. You can handle it.
And let it go. Breathe into the feeling.
And slowly, slowly, the feelings will start to dissolve.
At first, you might feel worse. Maybe you'll wish you could go back to filling the void with anything except this raw emotion.
But this is part of being human, all these emotions. There are good days and bad days. One cannot exist without the other.
You're allowed to feel sad and have negative emotions. You don't have to be happy all the time (or pretend to be). You don't always have to put on a plastic smile around others.
Sometimes when we're in the middle of growing in some way it just feels painful and uncomfortable, and we wish we could go back to the way things were. But nothing lasts forever. Impermanence is the only thing guaranteed in life.
So when you're happy, be happy, and when you're sad, be sad. Sometimes it's hard not to wish that the good times would last a lifetime or to resist the painful times and refuse to see the truth of a situation.
But the sooner you accept reality, the sooner your reality can change. If you're stuck wishing things were different or forcing things to work that shouldn't, you're going to make yourself very unhappy.
But if you can accept the ways things are while still working toward your goals and gently pushing yourself to improve, day after day, you'll find that it's only a matter of time before the reality in your dreams matches up with your actual reality.
👉 Products We Recommend:
More Quotes on Feelings and Emotion
"Feelings are something you have; not something you are." – Shannon L. Alder
"Some things are too big to be seen; some emotions are too huge to be felt." – Neil Gaiman
"We know too much and feel too little. At least, we feel too little of those creative emotions from which a good life springs." – Bertrand Russell
"Never apologize for showing your feelings. When you do, you are apologizing for the truth." – José N. Harris
"Let's not forget that the little emotions are the great captains of our lives and we obey them without realizing it." – Vincent Van Gogh
"Emotions come and go and can't be controlled so there's no reason to worry about them. That in the end, people should be judged by their actions since in the end it was actions that defined everyone." – Nicholas Sparks
"Thoughts are the shadows of our feelings – always darker, emptier and simpler." – Friedrich Nietzsche
"Never apologize for being sensitive or emotional. It's a sign that you have a big heart, and that you aren't afraid to let others see it. Showing your emotions is a sign of strength." – Brigitte Nicole

More Quotes About Emotions and Feelings
"The best and most beautiful things in the world cannot be seen or even touched. They must be felt with the heart." – Helen Keller
"The deeper that sorrow carves into your being, the more joy you can contain. Is not the cup that holds your wine the very cup that was burned in the potter's oven? And is not the lute that soothes your spirit, the very wood that was hollowed with knives? When you are joyous, look deep into your heart and you shall find it is only that which has given you sorrow that is giving you joy. When you are sorrowful look again in your heart, and you shall see in truth that you are weeping for that which has been your delight." – Kahlil Gibran
"I don't want to be at the mercy of my emotions. I want to use them, to enjoy them, and to dominate them." – Oscar Wilde
"But smiles and tears are so alike with me, they are neither of them confined to any particular feelings: I often cry when I am happy, and smile when I am sad." – Anne Brontë
"Respect other people's feelings. It might mean nothing to you, but it could mean everything to them." – Roy T. Bennett
"Emotion is more powerful than reason. Emotion is the driving force behind thinking and reasoning. Emotional intelligence increases the mind's ability to make positive, brilliant decisions." – Dr T.P. Chia
"Feelings come and go like clouds in a windy sky. Conscious breathing is my anchor." – Thich Nhat Hanh
Related Inspirational Quote Posts:
More Quotes and Sayings About Feelings
"In order to move on, you must understand why you felt what you did and why you no longer need to feel it." – Mitch Albom
"There is no remedy for love than to love more." – Henry David Thoreau
"We all live at the mercy of our emotions. Our emotions influence and shape our desires, thoughts and behaviors and above all our destiny." – Dr T.P. Chia
"We cannot selectively numb emotions, when we numb the painful emotions, we also numb the positive emotions." – Brene Brown
"Feel, he told himself, feel, feel, feel. Even if what you feel is pain, only let yourself feel." – D. James
"You cannot make yourself feel something you do not feel, but you can make yourself do right in spite of your feelings." – Pearl S. Buck
"I've learned that people will forget what you said, people will forget what you did, but people will never forget how you made them feel." – Maya Angelou
"Whatever you do, you should do it with feeling." – Yogi Berra
P.S. If you're ready to improve your life and keep track of all your progress and goals, check out Your Best Life Planner. It's a kit of 36 digital printables that help you plan your days with monthly, weekly, and daily planners, set goals, vision your future, create self care and gratitude lists, and so much more! Check it out here now and create your best life.
I hope you enjoyed these feeling and emotion quotes and quotes about feelings!
(Visited 260 times, 1 visits today)