How to Make a Happy Box for Bad Days
Affiliate Disclaimer: This site contains affiliate links, which means we earn money if you purchase through our link. As an Amazon Associate, I earn from qualifying purchases. Read our Disclosure Policy.
Sometimes when we have a bad day it would be nice if we could just pull out a box of all our favorite things that make us happy so we can smile again. 🙂  Here's how to make a happy box or a bad day box.
Subscribe to our Youtube channel!
How to Make a Happy Box
It's always nice to have a happy box full of things that will make my day, just in case I need it!
To start, I used a large priority mail box from the post office.  You can get these for free!  Then I took some birthday wrapping paper and cut it to size to tape onto the flaps of the box.
Products We Recommend:
I love penguins so I thought this paper was super cute!  And it's like Christmas in July.
Here's a closer look at what's in the box: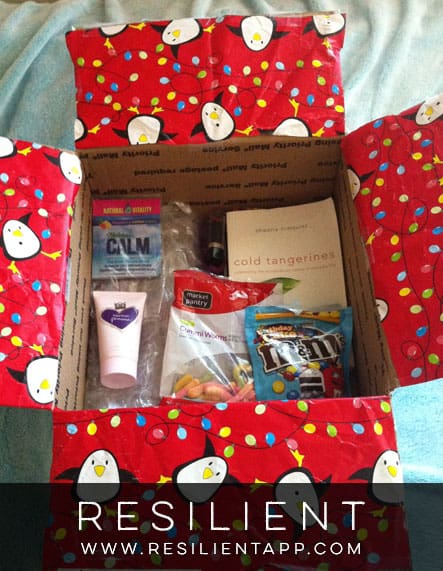 Things to Put in a Happy Box or Bad Day Box
Next, here's a list of what I put in my happy box:
1. Cold Tangerines and Bittersweet by Shauna Niequist
These are two of my favorite inspirational / spiritual books.
Cold Tangerines is about celebrating the happiness of everyday life and Bittersweet is about the teary and hard moments of life, so it's nice to have both on hand depending on my mood.
2. Natural Calm magnesium drink
This is a magnesium supplement in the form of a powdered drink mix.  It's my secret anxiety-fighting hack! I like the raspberry lemonade flavor. 🙂
This stuff is great if you're feeling really anxious and you need to calm down on the spot.  It makes you sleepy and really calm and happy.
Check with your doctor before you take any supplements, and be careful not to have too take too much magnesium as it can sometimes cause an upset tummy.
Sometimes when I'm anxious I like popping bubble wrap.  It's just a fidgety little thing you can do to distract yourself and keep your hands busy.
4. Pretty scented lotion
Sometimes it helps to pamper yourself a little when you're stressed out.  This is one of my favorite fragrances- Princess by Vera Wang.
For some reason red lipstick never fails to make me feel confident, sassy, and ready to take on the world.  Try it!  It's an instant mood boost.  (Or a gender-neutral alternative.)
This is not healthy, but sometimes a little chocolate is just what you need.  At least that's what Harry Potter taught me. 😉
I recently started using some essential oil roller balls for sleep and stress and they can be very relaxing.
Just apply a drop or two (or get it in a roller ball) to your wrists and temples and inhale.  It's instant aromatherapy!
So there you go! That's what's in my happy box. What would you put in yours?
Also check out the best gifts for someone with depression. 🙂
Happiness Box Ideas | Happy Box for Depression | What to Put in a Happy Box
P.S. Get free downloads, checklists, inspirational emails & more when you sign up for our Free Resource Library!