Sometimes when we have a bad day it would be nice if we could just pull out a box of all our favorite things that make us happy so we can smile again. 🙂 I got the idea to make a happy box one summer before I moved out to my own place years ago so I would be prepared for living on my own in case a bad day ever struck. Here's how to make a happy box or a bad day box.
Click here to subscribe to our Youtube channel!
How to Make a Happy Box | Care Package for Depression
I can say thankfully there weren't too many bad days that summer, but when there are it's nice to have a happy box full of things that will make my day.
Related Posts:
To start, I used a large priority mail box from the post office. You can get these for free! Then I took some wrapping paper from my birthday and cut it to size to tape onto the flaps of the box. I love penguins so I thought this paper was super cute! And it's like Christmas in July. I got this idea from my mom when she decorated a birthday package for me like this with birthday wrapping paper on the flaps when I was in college. 🙂
Here's a closer look at what's in the box: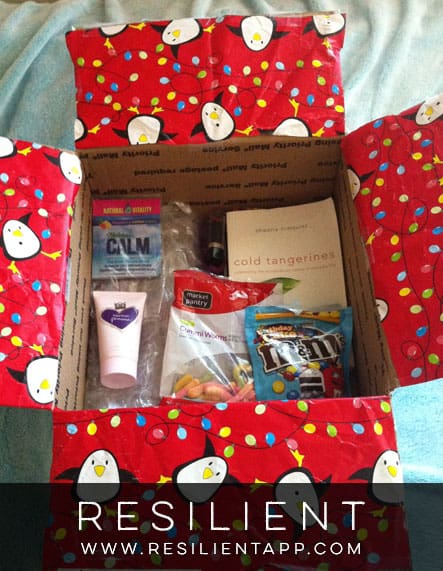 Learn how to make a Happy Box so you have your own toolbox for happier days! #happinesstips #selfcare #happybox @resilientapp
Click To Tweet
Things to Put in a Happy Box | Bad Day Box Ideas for Depression
Next, here's a list of what I put in my happy box:
So there you go! That's what's in my happy box. What would you put in yours?


Don't feel like putting together your own happy box? You can also try a subscription box that's made up for you already. There's many different ones out there, from mindfulness and relaxing themes to happiness and therapy-related boxes.
Also check out the best gifts for someone with depression. 🙂
Related Posts About Happiness:
Happiness Box Ideas | Happy Box for Depression | What to Put in a Happy Box