Disappointments are an unfortunate but somewhat inevitable part of life. However, there is always a lesson to be learned or new strength to be gained from the situation. Here are 18 quotes about disappointment.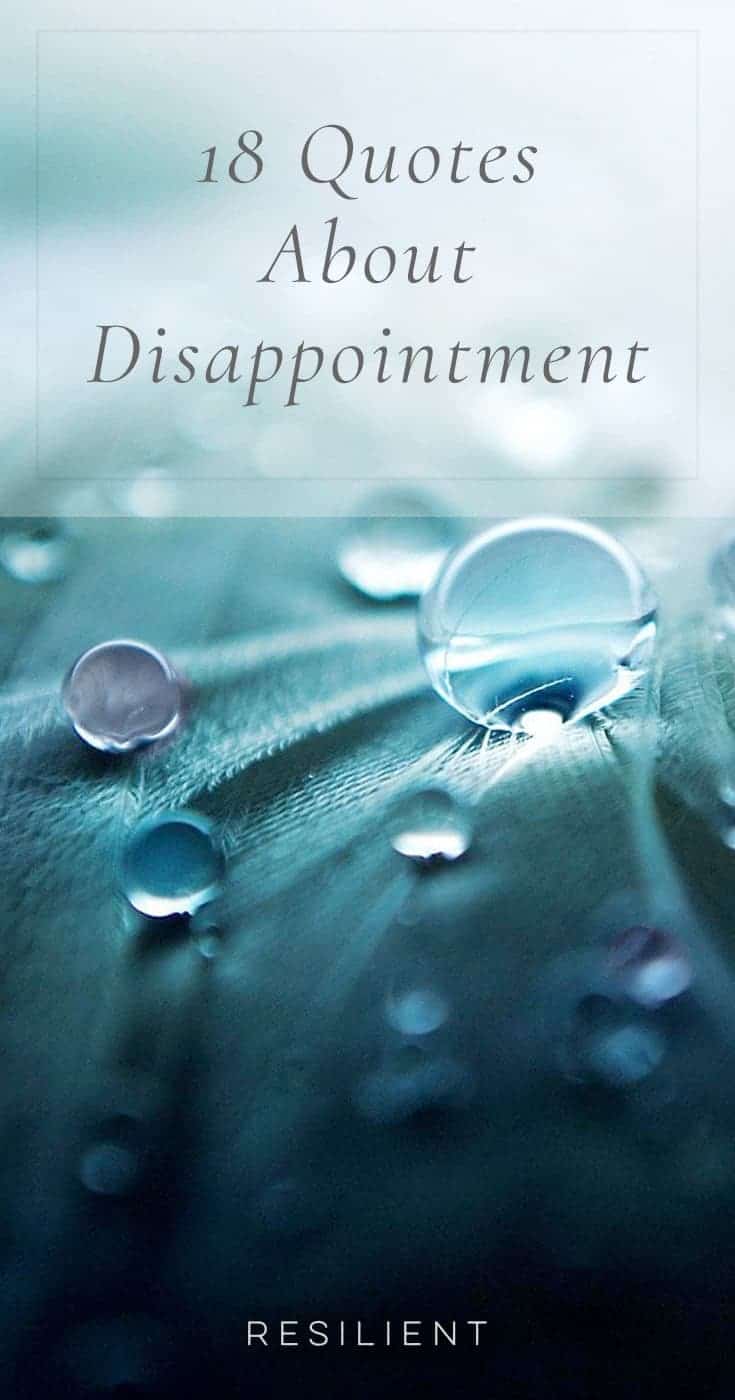 Related Posts:
18 Quotes About Disappointment
"We must accept finite disappointment, but never lose infinite hope." – Martin Luther King, Jr.
"Life is not always a celebration; so be ready to courageously face disappointments when they come, and be sure to grow stronger and wiser from them." – Edmond Mbiaka
"Disappointment to a noble soul is what cold water is to burning metal; it strengthens, tempers, intensifies, but never destroys it." – Eliza Tabor
"Use disappointments as material for patience." – Unknown
"Anytime you suffer a setback or disappointment, put your head down and plow ahead." – Les Brown
"What do you do when disappointment comes? When it weighs on you like a rock, you can either let it press you down until you become discouraged, even devastated, or you can use it as a stepping-stone to better things." – Joyce Meyer
"But you know that disappointment is just the action of your brain readjusting itself to reality after discovering things are not the way you thought they were." – Brad Warner
"There can be no deep disappointment where there is not deep love." – Martin Luther King Jr.
"If I am to meet with a disappointment, the sooner I know it, the more of life I shall have to wear it off." – Thomas Jefferson
"Don't let today's disappointments cast a shadow on tomorrow's dreams." – Unknown
"One's best success comes after their greatest disappointments." – Henry Ward Beecher
"Disappointment, when it involves neither shame nor loss, is as good as success; for it supplies as many images to the mind, and as many topics to the tongue." – Samuel Johnson
"Sometimes when you get disappointment it makes you stronger." – David Rudisha
"Disappointments are to the soul what a thunderstorm is to the air." – Friedrich Schiller
"Disappointments are a result of failed expectations. To have less disappointments, either expect less from other people or demand more from yourself." – Kevin Ngo
"Disappointment is a sort of bankruptcy – the bankruptcy of a soul that expends too much in hope and expectation." – Eric Hoffer
"See your disappointments as good fortune. One plan's deflation is another's inflation." – Jean Cocteau
"The size of your success is measured by the strength of your desire; the size of your dream; and how you handle disappointment along the way." – Robert Kiyosaki
If you would like more inspirational quotes and tips, check out our 365 Recovery Tips.