Being brave isn't about never being afraid but taking action in spite of your fear. Here are 13 quotes about bravery to inspire you to be a little braver today.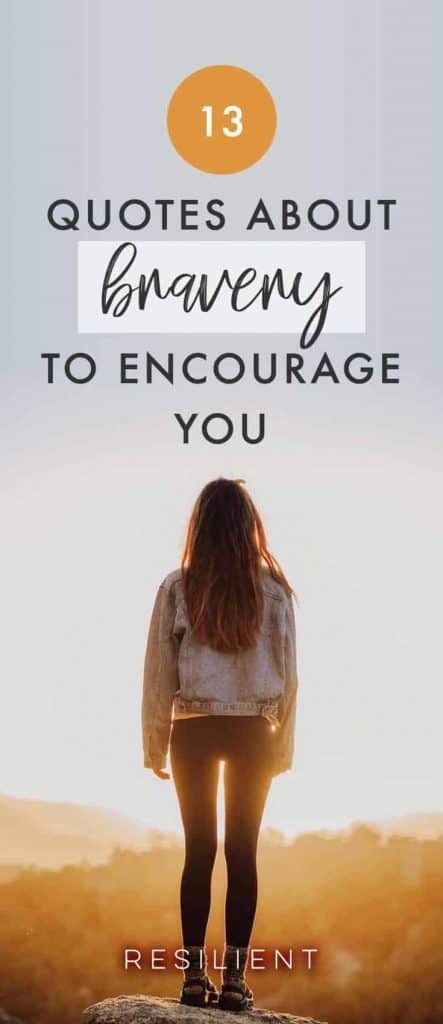 Related Posts:
13 Quotes About Bravery
1. "Fear can keep a man out of danger but courage only can support him in it." – Thomas Fuller
2. "If it scares you, it might be a good thing to try." – Seth Godin
3. "Great crisis produce great men and great deeds of courage." – John F Kennedy
4. "Bravery is not a quality of the body. It is of the soul." – Mahatma Gandhi
5. "Being brave means knowing that when you fail, you don't fail forever." – Lana Del Rey
6. "Only those who will risk going too far can possibly find out how far one can go." – T.S. Eliot
7. "Bravery is being the only one who knows you're afraid." – Franklin P. Jones
8. "I learned that courage was not the absence of fear, but the triumph over it. The brave man is not he who does not feel afraid, but he who conquers that fear." – Nelson Mandela
9. "One of the greatest discoveries a man makes, one of his great surprises, is to find he can do what he was afraid he couldn't do." – Henry Ford
10. "You gain strength, courage, and confidence by every experience in which you really stop to look fear in the face. You must do the thing you think you cannot do." – Eleanor Roosevelt
11. "Moral excellence comes about as a result of habit. We become just by doing just acts, temperate by doing temperate acts, brave by doing brave acts." – Aristotle
12. "Life shrinks or expands in proportion to one's courage." – Anais Nin
13. "Life is not meant to be easy, my child; but take courage and it can be delightful." – George Bernard Shaw
If you would like more inspirational quotes and tips, check out our 365 Recovery Tips.