When bad days strike, it's nice to have a list of self care ideas you can pull out to help make things a little better, or even to proactively keep up with self care so you feel better in general.  Here are 25 self care ideas for bad days. 😃  Feel free to bookmark this page for future reference!
Related Posts: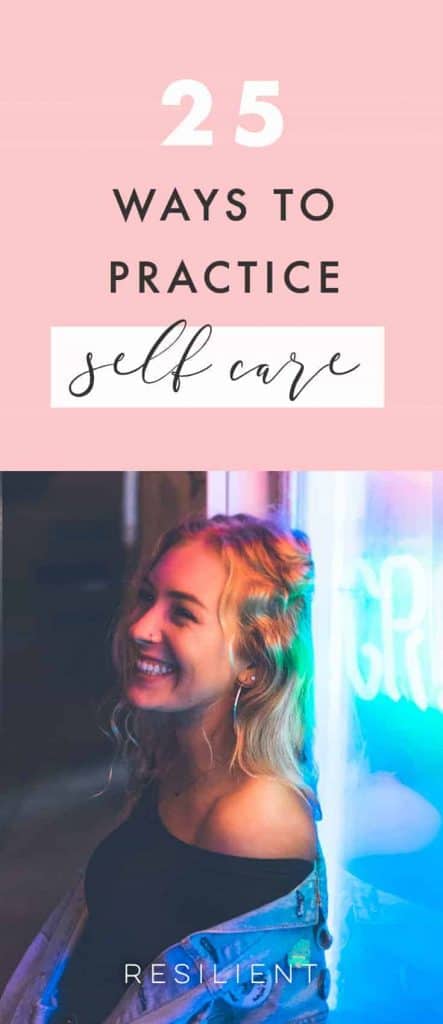 25 Self Care Ideas for Bad Days  | Self-Care Tips | Ways to Practice Self Care
Get this list of self care ideas as a free checklist!
Take a bubble bath.  Try making some homemade bath bombs or a DIY sugar scrub for a fun DIY self care project.
Read a good book
Read a fun magazine
Have a solo dance party
List 10 things you're grateful for
Play with a pet
Play a board game
Watch the clouds
Stargaze outside
Take three deep breaths
Unfollow negative people on social media
Unplug from technology for an hour
Do a legs up the wall yoga pose (you just lie down on the floor next to the wall and put your legs up vertically on the wall)
Take a cat nap
Watch a funny movie or TV show
Wear your pajamas all day
Say positive affirmations. Related: 19 Ideas for Positive Affirmations
Get dressed up for no reason 😃
Drink a glass of water
Declutter three things from your home. Related: 17 Things You Can Declutter Without Missing
Do some journaling
Which self care ideas are you going to try? 🙂
You might also be interested in our Self Care Planner. 🙂
When it comes down to it, self care and self love aren't selfish – they're actually an essential part of living a happy and healthy life. Here are over 20 ideas for self care and self love that will help you improve your relationship with yourself.
Posts from Resilient and found on Learn to Blog's Resources for Roundups search engine.
20+ Ideas for Self Care and Self Love | Self Care Day Ideas
50 Beautiful Quotes About Self Love
17 Inexpensive Ideas for Self Care
25 Self Care Ideas for Bad Days
Why You Should Be Your Own Best Friend
How to Make a Happy Box for Bad Days
How to Practice Self-Compassion
10 Tools for Building Self-Confidence
Traveling the Path to Self Worth
How to Accept Yourself Unconditionally
How to Create a Self Care Basket
The Power of Habits in Self Care
You might also be interested in our Self Care Planner. 🙂
Tips on Self Care | Self Care Tips for Depression