Have you ever wanted to make DIY slime but weren't sure how or which slime recipe to use?  I tried a few popular methods and show how they all turned out in this post.  Here are 3 different ways to make DIY homemade slime, with or without borax and glue.
Related Posts:
DIY Homemade Slime Recipes 3 Different Ways – With or Without Borax and Glue
1. DIY Slime Recipe with Borax and Glue
Ingredients:
In this classic slime recipe, you use glue (usually white Elmer's Glue, but I had Aleene's Clear Gel Tacky Glue) and borax powder.  Sometimes people will use liquid starch or contact solution instead of borax because those technically have borax in them (boric acid).
Welp, this one originally didn't turn out well for me. I watched a few slime-making videos but didn't actually follow a recipe (I like to live dangerously :)) and thanks to my out-of-control box of borax, I ended up pouring in WAY too much borax powder the first attempt and it made my slime very crunchy. I also didn't have a lot of clear glue left in my bottle to work with. I would say that this method is NOT very forgiving, and although I know that kids make slime all the time, this particular method was definitely not Katie-proof. 😉
But here are some pictures of the second attempt at this borax + glue combo.
First I added the glue…
Next, I added a teeny pinch of borax and started mixing together… Apparently you are supposed to actually dissolve a tiny bit of borax in warm water first and then add the borax water, not the powder directly.
Then I added a little more borax and mixed more.  You want to get the point where you can mix it together with your hands. This kind of worked better than the first extremely crunchy one I made (WAY too much borax), but it still looks like of like tapioca or rice pudding with weird chunks in it. :/ Actually, it kind of reminds me of Floam or one of those putties that intentionally have little beads in them.
I totally used up all my glue at this point, so I wasn't really a fan of this one and wanted to try a couple others that I had more materials for (using dish soap).
2. DIY Slime Recipe with Dish Soap and Borax
Ingredients:
The second kind of slime I tried worked better than the first. I started by squirting a little dish soap into a new bowl (these are actually plastic tubs from the Dollar Store).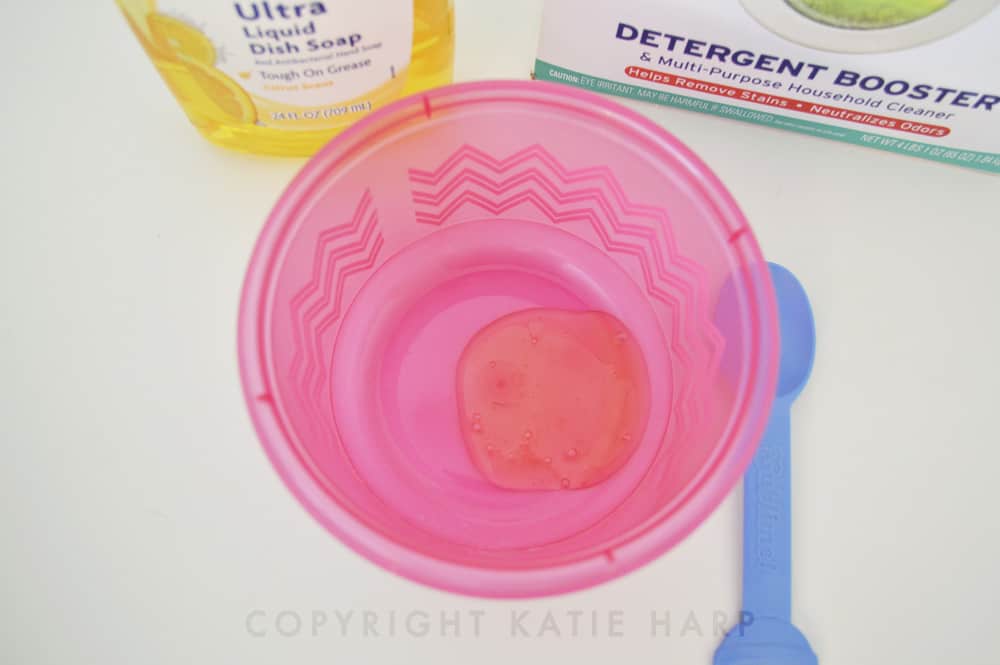 This time around I was a little shy about using the borax, so I put a tiny pile on a lid so I could add it more slowly and gradually (I ended up pouring more out though). Probably would still work better if it was dissolved in water, though.
Next you want to start mixing everything together, just a little at a time, and then gradually add tiny bits of more borax and repeat the mixing. You can also add in a little more dish soap if you need to.
Aaaaannndd you want to keep adding more borax, just a smidgen at a time, and mix together. My slime started off yellow-orange because of the dish soap but ended up being much lighter at the end because of the borax. Mmm… looks kinda like alfredo sauce. 😛
When it comes together a little better you can start to mix it with your hands.
It looked like a pretty slime texture in the previous picture, but it was super sticky so I added more borax and got this interesting and fun spreadable dough-like consistency. This one might be nice to squish and play around with as a stress reliever.
If only because I have a giant box of borax and nothing to do with it, I would make this dish soap and borax slime recipe again. 🙂 I would definitely try dissolving the borax in warm water first to see how that affected the results of all the different methods.
3. Homemade Slime Recipe with Dish Soap and Corn Starch
Ingredients:
This slime recipe with corn starch and dish soap is the perfect way to make slime if you don't have glue OR borax or maybe you're just concerned about using borax.
Start with a little dish soap in a new, clean bowl (don't want to contaminate your ingredients).
You can also add food coloring to any slime you make to have a little color!  I'm going to pretend this is real food coloring and definitely not gel icing from several Halloween's ago…
Start adding corn starch and mixing in, just a little at a time. Wow, such art.
Mix, mix, mix. Add more corn starch.
More corn starch, I say! Now it's starting to look like pink buttercream frosting. 🙂 This one is more forgiving for adding lots of corn starch than the borax recipes.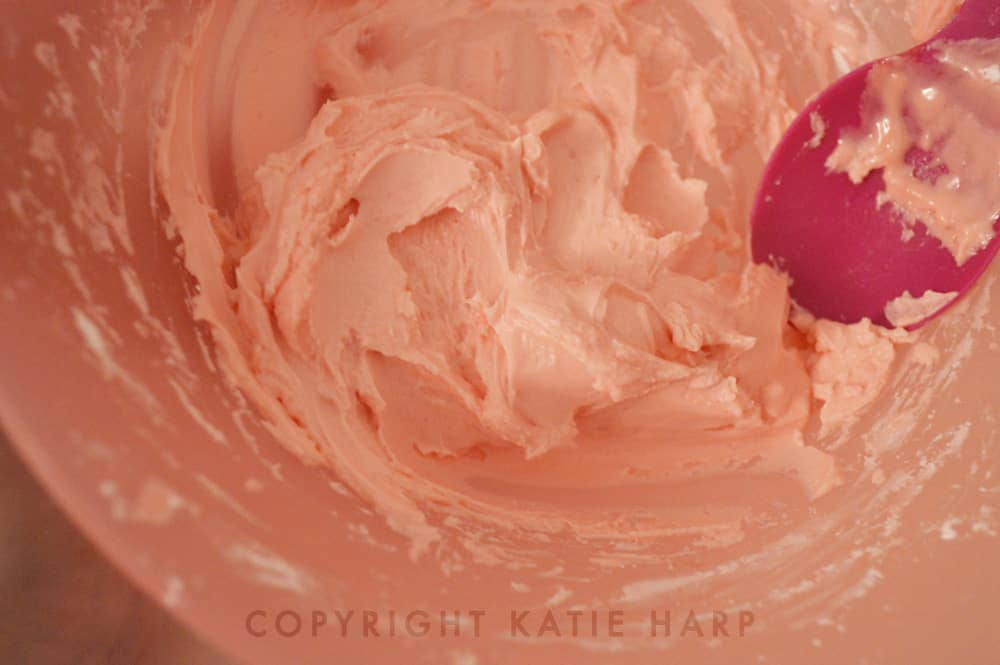 Keep adding more corn starch and start mixing it in your hands. This one is more like a putty and turned out nice and squishy. 🙂
All in all, I found the second two recipes much friendlier and more fun than the standard borax and glue recipe. Good luck!